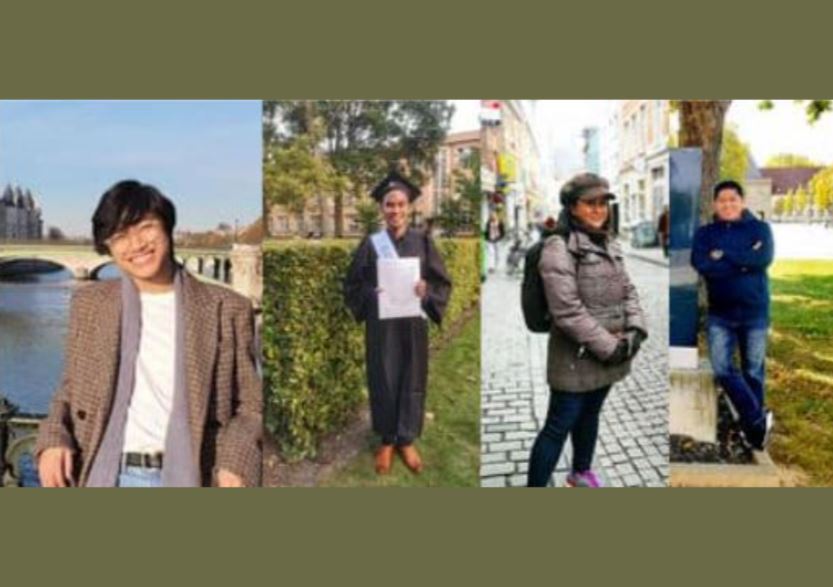 Meet the four Filipino Erasmus+ Scholars displaying excellence and setting the bar high in the European Union: Kenneth Tua, Jay Michael Cordero, Graciela Mante, and Erwin Alcasid.
The four scholars are among the more than 600 Erasmus + scholarship and mobility (MA and Ph.D.) program grantees from the Philippines, a country that ranks among the top ten countries with the highest number of scholars from 2004 to 2020.
These Filipino scholars have earned a niche in their own careers and are providing inspiration and honor to the Philippines and to the European Union.
Kenneth Tua finished his Erasmus Mundus Joint Master Degree in Dynamics of Cultural Landscape, heritage, Memory, and conflictualities (EMJMD-DYCLAM from France, Portugal, Romania, and Italy.
Jay Michael Cordero finished his Erasmus Mundus Joint Master Degree in Sports Ethics and Integrity from the UK, Belgium, Germany, Spain, Greece, and the Czech Republic.
Graciela Mante finished her Erasmus Mundus Master of Science in Public Sector Innovation and eGovernance from Belgium, Germany and Estonia.
Erwin Alcasid finished his International Master of Science in Sustainable and Innovative Natural Resource Management in Belgium, Sweden, and Germany.
Tua and Cordero are finishing their Master's Degrees with Summa Cum Laude honors.
This mid-September, Architect, and Heritage conservation expert Kenneth J. Tua is graduating with Mention Très Bien. He studied in 7 universities, learned 6 languages, obtained five Master's degrees, and received three online certifications in prestigious colleges. He is undertaking four research publications.
Kenneth said that he wants to help promote and protect the Philippine heritage. He also plans to share his knowledge by working in a university. "The return outcome of the scholarship programme will not just benefit me but it will multiply in the minds of my future Filipino students".
Assistant Professor Jay Michael Cordero from the University of San Agustin-Iloilo is graduating this September 11 in KU Leuven, Belgium.
From someone who did not have a thorough background in sports ethics, Jay Michael started to read books and articles in sports ethics three months before the classes started.
"Ultimately, when classes started, I was surprised that I knew more than my classmates whose background of study are in sports", he said when asked for tips for aspiring scholars. He also stressed the importance of getting interested in his or her one's field of study and the need to balance things.
"As a full-time student, you have plenty of time for everything, from studying to travelling to different places in the EU. Prioritize your studies because no matter what, you will have a lot of time left for other things. That is one of the advantages of doing an Erasmus+ programme".
Supervising Economic Development Specialist Graciela Mante graduated Cum Laude last September 2020. She is now putting into good use her academic background and is part of the team formulating the National Innovation Agenda and Strategy Document.
"Nothing beats that wonderful sense of fulfilment when you are given the chance to apply the knowledge and skills you acquired globally to your own country. That's why I am grateful to work with NEDA", she said.
She stressed the importance of continuous learning. "Aim for joy and peace while cultivating your faith and minding your health. Most importantly, always be grateful".
Graciela is a computer engineer and hopes to inspire others with her advocacies on youth empowerment, indigenous community development, sustainability, and cancer survival.
Global Sustainability Manager Erwin Alcasid echoed the aspirations of his fellow scholars.
He called on graduates to "take the challenge to live bigger and bolder not just for ourselves, but for our future generations, by using our knowledge to tackle real societal problems".
"What better way is there to live than have a life motivated by service? A great arc of people coming together can make things possible, and our degrees today are mere vessels that can sow seeds of good ideas for the future to which we aspire".
A Magna Cum Laude graduate, Erwin delivered the valedictory address during his graduation at the Faculty of Bioscience Engineering of Ghent University last September 2020.
An initial survey conducted by the Delegation of the European Union to the Philippines showed more than 40 Filipino scholars have either graduated with honors (Cum Laude to Summa Cum Laude) or have their works published in scholarly journals.
European Union scholar Kent Tangcalagan graduated Summa Cum Laude in 2019.
Good News Pilipinas is celebrating its 15th Anniversary in 2021 by giving away prizes! Subscribe to our Good News Pilipinas! TV YouTube channel and enter the raffle by sending us an email to editor@goodnewspilipinas.com saying what you like about our site.
Facebook Comments