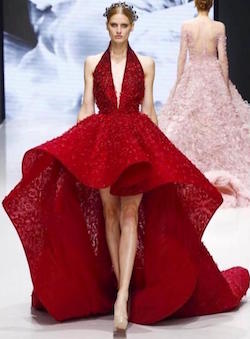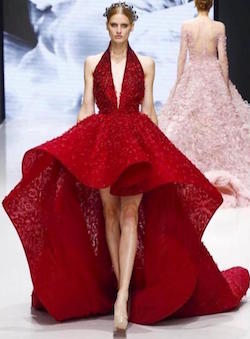 Dubai-based Michael Cinco presented his haute couture designs during the first day of Paris Fashion Week, marking the first time a Filipino designer was featured in the show.
Cinco's 30-piece Fall 2016 designs for the show "Couturissimo," showcased the designer's signature hand-embroidered, Swarovski crystal-encrusted evening gowns.
The designer's collection was divided into parts based on his Philippine design elements: the Barong and Terno, Banig, Solihiya, Calado, and the "Impalpable," described on the Inquirer as follows:
The Barong and Terno collections were more modern, modified versions of the terno sleeves embellished with patterns combining three weaves—solihiya, ikat, banig—all done in micro beads.
The Banig collection were characterized by the crisscross weave of the traditional Filipino mat, decked out in French paillettes, also referenced his place of birth, the province of Samar, where banig mats are local handicrafts.
The Solihiya collection mimicked the solihiya weave normally found in furniture from the Spanish colonial era, but this time, adorned with pearls and micro beads.
The Calado collection took inspiration from the Spanish mantilla, a veil normally used by women in church during the Spanish colonial era, with exquisite calado embroidery all made by hand.
The Impalpable series depicted fully beaded, Swarovski crystal-encrusted voluminous ball gowns, an ode to the glamour of Hollywood. For the finale, his pièce de résistance, a piña embroidered bridal gown with a long dramatic train, closed the show.
Cinco frontlined the Jardin de Tuileries show along with other elite Asian designers upon the invitation of Asian Couture Federation.
Facebook Comments