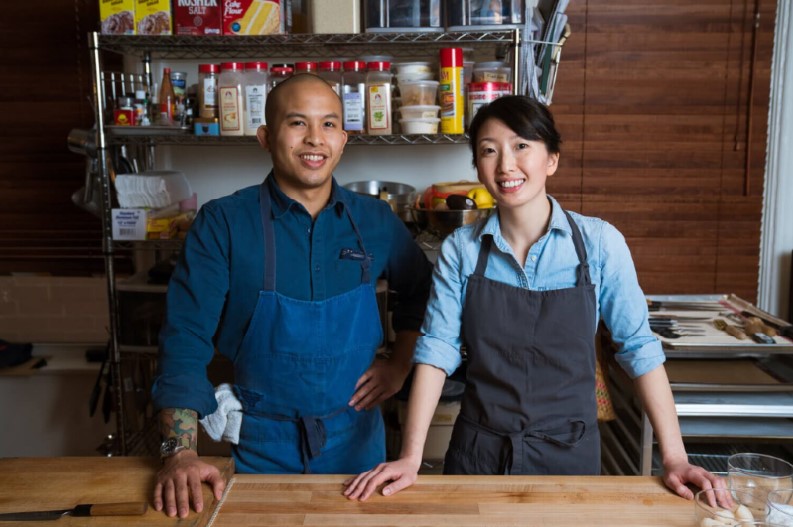 When the culinary spotlight shines on the world's best chefs, it's a celebration of talent, innovation, and diversity in gastronomy. This year, the stars aligned at the prestigious 2023 James Beard Foundation Awards for Filipino restaurant Kasama, bringing Filipino cuisine into the limelight like never before.
At this annual gathering held at the Lyric Opera of Chicago on June 5, the creme de la creme of the hospitality industry, from chefs to restaurateurs, bartenders to publicans, parade on the red carpet, flaunting their best and boldest attire. Among the glitter and glam was the dynamic duo behind Kasama — chefs Tim Flores and Genie Kwon — who donned matching suits and bagged the award for the Best Chef: Great Lakes.
Kasama, nestled in the vibrant neighborhood of Bucktown, Chicago, is not just any restaurant; it's a culinary dream come true, a beacon of Filipino cuisine, and now, a beacon of Michelin and James Beard distinction. It's a testament to the culinary prowess of spouses Flores and Kwon, who introduced Filipino flavors to the Windy City, with an American twist.
Flores, who never imagined he'd be cooking his mother's food professionally, expressed his awe and disbelief on stage. "To be recognized for cooking my mom's food is insane," he exclaimed as he gave a shoutout to his parents in the Philippines.
Filipino restaurant KASAMA in Chicago received accolades as owner chefs Tim Flores and Genie Kwon won as Best Chefs in the 2023 @beardfoundation Restaurant and Chef Awards. Congratulations! https://t.co/P1cy7l4sov

— GoodNewsPilipinas.com (@GoodNewsPinas_) June 16, 2023
Kasama is indeed a unique gastronomic proposition. Eater describes the Filipino restaurant: By day, it morphs into a café, highlighting Kwon's pastry skills and some savory delights from Flores, including a Filipino-American rendition of an Italian beef combo featuring longganisa and shaved adobo pork. As the sun sets, it transforms into one of the toughest tables in town, offering a tasting menu that frames Filipino staples like lumpia and lacquered squab in an upscale dining backdrop rarely seen in America.
This Michelin-starred gem, a first for a Filipino restaurant, found its place in the Michelin Guide Chicago in 2022, just two years after its opening amidst the challenging climate of the coronavirus pandemic. This recognition was preceded by their nomination as a 2020 James Beards Foundation finalist for Best New Restaurant.
This year's James Beard Awards also celebrated other Filipino culinary talents. Margarita Lorenzana Manzke, a Filipino-born American chef, received the award for Outstanding Pastry Chef or Baker, and Filipino celebrity chef and content creator, Erwan Heussaff, was acknowledged with the Social Media Award for his Instagram account that highlights Filipino food.
All these accolades serve to underscore a broader impact on the global perception of Filipino cuisine, as pointed out by Flores and Kwon. With Kasama leading the charge, Filipino cuisine is securing its well-deserved place on the global culinary stage.
WATCH Kasama chefs Tim Flores and Genie Kwon at the James Beard Awards here and SEND CONGRATULATIONS in the comments below!
Good News Pilipinas is a Lasallian Scholarum Awardee. TELL US your good news story tips by messaging GoodNewsPilipinas.com on Facebook, Twitter, or Instagram, or e-mailing editor@goodnewspilipinas.com
Facebook Comments