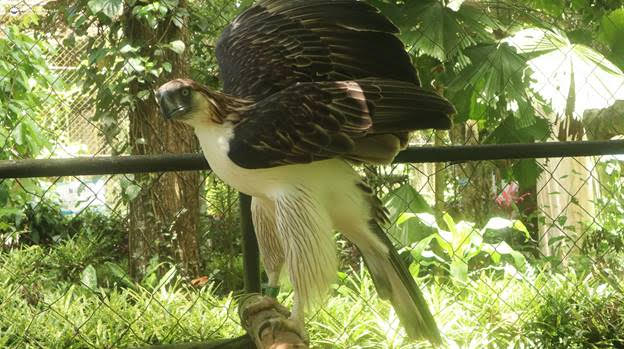 "Mindanao", a 19-year-old Philippine eagle at the Philippine Eagle Center in Davao, has been adopted by Cebu Pacific (CEB) for another year.
Mindanao is among the Philippine Eagle Center's most photographed residents, touted as "a perfect example of the national bird's majestic presence". The Philippine Eagle is a highly endangered species, with only 400 pairs remaining in the wild.
The captive-bred predator, now officially retired from breeding, will pivot to his new role as conservation education ambassador as soon as he is trained to fly on cue.
The Philippines' leading carrier agreed to adopt Mindanao for another year ahead of Philippine Eagle Week from June 4-10, 2021.
Cebu Pacific has been supporting Mindanao since 2015. The airline has committed to providing for Mindanao's food, shelter maintenance, keeper care, and veterinary care for another year.
"The renewal of our partnership with the PEF signifies our commitment to keep doing our part in taking care of our planet in line with our sustainability journey. We are happy to continue being keepers of our home through our continued adoption of Philippine Eagle Mindanao amidst this pandemic," said Candice Iyog, CEB Vice President for Marketing and Customer Experience.
"Cebu Pacific's decision to continue the partnership with us despite such a tough time for the airline industry is a much-needed boost to our work amid the COVID-19 crisis," says Dennis Salvador, executive director of the Philippine Eagle Foundation.
A rescued Philippine eagle was released back to the wilderness on Earth Day 2021.
SEND CHEERS in the comments below to Cebu Pacific for adopting Philippine eagle "Mindanao"!
Good News Pilipinas is celebrating its 15th Anniversary in 2021 by giving away prizes! Subscribe to our Good News Pilipinas! TV YouTube channel and enter the raffle by sending us an email to editor@goodnewspilipinas.com
Facebook Comments