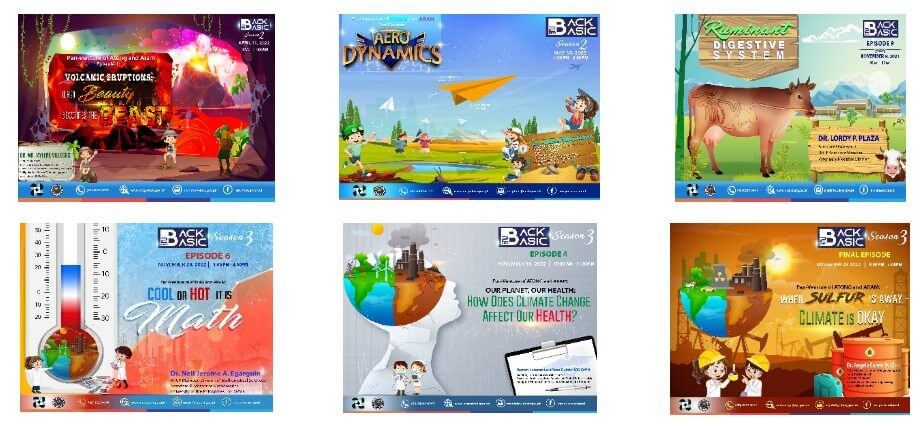 Online lessons in science are being made available to Filipinos and students through the BRITER Program, an educational material project of the National Research Council of the Philippines (NRCP), an attached agency of the Department of Science and Technology Philippines (DOST Philippines).
The Leveraging Basic Research Information Translation for Empowerment in the Regions (BRITER) Program aims to enhance science culture among Filipinos through the Online Science Class Program, a platform that serves as a supplemental teaching and learning platform for Science, Technology, and Innovation (STI).
There are two sets of BRITER lessons available on the website: Back 2 Basic (B2B) and Expert Class.
​Back 2 Basic, or B2B, is an avenue to present difficult theories or science concepts in popular language and in a fun way using videos and infographics specifically designed for Grade 10 students. Other interested audiences like kids, students, teachers, and the general public may watch the science lessons. B2B intends to inspire greater understanding and appreciation of the importance of basic concepts that may lead to further research or thinking.
B2B principally aims to make the teaching and learning of science easy and engaging. The 26 online science lessons (Season 1: 13, Season 2: 6; and Season 3: 7) are all based on the Department of Education's (DepEd) Most Essential Learning Competencies (MELC) for the Science Curriculum, and are designed and produced with digital animation, colorful infographics, and set as virtually interactive.
Expert Class is a platform for advisory or advocacy where science will be used to discuss and explain current issues. By engaging the public in further discourse on a topic of national interest, we hope to achieve greater awareness of science-based recommendations for policy-making. All these are for the ultimate goal of enhancing a science culture among Filipinos.
Top B2B Performers
The NCRP recently recognized B2B top performers from among the 60 Grade 10 students from Paranaque National High School (PNHS), La Huerta National High School (LHNHS), and Army's Angels Integrated School (AAIS).
The B2B season was comprised of seven (7) lessons on Climate Change that were carried out last October and November 2022.
The three schools were selected to enroll a class of 20 students each for analyzing and measuring the impacts of the B2B science lessons on climate change, i.e., how this science teaching platform affected the students' knowledge, appreciation, and perception of the science lessons as one of the subjects of their curriculum.
Here are the B2B top performers:
The Top 3 from PNHS:
BONSOL, MAUREEN JOEBEL
ECHANO, JHON CHRISTOPHER
MAGHUYOP, JOHN MICHAEL
The Top 3 from LHNHS:
ANTONIO, CATHERINE GRACE
BAGAMASBAD, GABRIEL SIMON
RODRIGUEZ, RHIAN MARIE
The Top 3 from AAIS:
AROMIN, ARLEY BENTLEY
DIRRANGGOIN, DARLYN JESSA
SINGH, HARRY HARMINDER
Aside from certificates of excellence, the top performing students received learning lesson tablets containing all the science lessons of B2B seasons 1 to 3. NRCP encouraged them to share the science lessons with their brothers, sisters, friends, and to their parents.
The top performing students were selected based on their attendance, results of quizzes, and the comprehensive examination.
The public, particularly students, are invited to watch the 26 B2B online science lessons which can be accessed via BRITER Commons here:
The NRCP BRITER Commons is the repository of all Back2Basic and Expert Class courses presented by the National Research Council of the Philippines https://t.co/9xDQ5Z4I4M

— GoodNewsPilipinas.com (@GoodNewsPinas_) February 8, 2023
The University of the Philippines Open University also recently opened registration for its free short course classes.
SHARE THIS STORY to spread the word about online science classes available to Filipinos!
Good News Pilipinas is a Lasallian Scholarum Awardee. TELL US your good news story tips by messaging GoodNewsPilipinas.com on Facebook, Twitter, Instagram, or e-mail editor@goodnewspilipinas.com and WATCH Good News Pilipinas TV YouTube & Good News Pilipinas TikTok for more Filipino Pride stories!
Facebook Comments