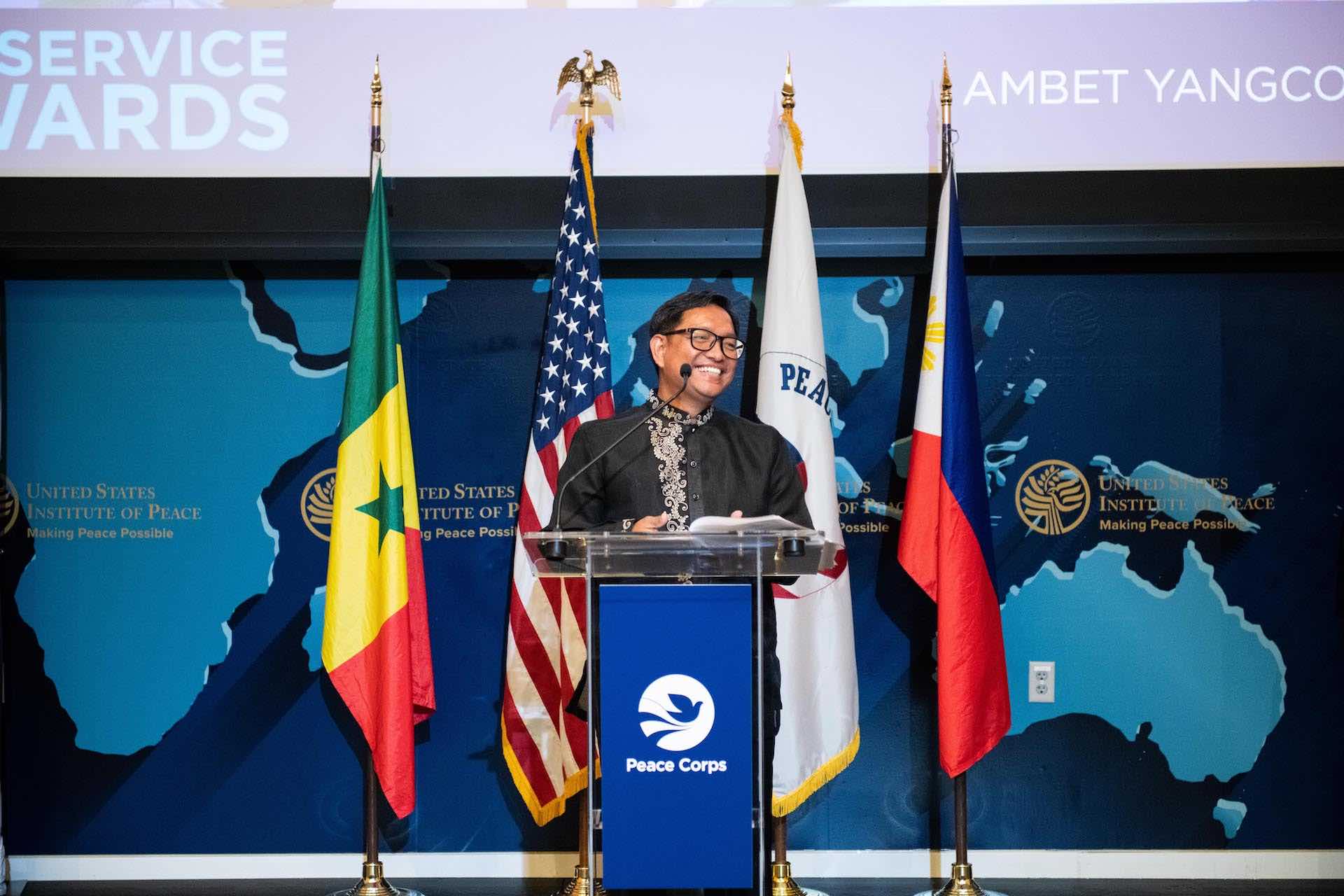 Peace Corps volunteer Roberto "Ambet" Yangco has been honored with the John F. Kennedy (JFK) Service Award, the first Filipino to receive the prestigious award named after the former United States President and Peace Corps founder.
The U.S. Peace Corps Philippines Youth Program Manager is among the recipients of the award which is presented only once every five years to outstanding members of the volunteer community.
Yangco was recognized for his exceptional lifelong service and leadership in supporting the Philippines' most vulnerable youth. He has inspired Filipino at-risk youth to volunteer and later become social workers in their communities, and leads one of the U.S. Peace Corps' top-ranked volunteer programs.
The Peace Corps Philippines leader is a social worker by training and began his career as an HIV/AIDS outreach worker for the Children's Laboratory Foundation in Manila. He then served as an educator in a shelter for homeless children and worked for World Vision as a community development officer.
Yangco was honored with the JFK Service Award by U.S. Peace Corps CEO Carol Spahn in a ceremony at the iconic United States Institute of Peace in Washington, D.C. on May 19, 2022.
"It is time for us to lead not by the example of our power but by the power of our example," said U.S. Peace Corps CEO Carol Spahn, quoting U.S. President Joe Biden in a news release. "Ambet brings this to life in so many ways. He is described as an inspiration to all who know him, having dedicated his life to service."
As head of the U.S. volunteer organization's Youth Program in the Philippines, Yangco has deployed over 300 American volunteers in orphanages, shelters, and youth centers across the country. Throughout his 22-year career with the Peace Corps, he has protected thousands of Filipino at-risk youth from homelessness, trafficking, violence, and drugs by helping provide them with education, job opportunities, and life skills development.
"Ambet embodies the best of the U.S. Peace Corps and Peace Corps Philippines. He has answered President Kennedy's call to lifelong service, and is universally loved and respected by our Philippine partners, former volunteers, and staff for the passion and commitment he brings to his work and for positively impacting the lives of so many youth," said Peace Corps Philippines Country Director Jenner Edelman.
Established in 2006, the JFK Service Awards honor the hard work and sacrifice of five individuals who made outstanding contributions to the Peace Corps mission and three goals both at home and abroad.
Named after former U.S. President and U.S. Peace Corps founder John F. Kennedy, the award is highly competitive and given only to those who demonstrated extraordinary leadership and commitment to service, as well as a lifelong commitment to the Peace Corps' mission of world peace and friendship.
Filipinos who made history for leading human rights efforts and peaceful advocacies include Fr. Flaviano "Flavie" Villanueva, the first Filipino to win the Human Rights Tulip Award, and Filipino educator Ronald Adamat, the first Filipino recipient of the 2020 Mahatma MK Gandhi Prize for Non-Violent Peace.
SEND CONGRATULATIONS in the comments below to Youth volunteer Roberto "Ambet" Yangco, the first Filipino to receive the John F. Kennedy (JFK) Service Award.
Good News Pilipinas is a Lasallian Scholarum Awardee. TELL US your good news story tips by messaging GoodNewsPilipinas.com on Facebook, Twitter, Instagram, or e-mail editor@goodnewspilipinas.com and WATCH Good News Pilipinas TV YouTube & Good News Pilipinas TikTok for more Filipino Pride stories!
Facebook Comments