Popular and world-renowned Philippine tourist spots are being featured on the largest flying theater in the world.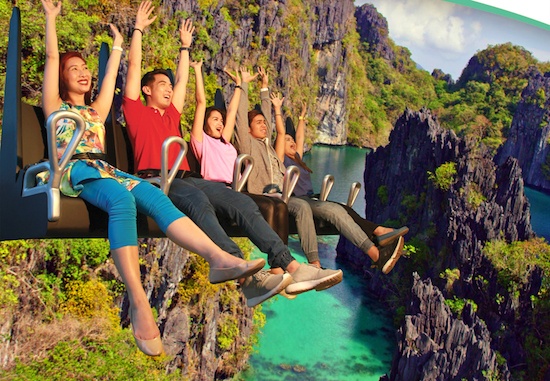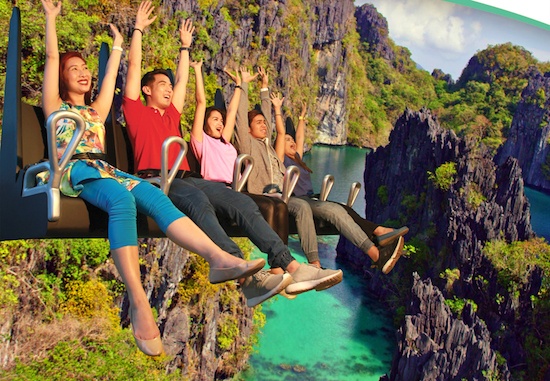 Enchanted Kingdom's new world class theme park ride, touted to be the largest flying theater in the world, showcases the new simulator attraction "Agila: The EKsperience" featuring Philippine tourist spots on the largest screen in Southeast Asia and the latest immersive 4-D motion theater technology.
The Sta. Rosa, Laguna amusement ride simulates flying like an eagle and features 6 minutes of aerial video shots of various attractions from the regions of the Philippines shown on a 544-square meter screen with a clear high definition 6K cinematography. The AGILA Flying Theater is designed with the new patented SkyRide system by SimEx-Iwerks.
The AGILA is part of the theme park's commitment to preserve the natural beauty of the Philippines. EK's Agila is also mounted in partnership with the Philippine Eagle Foundation to help spread awareness of the need to protect the Philippine Eagle.
EK's Chairman and President Mario O. Mamon said in a Philippine Star interview during the CALABARZON Tourism Summit that AGILA is the first attraction within the new EK cultural zone and is intended "As our way of giving back to the country and to be able to promote tourism and Filipino pride and culture…"
"Agila is the Philippines' first and largest flying theater in the world. You will be flying as if you were on the wings of an eagle and you'll be traveling around the Philippines," Mamon said.
"We took about 30 hours of aerial videos all around the Philippines and from those videos we were able to come up with six minutes for the first film," the EK chief shared.
The full 4D experience is completed with the theater's facilities enabling the audience to feel the wind and smell the nature.
"With Agila, it's just one way for us to start teaching the young the beauty of the country. It's also a way of being able to bring in foreign tourists who do not have time to go around the country," Mamon added.
Facebook Comments