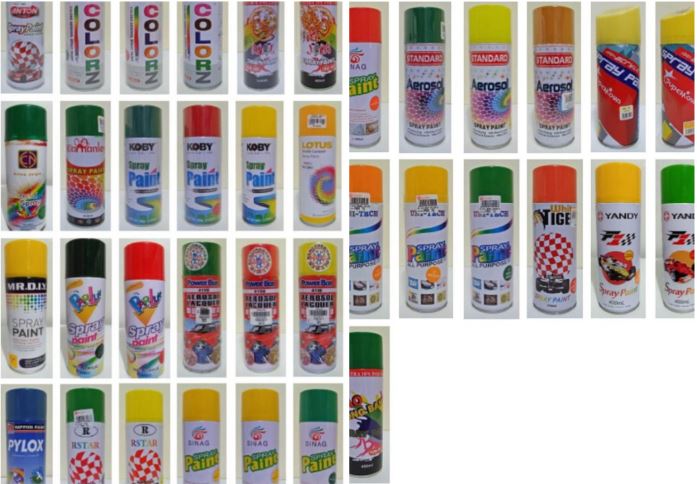 The Philippines has banned 37 brands of spray paints containing lead.
Non-profit EcoWaste Coalition urged retail outlets nationwide to heed the public health advisory issued by the Food and Drug Administration (FDA) against the distribution and sale of the spray paints containing violative levels of lead, a highly toxic chemical banned in the production of paints.
"We appeal to the country's retail industry to desist from selling aerosol or spray paints containing lead additives in violation of the Chemical Control Order banning lead in the manufacture of paints," said Thony Dizon, Chemical Safety Campaigner, EcoWaste Coalition.
These paints are easily accessible to consumers and are often promoted for general use such as touch-up paint for cars and household appliances, convenient stuff for sprucing up accessories and decors, and even as a material for school projects.
"Retailers, including online dealers, should heed the FDA's advice at once or face sanctions for selling products not compliant to the country's lead paint regulation," Dizon pointed out.
Through Advisory No. 2020-1585, the FDA announced that "laboratory test results of 37 spray paint products showed that these products have exceeded the maximum limit of 90 parts per million (ppm)."
"All concerned establishments are sternly warned and hereby directed to stop the distribution and sale of aforementioned products that pose unwarranted risks to health," said Dr. Rolando Enrique Domingo, the Director-General of the FDA who signed the advisory.
"Appropriate regulatory sanction shall be executed to establishments that are continuously marketing these products, upon issuance of this advisory," he further warned.
It will be recalled that the EcoWaste Coalition and the International Pollutants Elimination Network (IPEN) last July 2020 released the "Lead in Spray Paints for Consumer Use in the Philippines" report, which reveals that 37 of the 87 analyzed spray paints obtained from retailers in 20 cities and one municipality failed the 90 ppm regulatory limit.
Worst, 29 of these 37 non-compliant products tested with dangerously high lead levels exceeding 10,000 ppm with one sample containing 82,100 ppm of lead. Even products that bear the "No Pb" pictogram had lead ranging from 14,600 to 33,300 ppm ("Pb" is the chemical symbol for lead).
None of the 87 samples was locally produced by member companies of the Philippine Association of Paint Manufacturers (PAPM), a partner of the Global Alliance to Eliminate Lead Paint like the EcoWaste Coalition, IPEN, and the Department of Environment and Natural Resources (DENR).
To protect public health and the environment, the EcoWaste Coalition and IPEN had earlier called for the immediate removal of the violative products from the market. They likewise urged paint manufacturers, including those that export to the Philippines, to obtain third-party Lead Safe Paint® certification to assist consumers in making an informed choice when buying paints.
As stated in the FDA advisory, "lead is a cumulative toxicant that affects multiple body systems and is particularly harmful to young children and can suffer profound and permanent adverse health effects, particularly affecting the development of the brain and nervous system."
"There is no permissible level of exposure to lead that is known to be without harmful effects," the FDA emphasized.
Additionally, exposure to lead "causes long-term harm in adults, including increased risk of high blood pressure and kidney damage," the FDA said, adding that "exposure of pregnant women to high levels of lead can cause miscarriage, stillbirth, premature birth and low birth weight."
Among the spray paints banned by the FDA due to their lead content include:
Anton (red)
Colorz (green, red, yellow)
JM (green, yellow)
King Sfon (green)
Klomonkey (green)
Koby (green, red, yellow)
Lotus (yellow)
Mr. D.I.Y. (yellow)
Parlux (green, red)
PowerBon (green, red, yellow)
Pylox (blue)
RStar (green, yellow)
Sinag (green, red, 2 yellows)
Standard (green, 2 yellows)
Supemova (Cream, yellow)
Uni-Tech (green, orange, yellow)
White Tiger (red)
Yandy (green, yellow)
Yao Dong Bang (green)
Filipino children's health has been secured as the Philippines completed its phaseout of leaded paints in early 2020, with local manufacturer Sycwin becoming the world's 1st company with industrial brands certified lead-safe paint.
Want to know how to be a Proud Pinoy? Like, Follow, Subscribe to GoodNewsPilipinas.com, and our socials on Facebook, Twitter, Instagram, Good News Pilipinas! TV on YouTube, for new story notifications, and e-mail newsletters for updates on more Filipino Pride stories.
Facebook Comments