The Philippines' leisure destinations and business venues are allowed to reopen under General Community Quarantine (GCQ) areas starting March 5, 2021.
Memorandum Circular (MC) No. 21-08 of the Department of Trade and Industry (DTI) recategorized certain business establishments in the tourism and recreation industries from Category IV to Category III, allowing them to reopen at the specified maximum operational capacity.
The following leisure establishments are allowed to reopen at half capacity in GCQ areas and at 75% in Modified GCQ areas by Friday:
museums
cultural centers
theme parks
tourist attractions
game arcades
Libraries and archives are also allowed to resume operations in a similar capacity.
Cinemas can reopen at 25 percent capacity in GCQ and at 50 percent capacity in MGCQ areas.
The national government's Inter-Agency Task Force for the Management of Emerging Infectious Diseases (IATF-EID) earlier approved the reopening of traditional cinemas under the rules that moviegoers are not allowed to eat and drink, and face masks shall be worn at all times inside the cinema. A one-meter physical distance on all sides is also required.
The following business establishments are allowed to operate as follows:
Driving schools can fully operate at 100% capacity in GCQ and MGCQ areas
Meetings, incentives, conferences, and exhibitions (MICE) are allowed to be hosted in venues at 50 percent capacity in GCQ areas and 75 percent in MGCQ areas
MICE social events are only permitted at the lower capacity of 30 percent in GCQ areas and 50 percent in MGCQ areas
The Memorandum states that the expansion of the aforementioned establishments in GCQ and MGCQ areas will be subject to compliance with the minimum public health and safety standards and protocols.
"Following the earlier agreement at the IATF, DTI issued the circular that will guide the implementation of a safe and gradual reopening of more businesses and economic activities. This is part of our mandate to ensure that as more businesses reopen to provide more jobs and sources of income for our countrymen, the strict health protocols are enforced," said Trade Secretary Ramon Lopez.
Secretary Lopez said while the government continues to reopen more economic and business activities, minimum health measures should be strictly implemented.
The Circular will take effect on March 5, 2021, upon publication and filing with the University of the Philippines Law Center, according to DTI.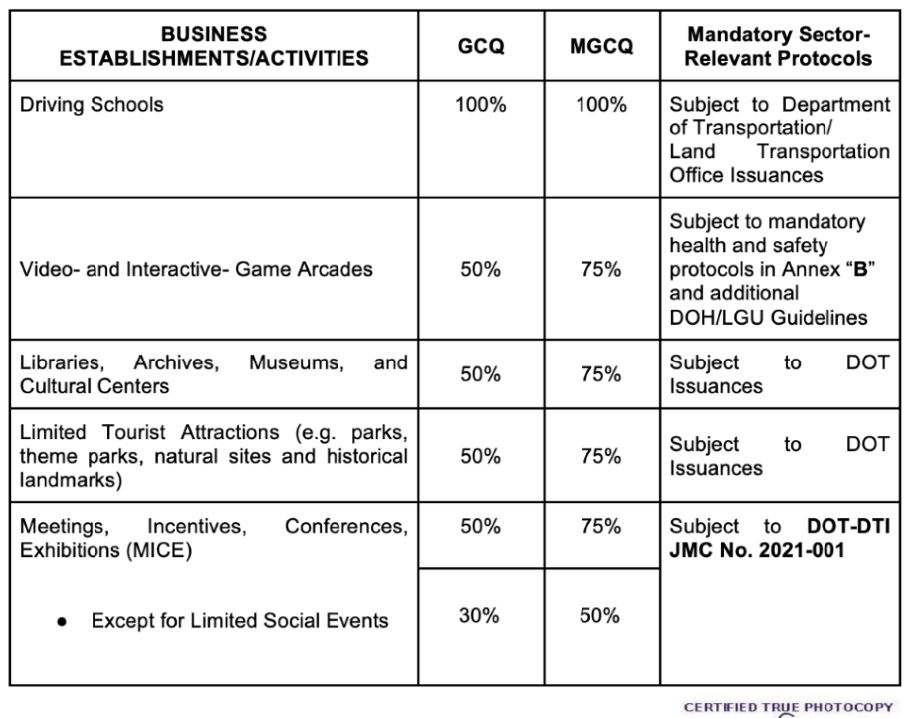 The Philippines' first-ever and only Venice-themed float-in cinema earlier opened to offer a safe and memorable viewing experience.
The National Museum of the Philippines has also reopened its doors to visitors with new guidelines in place to ensure the safety of museum guests.
In Manila, the National Library of the Philippines, Intramuros' Fort Santiago, Baluarte de San Diego, and Casa Manila Museum have resumed operations for Filipinos and tourists.
TELL US in the comments below, which leisure destinations and business venues did you miss the most during the community quarantine?
Good News Pilipinas is celebrating its 15th Anniversary in 2021 by giving away prizes! Subscribe to our Good News Pilipinas! TV YouTube channel and enter the raffle by sending us an email to editor@goodnewspilipinas.com
Facebook Comments