The Philippines' Maya-2 cube satellite has started its space mission after being deployed from the International Space Station (ISS).
Maya-2, the country's second cube satellite developed by Filipino scholars at the University of the Philippines Diliman, was successfully released into orbit by the International Space Station (ISS) on March 14, 2021.
The CubeSat project is under the 4th Joint Global Multi-Nation Birds Satellite project (BIRDS-4 Satellite Project) through the Space Science and Technology Proliferation through University Partnerships (STeP-UP) Project of the Space Technology and Applications Mastery, Innovation and Advancement (STAMINA4Space) Program, with funding support from the Department of Science and Technology (DOST).
Maya-2 was earlier launched to the ISS in February 2021, along with Paraguay's GuaraniSat-1 and Japan's Tsuru.
Maya-2 engineers Izrael Zenar Bautista, Mark Angelo Purio, and Marloun Sejera confirm that upon deployment of the CubeSat, they will immediately start carrying out the satellite's missions.
"Right now we hope to execute all our missions with the help of other BIRDS ground stations around the world so that we could utilize the satellites to their full extent," said BIRDS-4 Project Manager Izrael Zenar Bautista in a STAMINA4Space report.
Maya-2 weighs 1.3 kg. and has a camera that captures images and videos, an Automatic Packet Reporting System Message Digipeater (APRS-DP), attitude determination and control units for active attitude stabilization and control demonstrations, Perovskite solar cells, and a Latchup-detection chip.
"Gathered data from the demonstrated components will be used to evaluate these technologies for future space missions," the report said.
Maya-2 can collect data remotely through a store-and-forward mechanism and gather data for applications such as weather and infectious disease analysis through ground sensors.
"The successful launch of Maya-2 makes me feel proud. The accomplishment made possible by our young researchers and engineers should make us confident that we can do more in the area of space technology. I have high hopes that we, as a people, will be able to benefit more from developments in this area–all towards making the quality of life of our people better," said DOST Secretary Fortunato de la Peña.
Maya-2 was developed and improved using the knowledge gained from developing its predecessor, Maya-1 which completed its mission and returned to Earth in November 2020.
DOST and the STAMINA4Space Program are looking forward to the continued expansion of the Philippines' capabilities and innovations in the space technology applications sector with the development of more Filipino-made satellites. They have corroborated that Maya-3 and Maya-4 are targeted to be launched within 2021.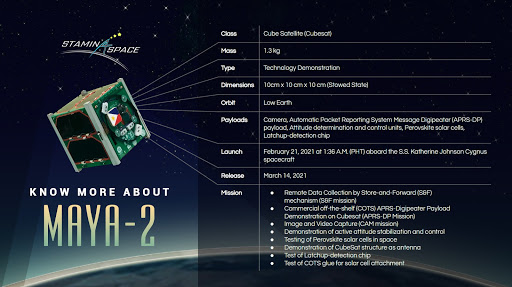 After the scholars complete their studies, they have their eyes set on furthering the proliferation of the knowledge they gained in Japan and bring it back to the Philippines.
"After finishing my studies, the plan is to return to our respective institutions and carry out knowledge transfer to aspiring students in the field of science and technology," said Marloun Sejera.
Maya-2 engineer Mark Angelo Purio chimes that he also plans on returning to his alma mater, Adamson University, to impart what he learned in Japan after he completes his PhD degree and supporting government projects related to this endeavor. "Furthermore, I envision setting up our own ground station in the university to continue our efforts to support space-related activities while involving our students by providing them hands-on training."
As for Izrael Zenar Bautista, he hopes to contribute to the growing space industry back home.
"Maybe in the Philippine Space Agency or in the academe so that I could share the things I learned in Kyutech and apply it for the future satellites that our country will build. A startup relating to satellites or my research is also one that I'm looking into," he says. He also shared that he plans to continue what he has learned in Japan, from his research in Perovskite solar cells to satellite systems engineering, to hopefully providing meaningful output for the Philippines.
The investment made in these scholarships are well worth it, according to DOST-SEI Director Dr. Josette T. Biyo.
"We are ecstatic over Maya-2's successful deployment to space and incredibly proud of the DOST-SEI STeP-UP scholar-engineers behind it," she says. "They exemplify the perseverance of Filipinos and the brilliance of our science scholars. Maya-2 proves that the country's space program and science scholarships are investments worthy of people's support."
As early as now, the Philippines can bank on witnessing more satellites be sent to space in the near future—with Maya-3, Maya-4, Maya-5, and Maya-6 already in their respective development and testing phases.
Philippine Space Agency (PhilSA) Director-General Dr. Joel Marciano, Jr. issued the following statement: "Just as how computers on Earth have helped to improve our lives, satellites like Maya-2 are 'computers in orbit' that work for us from space. With the release of Maya-2 from the ISS, the genius words of Mark Weiser, father of ubiquitous computing, resonate with renewed meaning and inspiration: 'The most profound technologies are those that disappear. They weave themselves into the fabric of everyday life until they are indistinguishable from it'. Like Diwata-1, Maya-1, and Diwata-2 before it, Maya-2 now 'blends' into the background to serve and perform its mission. Godspeed, Maya-2!".
SEND CHEERS in the comments below to the Filipino scholars and teams that the Philippines' Maya 2 cube satellite off to start its space mission after its ISS deployment into orbit.
Good News Pilipinas is celebrating its 15th Anniversary in 2021 by giving away prizes! Subscribe to our Good News Pilipinas! TV YouTube channel and enter the raffle by sending us an email to editor@goodnewspilipinas.com
Facebook Comments