The Philippine contact center industry is hosting 150 Fortune 500 investors who are in the country for the 11th International Contact Center Conference and Expo (ICCCE).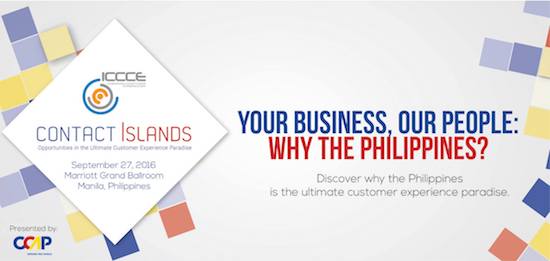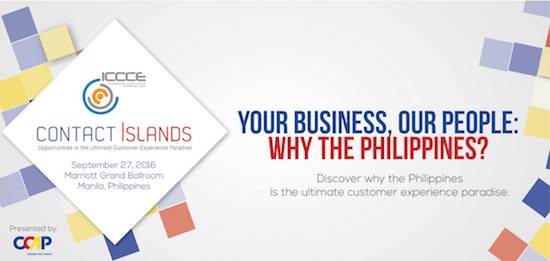 Speakers from Fortune 500 companies and world-famous companies such as Accenture, EGS, Frost & Sullivan, among others, have been brought in by the Contact Center Association of the Philippines (CCAP).
"The Philippines continues to be the most preferred offshore destination worldwide. Despite the challenges, the preference is still the Philippines for voice, as a compelling value proposition differentiated from any other market out there," says Benedict Hernanez, president of CCAP.
Mr. Hernandez adds, "We are bringing, for the first time, around 150 investors from Europe, US, Japan, Australia and more, to come to the country to see first-hand and see for themselves, why the Philippines has become the ultimate customer experience paradise."
The ICCCE is touted as the largest contact center industry event by size and scope and is the leading learning and networking event of the Philippine contact center industry.
The conference with the theme "Contact Islands: Opportunities in the Ultimate Customer Experience Paradise" brings together delegates from different parts of the world to share insights on innovation and excellence towards genuine service.
Discussions will focus on the "Digital Phenomenon" and how the industry uses it to its advantage. Other topics cover cover location strategies, operations, human resources, and technology, among others.
The CCAP president is expected to present the industry report which will highlight all the pertinent achievements and the specific challenges in the contact center industry field.
According to the CCAP, the Philippine IT-BPM industry has grown significantly in the last five years, not just in terms of employees, but also in revenue. The Central Bank predicts that by 2017, the IT-BPM (Information Technology and Business Process Management will be the Philippine's largest source of income. From 525,000 employees in 2010 and $8.9 billion in revenue to an expected 1.3 million jobs and over $25 billion in revenue for 2016, it is to date, the most lucrative and fastest growing industry in the Philippines.
Facebook Comments