Philippine Science High School (PSHS) student, Marla Abao, was given the Best Oral Presentation award at the 2016 International Student Science Fair (ISSF) held in Singapore.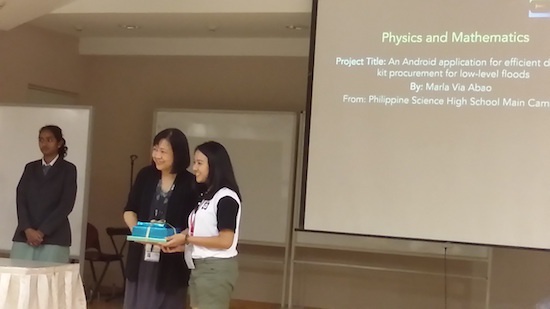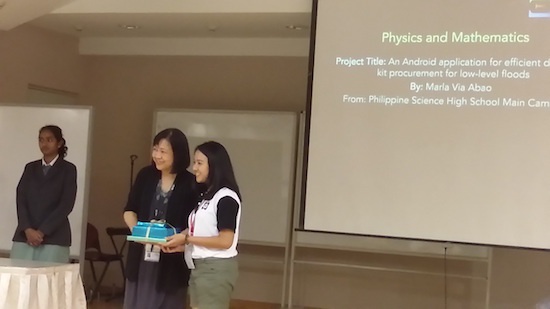 Abao presented her paper, "An Android Application for Efficient Disaster Kit Procurement for Low-Level Floods," at the 12 th ISSF hosted by the National University of Singapore-High School of Math and Science, the Department of Science and Technology (DOST) said in a media release.
The Grade 11 state high school student told media, "It's an android application my team mates (Rodrigo Perando and Kyle Dulay) and I programmed. It uses modified routing and shopping algorithms so that you can deliver your disaster kits at the quickest and best route at the minimum cost."
"Google Maps and the file manipulation property in Java were used so that it makes it easier for the program to adapt in different locations, which means the concept of the automated disaster kit procurement system could work virtually everywhere (where flood happens)," the 16-year-old junior scientist said in a Manila Bulletin interview.
Abao's individual presentation won the top prize among 28 project presentations from over 15 countries.
The 2016 ISSF delegation from the PSHS which included Abao, Mikhail Torio, and Justine Opulencia merged with the American team to win the Science Challenge, a science-themed Amazing Race.
The ISSF gathers teachers and students of science high schools from Europe, America, Asia, Australia, and Africa in an annual event hosted by members of the International Science Schools Network (ISSN) on a rotating basis.
The PSHS Main Campus as an associate member will give the Philippines a chance to host the international event and showcase the local science education scene.
Facebook Comments