The Philippine flag symbols were on the team shooting shirts worn by the Golden State Warriors of California, the reigning National Basketball Association (NBA) Champions, during their pre-game warm up to celebrate the 8th annual Filipino Heritage Night in November.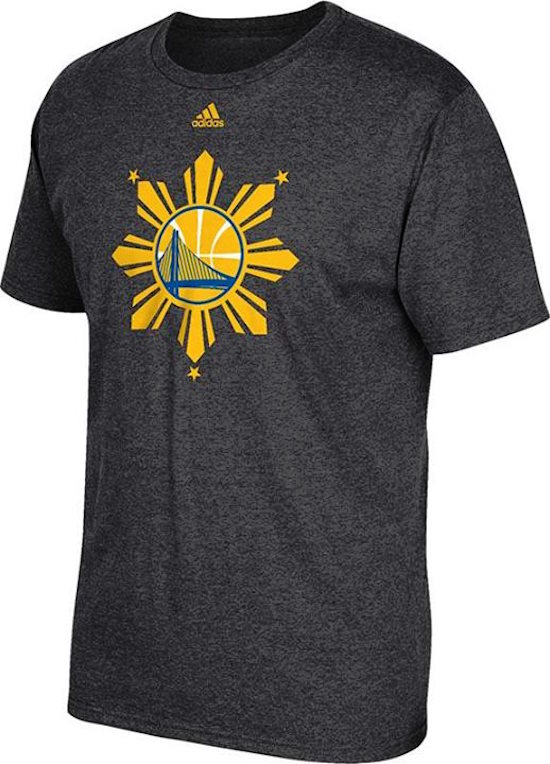 The shirts, dubbed "Kampeon," are printed with a sun with eight rays, and three stars – symbols of the Philippine flag. The Warriors' official logo, a vectorized illustration of the Golden State Bridge, lies within the sun crest.
The Warriors is the first team in the NBA to wear special limited edition Filipino Heritage Night shooting shirts. They wore the warm up shirts during their homestead game against the Brooklyn Nets which they won in overtime propelling to the team to an 11-0 scorecard to be the only undefeated squad in the current NBA season.
The night was especially meaningful for the Warriors who were coming home to play for the hometown crowd after bagging their first NBA title in 40 years.
The only Filipino-American hypeman in the NBA, Franco Finn, in an interview with Balitang America said the Filpino fans make his job easier, "The Filipino fans are amazing…they've come during the darkest times and they've been here for the best of times and I feel proud to be a Pinoy representing here and getting hyped up!"
"We can make every night Filipino Heritage Night because if you look at the crowd it's a very strong fan base for us. We're really excited to be able to continue to do it. We would like to thank them for their support," said Jennifer Cabalquinto, Chief Financial Officer of the Warriors.
A second Filipino Heritage Night in March 2016 is scheduled against the Dallas Mavericks. The Mavs have also won the attention of Filipinos for enlisting home-grown talent Bobby Ray Parks Jr. during the NBA Summer League.
Both Filipino Heritage Nights have marked a portion of the proceeds for donation to support local Filipino organizations in the Bay Area.
Facebook Comments