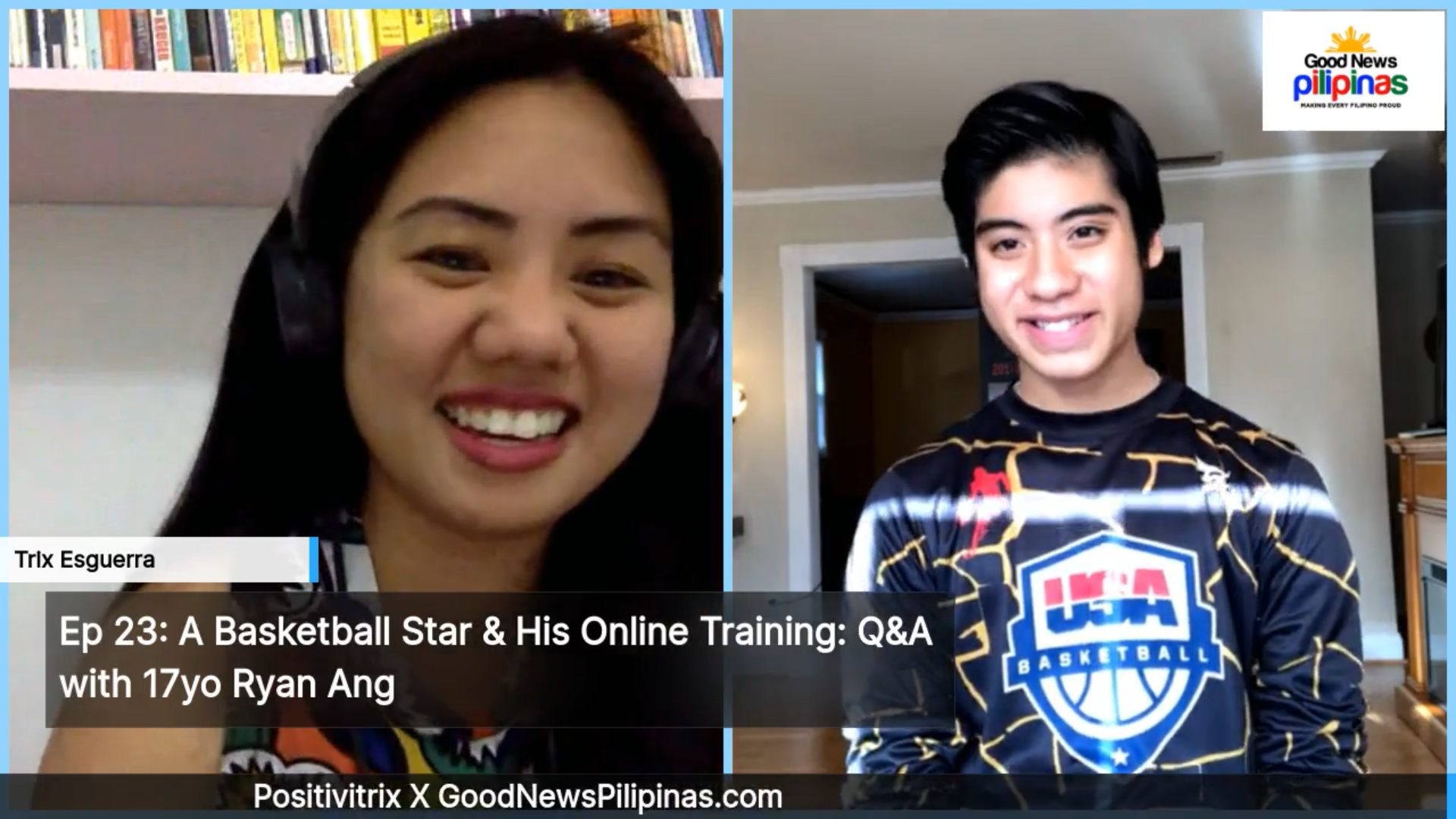 Filipino-American teen Ryan Ang went on Good News Pilipinas TV with Positivitrix and showcased why his basketball handling skills have made him a most sought-after youngest trainer in Bergen County, New Jersey.
Ang talked about staying positive and demonstrated his basketball skills in front of Facebook Live viewers when he guested on Positivitrix hosted by Good News Pilipinas TV Anchor and motivational speaker Trixie Esguerra last April 7, 2020.
The 16-year-old Ang of Ang1 Trainings is the youngest basketball trainer in Bergen County. He has been featured in People Magazine, Balitang America, Channel ABC7 New York, Inquirer, and many other media reports.
The talented teenager has been training over 40 Filipino and American basketball players and has worked with more than 5 teams with players ranging from first graders to high school athletes, and even adults.
Before he showed his skills with the viewers, Trixie Esguerra chatted with Ang about his basketball career in the United States.
Ryan said that the first thing he worked on was his basketball handles. Then as years progressed he increased his handle skills as well as his overall skills in the game.
Ryan told the story of how he started becoming a basketball trainer.
"One day, I was in a local gym, I was training the coach's son. As I was training him, I was giving him drills to go back and forth of the court and things to work out. As I was doing these drills, other kids from outside of the court they saw what I was doing and the drills that I was conducting. They overall really like my program.
"As I was going through my drills the kids were like 'Do you mind if we can join? 'cause I really like your drills because it's very effective in the game.' As they joined then, the coach, he had the idea, he was like 'Hey Ryan how about you do us a job? Have you considered that?'
"It was last year. I was about the age of 15. At first, I was like, I don't know. Coz this is new for me at the age of 15. I started to conduct drills at this time I was just doing it for fun, just to see where it landed me. As more people really liked my drills the parents were like 'I really like what you're doing you are hands-on with your training, you'd really give my son a great work out'.
"I was like, let's turn this idea into innovation and make this innovation into a business and that's how I started my Ang1 Training Career."
Ang officially became a coach just a few months after the first anniversary of his Ang1 Trainings.
Trixie Esguerra then talked to Ryan about his online basketball training and the challenges that he encountered along the way.
"In the Winter season for me in my high school career I had basketball. I had to play basketball for my team. I really couldn't continue my training. In high school, I practiced every single game, every single day. I always have a game every other day. I was after focus on my homework. It was both student-athlete. It's really difficult transitioning from one another," Ang said.
"After Winter season I had many calls from teams and players and athletes. However, with the pandemic of COVID-19, I was like I don't wanna risk my safety and their safety. So I changed over to online training. This way athletes can tune in Live with me on their camera or mobile device. They can learn from the comfort of their home while maintaining their safety," Ang revealed.
Ryan Ang live-streams his online training from their living room.
One of the biggest challenges that he had is the difference of playing on-court and off-court.
"When you're at home in your living room, you're confined to good amount of space. and you don't really have a basketball hoop as you're indoors and you can't be shooting inside the house. So, that's one of the challenges," Ang shared.
"Another challenge is interaction. It's actually hard as I'm the one over here doing the live. There's about maybe 20 to 50 people watching I can't individually go like, which is a challenge but a new innovation to me." he added.
He also said that he dedicated some of his time to watch athletes on what they are working on so he could help them with what drills to work on. Other than that, it's still a new experience for the young trainer.
Ryan Ang began live streaming over social media on Sunday, March 15, 2020, to provide free Ang1 Trainings on ball handling to his students and anyone interested in basketball.
The youngest basketball trainer in Bergen Country, New Jersey, calls his initiative "Offense/Defense Against COVID-19", a positive response to the coronavirus threat.
Being focused, staying positive while being a student-athlete are his self-imposed rules on the career he's building.
Ryan Ang then showed his moves when viewers started asking him for sample training.
"Nice moves! I'll show this to my son later. He dreams of being a basketball star someday," Mitche Cas said.
To those who want to participate in his free training, Ryan's online session takes place every Friday from 3:30 pm to 4 pm (Eastern time, New Jersey).
Ryan Ang's journey and training are documented on Instagram (ang1_trainer), Facebook, and YouTube.
Before the Facebook live ended, Trixie Esguerra asked him "Due to this crisis what has positively changed in you?"
"I became more productive. With this quarantine I've actually been helping around the house more, I've been actually more active. It makes you really wanna move. I got so much close to my family," he said.
He also left a message for his parents.
"I'm really thankful for them, supporting me along my journey, helping me out and always been by my side. I love you guys thank you so much by sticking by my side. It's really amazing having both my parents and my sister to be standing behind my back. I really love them more than anything and I am so thankful to have them on my life," he said.
WATCH Ryan Ang on Good News Pilipinas TV with Positivitrix here and SEND CHEERS in the comments below!
Want to know how to be a Proud Pinoy? Like, Follow, Subscribe to GoodNewsPilipinas.com and our socials Facebook, Twitter, Instagram, Good News Pilipinas! TV on YouTube, for new story notifications and e-mail newsletters for updates on more Filipino Pride stories.
Facebook Comments