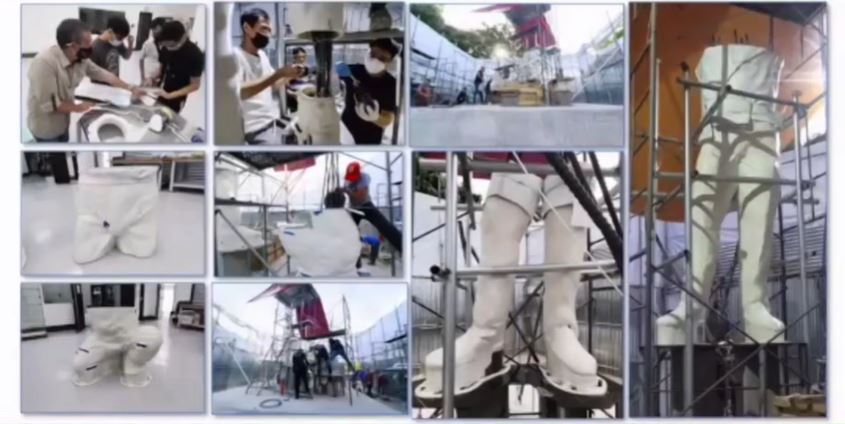 Science and art have come together to create the tallest 3D-printed Jose Rizal statue honoring the Filipino national hero whose works sparked the revolution that gained the independence of the Philippines from Spanish colonial rule.
The 12.5-ft. tall monument of "Dr. Jose P. Rizal, The Filipino Scientist" brought together the state-of-the-art 3D printing in the country and the artistry of University of the Philippines College of Fine Arts professor and renowned artist and sculptor Jose Manuel "Manolo" Sicat.
The design was inspired by studies and works of scientists, historians, and artists of the Department of Science and Technology – National Research Council of the Philippines' (DOST-NRCP) depicting the hero as a medical scientist, an engineer/surveyor, agriculturist, and naturalist-environmentalist.
The tribute to Jose Rizal to be unveiled on his 125th martyrdom anniversary on December 30, 2021, was 3D-printed at the Advanced Manufacturing Center (AMCen), the additive manufacturing and 3D printing research and development facility and laboratory, and was built at the DOST complex in Bicutan.
The statue was 3D printed using Acrylonitrile Styrene Acrylate (ASA), a material known for its high mechanical properties with chemical resistant quality and can withstand impact and high temperature as well as ultraviolet (UV) exposure.
The monument is supported by a steel structure inside it that can withstand winds of 330 kph and a 7.0 magnitude earthquake.
The initiative to create a 3D-printed Rizal monument is in line with the DOST's thrust to pursue the development of innovative products and services using additive manufacturing technology and specialized materials as the Philippines embraces the 4th Industrial Revolution to be at par with other countries in the world.
The making of "Dr. Jose P. Rizal, The Filipino Scientist" was presented by the DOST in a virtual presser on December 28, two days ahead of its official unveiling.
DOST Undersecretary for Research and Development Dr. Rowena Cristina Guevara noted how the tribute brings together the best of Philippine science and art to honor history.
"We're all familiar with the achievement of Dr. Jose Rizal, his contribution as nationalist in founding La Liga Filipina, and his famous novels, Noli Me Tangere, and El Filibusterismo are all instrumental in sparking the independence of our country from 300 years of foreign rule," Dr. Guevara said.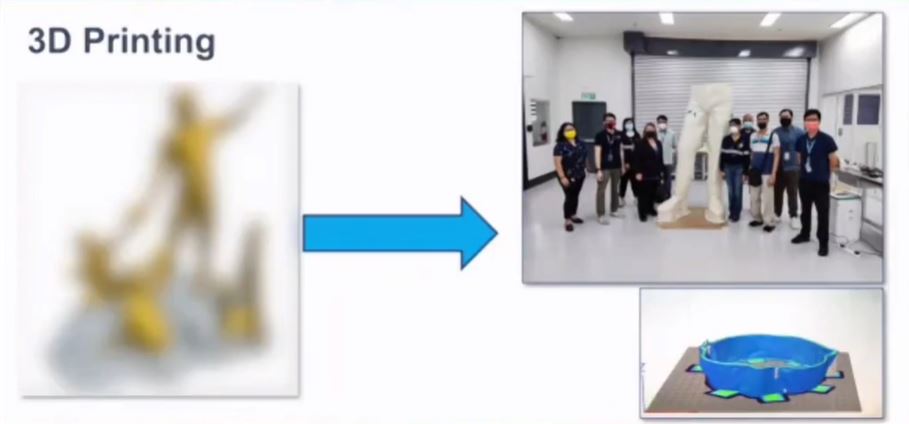 Rizal the Scientist
"We are paying tribute to the many works of Dr. Jose P. Rizal especially in the field of science," said DOST Secretary Fortunato T. de la Peña. "We believe that this project is a good inspiration for our youth of today to maximize their capabilities and capacity to learning, like Dr. Rizal, there is no circumstance that could stop us from learning."
The project also showcases the capabilities of the local engineers in creating a massive, complex structure using additive manufacturing technology.
Although not always highlighted in various academic discussions, Rizal had, in fact, inclinations on natural science, engineering, medical science, and agriculture. During his incarceration at Fort Santiago and in his exile in Dapitan, he engaged himself in the study of nature. His studies focused on a number of species of various classes such as insects, butterflies, amphibians, reptiles, snakes, shells, and plants.
The specimens he found were then sent to the Dresden Museum of Ethnology for further identification.
Rizal is credited with the discovery of Draco rizali- a small lizard, known as a flying dragon- where he sent the specimens to Europe, believing that he had with him new species of reptiles.
Aside from this, he also collected other specimens of insects and animal species that were eventually named after him. Among them was Apogonia rizali – a rare kind of beetle that has five horns and Rhacophorus rizali – a frog species.
He also made a mark in engineering with his knowledge in creating a waterworks system to supply the community with potable water. On the other hand, his medical practice as an ophthalmologist benefitted the people as he gave free medical consultations to the community. Incidentally, Rizal's first patient was his mother who had failing eyesight.
Secretary de la Peña remarked how if Rizal were alive today he would make use of the 3D technology.
"Si Dr. Rizal ay likas na malikhain, nakakasiguro ako na matutuwa sya na mag-eksperimento gamit ang mga makabagong teknolohiya ng AMCen (The creative Dr. Rizal would be happy to experiment with AMCen's new technology," the DOST official said.
DOST sees the Rizal monument project as a showcase to encourage local enterprises to team up with them to explore and adopt additive manufacturing technology to improve production processes attuned to the demands of the 4th Industrial Revolution.
AMCen's capacities such as 3D Scanning, Printing, Modeling, and Design Optimization, Virtual Warehousing, and Remanufacturing pitched to make a design more diverse and improved as it aims to be the premier hub for developing the next generation of manufacturing engineering poised to revolutionize production processes of different industries.
The unveiling of the monument will happen on December 30, following the national celebration at the Rizal Monument in Rizal Park, Manila in a simple ceremony to honor the martyrdom of Dr. Jose P. Rizal and his works and contributions in the field of science. The event will be live-streamed via the DOST FB page.
Good News Pilipinas is celebrating its 15th Anniversary in 2021 by giving away prizes! Subscribe to this website and  Good News Pilipinas! TV YouTube channel and enter the raffle by telling us what you like about our stories in an email to editor@goodnewspilipinas.com
Facebook Comments