Staying true to its commitment to sustainability and environmental protection, SM Prime Holdings Inc. has challenged the public to see Earth Hour as just a 60-minute event for the environment but a continuing personal pledge to climate action.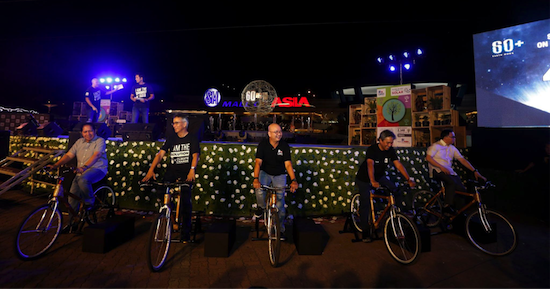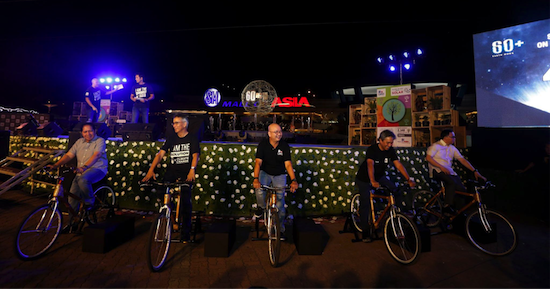 Speaking during the recently concluded Switch Off ceremony of Earth Hour spearheaded by World Wide Fund for Nature (WWF) at the SM Mall of Asia in Pasay City, Steven Tan, Senior Vice President of SM Supermalls, said SM for its part will continue to go beyond the one-hour light switch off by intensifying and strengthening its efforts to address climate change considering the impact it has on the communities all over the country.
"We are now facing a climate crossroad and it's up to us to make the right choice. A choice which transcends borders and generations. Let us go beyond the hour and find ways to continue to shine for climate action," Tan said.
Earth Hour is a global effort to raise awareness on environmental issues particularly climate change and its effects on people and Planet Earth.
Through the years, SM made environmental management the core of its every development.
SM Cares has likewise embarked on sustainable programs that focus on energy efficiency, solid waste management, air quality and water recycling.
Tan also stated that with a daily traffic of 3.5 million and more than 18,000 tenants, SM Supermalls is in a position to show the importance of caring for the environment and ensuring a sustainable future for the next generation.
"We at SM Supermalls are a firm believer that the challenge of climate change can only be truly addressed by the collective will and united resolve of every individual. With a daily traffic of 3.3 million, SM Supermalls is excited to share this hour to each and every Filipino who choose to change climate change," he stressed.
WWF had partnered yet again with SM Cares, the corporate social responsibility arm of SM Prime Holdings, in this year's celebration of Earth Hour. The event, which was held at the SM By the Bay, was attended by top government officials including Environment and Natural Resources Undersecretary Demetrio Ignacio Jr. and Metro Manila Development Authority Spokesperson Celine Pialago, WWF Philippines Chairman Aurelio Montinola and celebrity Ambassadors Mikee Cojuangco-Jaworski, Isa Calzado, Janine Gutierrez and Andre Paras and SM executives.
They took turns in pedaling the stationary bikes to light the Earth Hour globe during the 1-hour switch off which started at 8:30 p.m. The switch-off was also participated in by all the SM malls, 60 in the Philippines and 7 in China and 5 residences of SM Development Corporation (SMDC).
Meanwhile, Ignacio, during his switch-off address, bared that the DENR has allotted P7 billion in order to plant 1.3 million hectares with bamboo and mangroves in the next 6 years.
"In the next six years of this administration, one of our priority programs is the National Greening Program and P7 billion had been allotted to plant 1 million hectares of bamboo and 300,000 hectares of mangrove." he stated.
He explained that bamboo and mangrove were chosen because they grow fast and they have the highest carbon sequestration potential or the process by which carbon dioxide is removed from the atmosphere. "Bamboo also prevents erosion and siltation that destroy our lakes, rivers and coastal areas".
To know more about SM and its programs on the environment, you may visit www.smcares.com.ph or www.facebook.com/OfficialSMCares.
Facebook Comments