University of the Philippines student, Rosette Sabiniano, has invented a device that reduces the amount of time used by small-scale farmers to plant cornfields.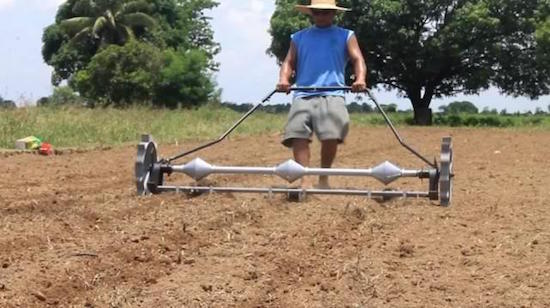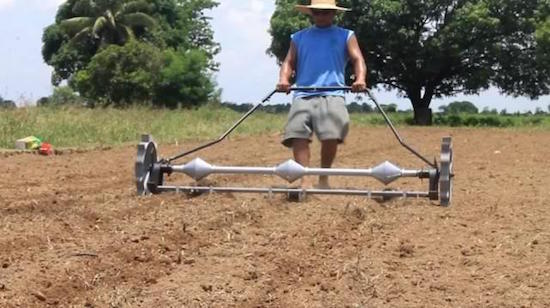 Research on the new gear indicates it speeds up corn planting 14 times faster than the normal planting method. It usually takes 107 minutes to manually plant corn in a 500-sqm area, but the UP scholar's invention reduces the time to just 7 minutes.
The 21-year old mechanical engineering student describes her device as sustainable, inexpensive and easily assembled equipment that significantly increases the productivity of local farmers.
The mechanical corn planter is designed with galvanized iron tubes, metal sheet, metal plates and two bearings that can be separated in parts making it easy to just replace a part that malfunctions instead of changing everything.
"The important parts of the design were the diameter of the seed containers, the position of the holes of the seed containers, the diameter of the wheels and its anti-slippage structure and the structure of the furrower," the UP student explained.
The device has three functions, which it simultaneously executes when being used: furrowing, seed dropping, and seed covering. The farmers just have to push down the controller or the handle up to the desired depth of cut in the soil and pull the equipment.
In the traditional way of farming, these methods are undertaken separately, with the farmer sowing the soil first with a carabao or a tractor and then individually dropping seeds.
Sabiniano told media she invented the mechanical corn planter as part of her advocacy to improve the lives of farmers in the country. She shared how she grew up watching her grandfather plowing fields in Nueva Ecija, the biggest rice producing-province. Corn is the second largest crop produced in the Philippines.
Sabiniano plans to work with the Department of Agriculture after graduation to pursue her advocacy of helping small scale farmers with her invention.
Facebook Comments