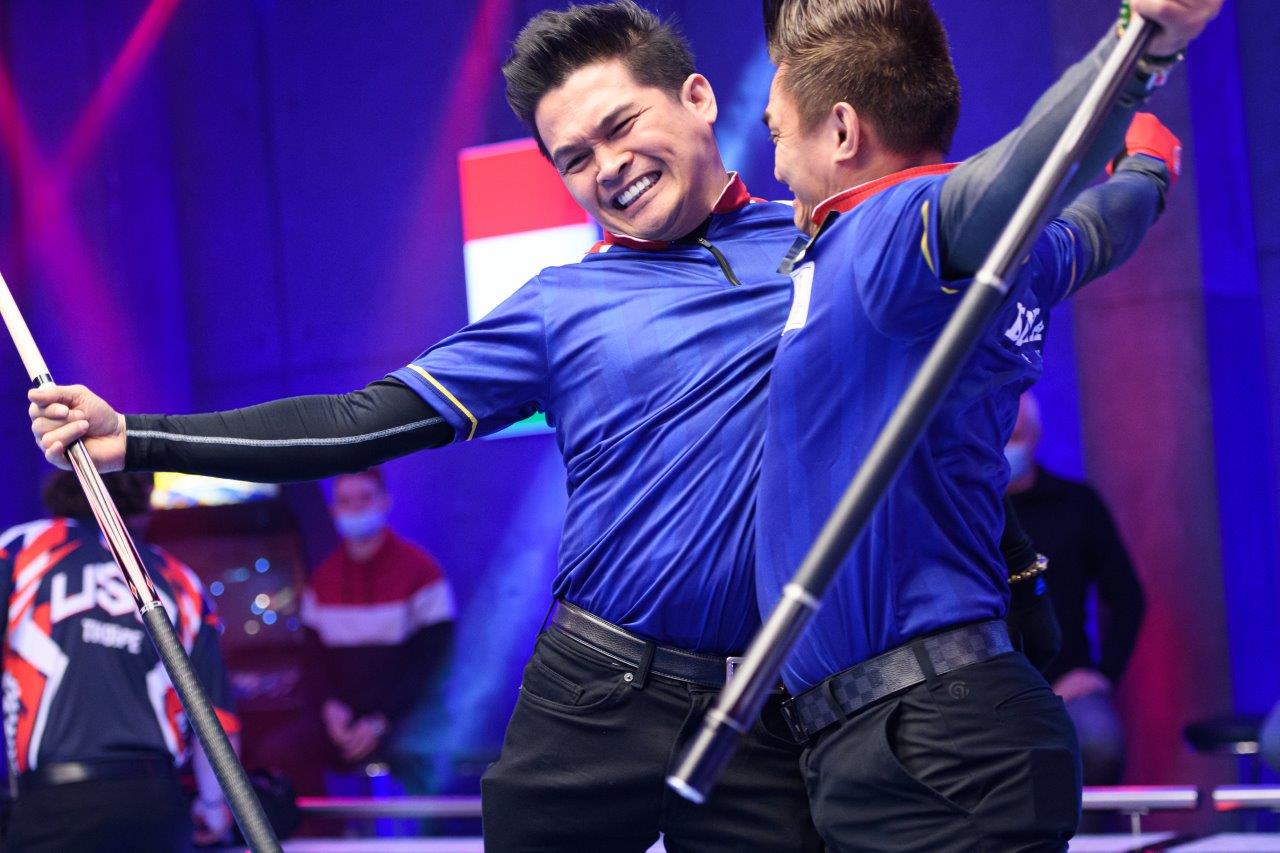 Team Philippines staged a dramatic comeback win against Team U.S.A. to enter the World Cup of Pool quarterfinals in Great Britain.
Filipino pool players Jeff de Luna and Roberto Gomez won seven consecutive racks coming from behind at 5-0, to eventually beat Americans Skyler Woodward and Billy Thorpe on May 12, 2021, in a game that Matchroom describes as " a match that had it all and will live long in the memory".
"The match was one of the World Cup's best; drama, top play, and in part a story of USA failing to close out from 5-0 up, while Philippines capitalised to run a seven pack to win the match from the jaws of defeat," reported Matchroom from Milton Keynes in England.
De Luna and Gomez of Team Philippines are set to meet Estonia's Denis Grabe and Mark Magi in a race-to-nine quarterfinal match on May 13 in a bid to reach the semifinals and then the finals for a chance to win the World Cup of Pool title and the $60,000 prize pot.
Team Philippines is aiming to bring back the World Cup to the Philippines following the championship wins in 2013 by Lee Vann Corteza and Dennis Orcollo in London, in 2009 by Efren "Bata" Reyes and Francisco "Django" Bustamante in Manila, and the inaugural World Cup of Pool in 2006 won by Reyes and Bustamante in Newport, Wales.
The other teams playing in the quarterfinals are Slovakia vs. Japan, Great Britain C vs. Netherlands, Germany vs. Denmark.
The World Cup of Pool has been an established major event in 9-ball since 2006 and adopts a straight-knockout format. Matches are racing to 7 in the first two rounds, race to 9 in the quarter-finals and semi-finals, and race to 11 in the final.
The World Cup of Pool is broadcast live globally including on Sky Sports, DAZN, and Matchroom.Live. Full broadcast details can be found at matchroompool.com.
Filipino champion billiard player Efren "Bata" Reyes was revealed by Marvel artist Whilce Portacio reveals to have inspired the X-Men character "Lucas Bishop".
Dennis Orcollo dominated the men's 10-ball singles at the 2019 SEA Games.
WATCH Team Philippines stage its dramatic comeback win to enter the World Cup of Pool quarterfinals here and SEND CONGRATULATIONS in the comments below!
https://twitter.com/MatchroomPool/status/1392559686780690432
Good News Pilipinas is celebrating its 15th Anniversary in 2021 by giving away prizes! Subscribe to our Good News Pilipinas! TV YouTube channel and enter the raffle by sending us an email to editor@goodnewspilipinas.com
Facebook Comments