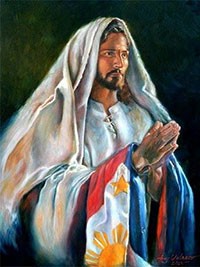 A year ago we sat down as a part of our team building activity for the VCF Alabang choir, led by my mentor, (who is also like my second dad) Panser Tumangan and his wife Tita Monette. They passed Valencia oranges to the delight of everyone! But they were not for eating (yet!) 🙂 We were made to feel the orange, smell the orange, make the orange go around our faces, then have our fingernails pierce the peel of the orange. This is done while meditating on what God's message is for us. Then it dawned on me.
The great aroma of the orange peel that I really enjoyed, is only possible when I pierced the peel. Piercing the peel made it possible for the essential oils and the good aroma to go out. This made me realize that a lot of things that I am enjoying right now is because of the pierced hands of the Savior! He bled and died for me! I do not deserve His forgiveness, but He continuously forgives.
And there is more because after enjoying the scent of the peel comes opening up the fruit and tasting the orange. At first, I just placed a piece of orange in my mouth without doing anything. Then after a while, I crushed the fruit with my teeth and the sweet juice flowed and I enjoyed it. Again, it made me realize that to savor all the good things life has to offer Jesus Christ's body was crushed for me. Jesus gave me grace, things that I do not deserve, but He generously gives. Jesus also gave me mercy, by taking away punishment that I deserve, and paying for it by his own bruised body! And I did not do anything to deserve all the fruits of His grace! I cannot add anything to His perfect sacrifice. And because His sacrifice is perfect, it would be an insult to even imagine that by doing some things I could find favor in His sight. I found favor in His sight because He loved me unconditionally! And it is not because of anything I have done! It is all because of His love!
As we eat fruits this season, may we be reminded of His grace and find joy knowing that Jesus did it all for us.
This inspirational lesson for Holy Week 2015 was written by the author for GoodNewsPilipinas.com and also appears in the author's Facebook Notes.
(Cornel Bongco is known in the inspirational talks and marketing circles as the creator of a unique leadership series gleaning lessons from Filipino culture such as the Filipino indigenous toy, the yoyo, Ifugao Rice Terraces, the Puerto Princesa Underground River, the Lupang Hinirang, the favorite Pinoy dishes adobo, puto bumbong and many others. He is also referred to as The Significantologist, The Transformentor, UnLearning Chief, Chief White Wolf and The Gospel Yoyo Man.)
Facebook Comments