Here are a few points as to why long-term thinking is a must in investing and why you should stick to a long-term mindset:
1. It determines your investment objective
People invest in various investment instruments depending on their objectives. Some want to grow their money to pay for an upcoming wedding while others want to start accumulating wealth for retirement. As a long-term investor, you have different objectives.
You may be investing to have enough money to build a home or save for retirement.
It's important to have a long-term mindset when it comes to investing because it allows you to filter out unnecessary concerns.
As a long-term investor, the market reversals or downtrends should not cause you sleepless nights.
If you have a long-term horizon (above 10 years) you can wait the market out and recoup your temporary losses or better yet, continue to grow your investments. Long-term investing in the market determines your financial objectives in such a way that you know what purpose your profits will play. As a long-term investor, you can let your money sit in your investments instead of withdrawing them (at a loss) out of panic.
*The chart below shows you how the Philippine Stock Market performed over 10 years proving that it really pays to think long-term.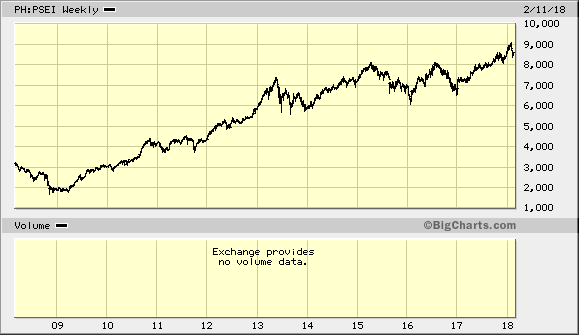 2. It guides your investment directions
In relation to the above, having a long-term mindset guides your investment direction and decisions. As a long-term investor, you'll put your money in investments different from those of the short-term investor. Short-term investors will put their money in, say, money market funds or bonds. You, as a long-term investor, may put your money in stocks instead. Knowing that you are a long-term investor gives you direction regarding where to invest and how long to stay invested in the market.
3. It keeps your emotions in check
Listening to emotions—it's one of the most common mistakes people make when it comes to investing.
For those who weren't in the market during the 1997 Asian financial crisis, the 2008 financial crisis, market corrections or downtrends may seem hopeless to new investors.
However, if you look at the historical performance of the Philippine Stock Exchange index (PSEi) from 1986 to 2018, the PSEi follows an up and down cycle, where the next 'high' is always higher than the previous 'high.'
This is where your long-term investing mindset comes into play.
Being in the market for the long term (for a minimum of 10 years) allows you more than enough time to weather bear markets.
Historically, bear markets since the 1930s have an average duration of 18 months. If you're investing for the long term, you have more than enough time to hold on to your investments until the downtrend reverses into an uptrend, signaling the end of a bear market.
In relation to letting your emotions get the best of you, if you have a long-term investing mindset, short-term fluctuations and volatilities should not bother you. Do not sell out of fear and panic. Keep your emotions in check. Remember that you have time on your side.
The plans of the diligent lead surely to abundance, but everyone who is hasty comes only to poverty. – Proverbs 21:5, ESV
If you are a Filipino in the UAE, catch me and my friends Marvin Germo, Tony Herbosa, Salve Duplito and Carl Dy at the Money Talks UAE 2018 Conference. Details HERE
(Randell Tiongson, RFP is an advocate of Life & Personal Finance. With nearly 30 years of experience in the Financial Service Industry – Banking, Mutual Funds, Insurance and Financial Planning, and Management Consultancy – he has become one of today's most respected personal finance coaches in the country. Check out his website for more financial advice www.randelltiongson.com)
Facebook Comments