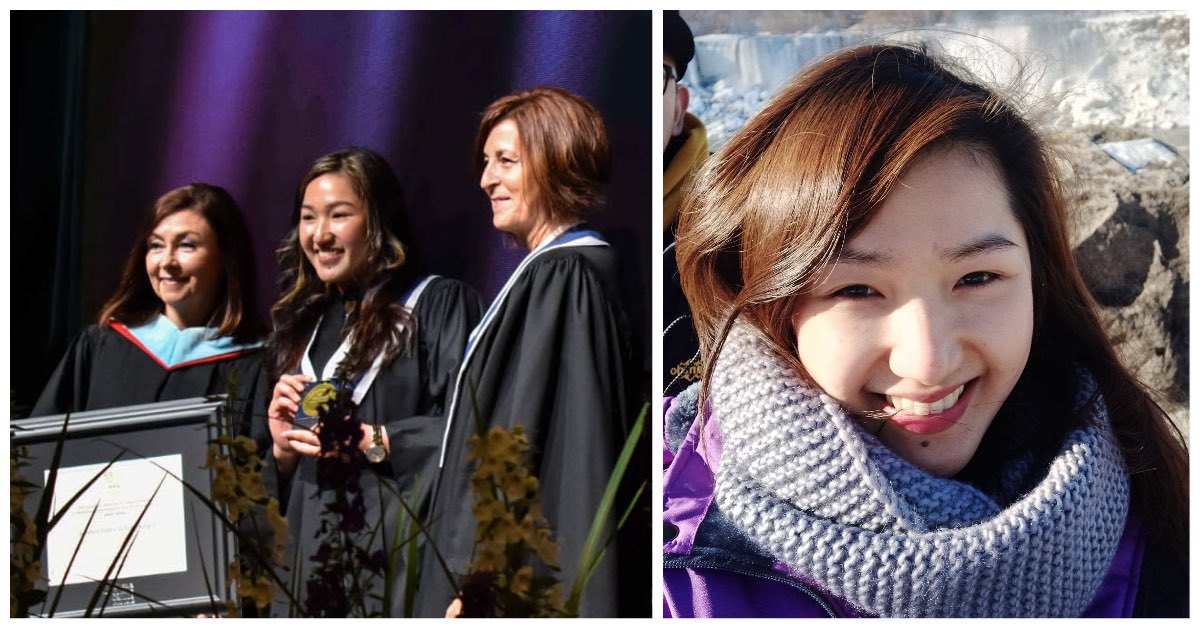 Niagara College's top Filipina student, Jonhel Patricia Lim Ampil, has been awarded the Governor General's Academic Medal, the most prestigious honor a student can receive in recognition of academic excellence in Canada.
The Niagara Falls resident earned the prestigious academic award as she completed her studies in Recreation Therapy with a 98.046 percent average, the highest grade-point average (GPA) attained by a student in the Class of 2022.
Ampil addressed her fellow graduates and expressed gratitude to her family and mentors at the college in her convocation speech. She also received the Dean's Award for the School of Community Services at the recent ceremony.
"We left our professional careers, our families, and our friends behind in the Philippines. It was a difficult path to take, but we have no regrets," said Jonhel Ampil in her speech during the ceremony on June 24, 2022.
"Our decision three years ago has led us to today, our graduation, and it has led me to where I am standing right now proving that dreams do come true."
Ampil worked as a licensed occupational therapist in the Philippines before moving to Canada with her partner to further her studies at Niagara College and enhance her career.
"It means so much to me. Being an international student and away from home, it made me feel that all my struggles and hard work have paid off," Ampil said in an interview. "Moreover, it gave me the confidence that I can do great things if I just put my mind and heart into it."
"It also felt like I brought honour to my family and nation with this award," Ampil added.
The Filipina achiever also recalled overcoming challenges as an international student during the pandemic.
"The experience has taught me so much about life and I believe I am stronger for it today," Ampil said.
Ampil currently lives in Niagara Falls where she has been working as an assistant activity coordinator at the Chapel Heights retirement home. The college's news release said Ampil provides opportunities for residents there to engage in meaningful programming that increases their overall well-being.
Jonhel Ampil said she plans to get her occupational therapy license so she can practice in Canada.
"[I've been] a registered OT in the Philippines since 2015 and gained work experiences in both the hospital and pediatric settings," she said. "I believe that having both OT and recreation [backgrounds] would really help in my advocacy for a better quality of life for my clients."
For nearly 150 years, the Governor General's Academic Medals have recognized the outstanding scholastic achievements of students in Canada. They are awarded to the student graduating with the highest average from a high school, as well as from approved college or university programs.
Filipino academic achievers who brought pride to the country as they graduated from top universities abroad include Raphael "Rafa" Vergel de Dios Domingo, the first Filipino scholar of the World Deaf Leadership (WDL) program to earn a doctorate degree, and Maria De Leon, the immigrant daughter of a Filipina nanny in the United States, who graduated with honors from Harvard University.
SEND CHEERS in the comments below to Niagara College's top Filipina student, Jonhel Patricia Lim Ampil, for receiving the Governor General's Academic Medal and graduating at the top of her class in Canada!
Good News Pilipinas is a Lasallian Scholarum Awardee. TELL US your good news story tips by messaging GoodNewsPilipinas.com on Facebook, Twitter, Instagram, or e-mail editor@goodnewspilipinas.com and WATCH Good News Pilipinas TV YouTube & Good News Pilipinas TikTok for more Filipino Pride stories!
Facebook Comments