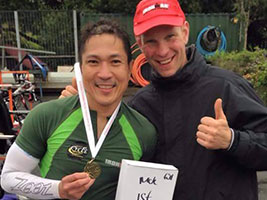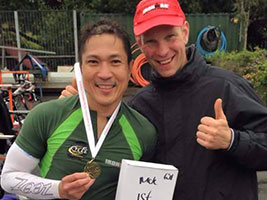 Filipino-Irish triathlete Rolando Espina Jr. took home the title in the UK Eskraghman Ironman Distance Triathlon in Northern Ireland for the second straight year, and did so after sustaining an injury from an accident.
Negros native Espina clocked in at 11:06 after a 3.8-kilometer swim, a 180-km bike route, and a 42.2-km run in the triathlon course in Eskraghman, Dungganon.
He even bettered his winning race time of 11:45 in the 2014 Ironman race.
Espina bested all other athletes in the race impressively even after only a shorter-than-usual preparation period after getting hit by a car while biking two weeks before the Ireland race.
Before the accident, Espina had even qualified for the Spartathlon Ultra Marathon in Athens, Greece to be held in September 2016.
He got clearance from his doctor to train for Ironman just 6 days before the event.
Espina told media, "With the go-ahead, for as long as I have no pain, I was allowed to train and off to the gym I went, religiously training every day with short runs, swim and some bike, and leaving the rest from my previous experiences in iron distance event."
The Fil-Irish triathlete finished the swim course in 1:41, and completed the 180-km bike loop amidst windy and wet conditions. He passed the leader somewhere within the 30-km mark and continued on to maintain his pace in the 42.2-km run.
"Knowing I was now in the lead, I was careful not to push it," Espina recounted.
Espina works as a nurse in Ireland. He had severe asthma as a child and took up sports to overcome his condition.
Facebook Comments