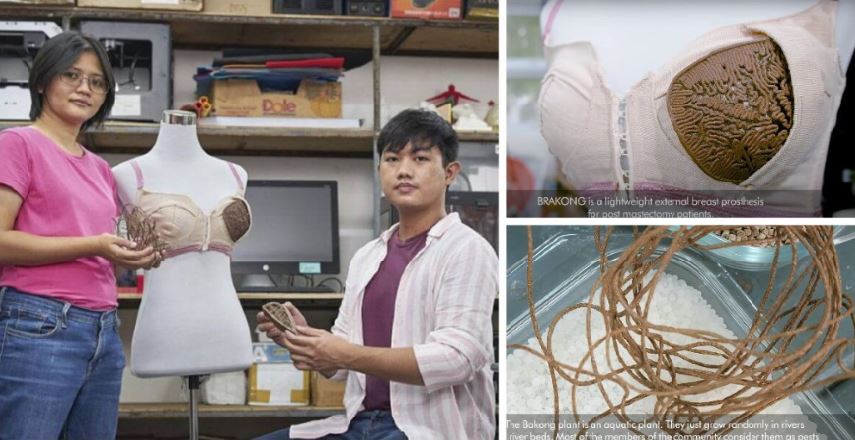 University of the Philippines Diliman (UPD) young design engineers Jason Pechardo and Emmanuelle Pangilinan have been named this year's national winners of the James Dyson Award for their plant-based breast prosthesis for breast cancer survivors.
Pechardo and Pangilinan won the national level of the international design tilt in September 2022 for their Brakong innovation, a lightweight external breast prosthesis made from bakong – a plant with antimicrobial properties that is native to the Philippines.
The UP design team said they devised the Brakong because the Philippines has the highest prevalence of breast cancer in Asia.
The innovation aims to empower breast cancer survivors who experience an altered sense of self-esteem and body image after undergoing mastectomy, a surgery that removes breast tissue.
The prosthesis for post-mastectomy patients is made from Plakong, a bicomposite material made out of all biodegradable materials. It can also be remelted and reformed to match the needs of the patient and can easily be decomposed through a normal composting process once no longer needed.
The Brakong bested national runners-up, Noah, an indoor chair that can transform into an emergency liferaft for flooding and Float-E, a semi-autonomous robot that alleviates oil spill problems.
The James Dyson Award is an international design award that celebrates, encourages, and inspires the next generation of design engineers.
The national winners of the James Dyson Award will be narrowed down to a shortlist of 20 competitors to be announced on October 12, 2022.
The international winners and sustainability winner be revealed by the James Dyson Foundation this November.
The Brakong was one of the winners of the two-day Circular Design Challenge organized by the Design Center of the Philippines last year. It was also featured and showcased in the Sustainability Solutions Exchange Exhibit last March 2022.
Last year, Philippine State College of Aeronautics graduate Mark Kennedy Bantugon was named a national winner for his Pili Seal innovation, a sustainable sealant made from the waste of Pili Tree Resin.
Mapua's Carvey Ehren Maigue's solar device earlier won the first global sustainability James Dyson Award.
Another Filipino James Dyson awardee, Maria Yzabell Angel Palma, invented an air conditioner that runs without ozone-depleting refrigerant.
SEND CHEERS in the comments below to design engineers Jason Pechardo and Emmanuelle Pangilinan from the University of the Philippines Diliman (UPD) and this year's national runner-ups of the James Dyson Award!
Good News Pilipinas is a Lasallian Scholarum Awardee. TELL US your good news story tips by messaging GoodNewsPilipinas.com on Facebook, Twitter, Instagram, or e-mail editor@goodnewspilipinas.com and WATCH Good News Pilipinas TV YouTube & Good News Pilipinas TikTok for more Filipino Pride stories!
Facebook Comments