University of the Philippines College of Law student Chad Patrick Osorio was given the Award of Brilliance by the United Nations University in Japan.
Osorio was the first Filipino and one of the year's 4 recipients of the award given by the 33rd Eisaku Sato Essay Contest, a bilingual (English and Japanese) international competition established in memory of the late Eisaku Sato, former Prime Minister of Japan, with the monetary award that he received with his 1974 Nobel Peace Prize.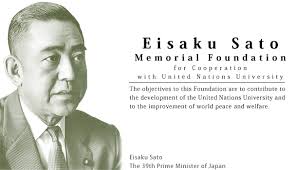 The UP Law student was cited for his essay, "Transforming Momentum into Propulsion: Harnessing the Demographic Tsunami" which according to the Abstract discusses the phenomenon termed "demographic tsunami" and its possible repercussions in the global socioeconomic and political arena in the near future.
Osorio's essay concludes that "instead of designating the phenomenon as a 'demographic tsunami,' it should be considered instead as 'demographic propulsion,' signifying a collective, global drive to move forward for inclusive, sustainable development."
In a UP Diliman article contributed by Benito V. Sanvictores Jr., with reports from Osorio, the winning essay was said to describe pressing issues such as the rise of populist governments, widening economic inequalities and the problem of international refugees.
"His offered solutions proposed maximizing the use of information and communication technologies (ICTs) in development and implementing changes in international policy mindset."
Osorio drew his ideas for his essay from his professional experience as a former Legal Intern for the United Nations Khmer Rouge Trials and Researcher for Asian Development Bank, and his many volunteer engagements.
Osorio, a youth leader and development advocate, is also a Research Associate at the UP College of Law Institute of International Legal Studies.
The 26 year-old Osorio was the youngest among the awardees which shared the second prize worth ¥200,000 (P89,000).
Osorio was commended from among a total of 119 essays (7 in Japanese and 112 in English) submitted.
Facebook Comments