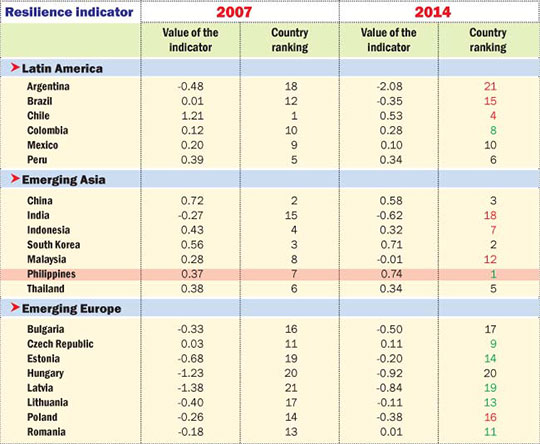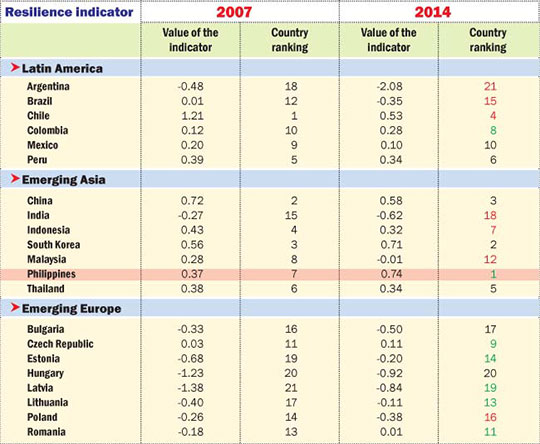 A global report has marked the Philippines as being the most resilient emerging market economy (EME) in 2014.
From 7th place of 21 EME's, the Philippines jumped to take the number one spot in the resilience indicator from 2007 or the pre-global crisis to 2014, according to the paper released by the Center for Global Development (CGD).
In the CGD report "Emerging Market Macroeconomic Resilience to External Shocks" made public in February, the US-based non-profit research group says the Philippines has the strongest macroeconomic backing to weather global economic pressure.
Liliana Rojas-Suarez, author of the paper, says that the indicator projects the country's macroeconomic resilience and its capacity to withstand strong external shock. The higher the resilience indicator rating, the stronger an EME will be against global pressure.
Rojas-Suarez also mentioned in the essay that the country's resilience is a result of the government's implemented pre-crisis period measures. These measures will ensure that domestic fundamentals are strong enough to withstand another global financial crisis.
The Philippines stands at No. 1 with the score of 0.74 on the resilience indicator. South Korea has the second best rating following closely with a score of 0.71. China is at third with 0.58. Most of the high rankings were from emerging Asian economies.
The Philippines exhibited its positive resilience with its decreasing external debt-to-GDP ratio that has declined from 44.5 percent in 2007 to 27.3 percent by end-2014 despite the 2008 global financial crisis.
Facebook Comments