The Philippines will be one of the world's powerful economies by 2050 – largely driven by its population growth, according to a report by professional services giant PwC.
In its 2017 report "The long view: how will the global economic order change by 2050?" PwC ranked 32 of the largest economies in the world, accounting for around 85% of world GDP, by their projected global gross domestic product by purchasing power parity.
PwC analysis pegs the growth potential of the Philippines at #19 with a projected GDP at PPP of $3.334 trillion.
Read Related Story: 7 Good Reasons to do Business in the Philippines
PwC used the PPP measure of how gross domestic product at purchasing power parity adjusts for price level differences across countries, providing a better measure of the volume of goods and services produced.
The report notes that many of the current powerful economies will be replaced by emerging markets in 33 years time.
The Philippines is projected to make one of the greatest moves up the rankings, from IMF's 2016 estimates at 28th spot to 19th spot in the 2050 PwC analysis for projections.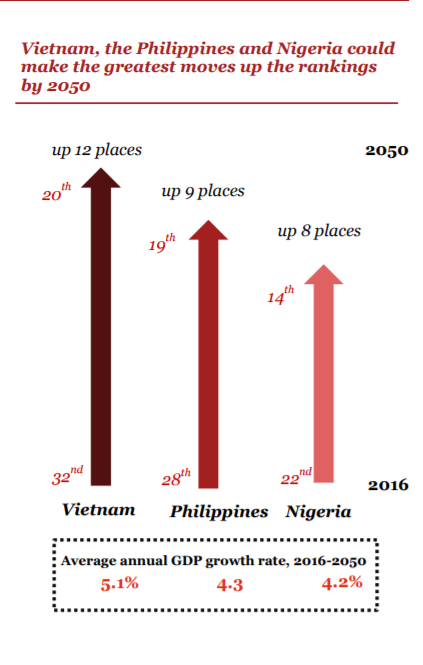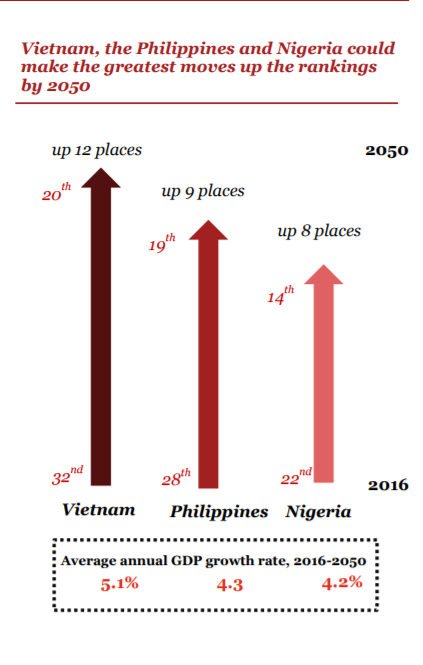 The Philippines is projected to have an average annual GDP growth rate from 2016 to 2050 at 4.3%.
The PwC report shows how growth in many emerging economies like the Philippines will be supported by relatively fast-growing populations, boosting domestic demand and the size of the workforce. PwC asserts though that this will, however, need to be complemented with investment in education and an improvement in macroeconomic fundamentals to ensure there are sufficient jobs for growing numbers of young people in these countries.
The benefit from strong population growth will depend on being able to generate enough jobs for the young people in their countries.
STRONG POPULATION GROWTH WILL BE A KEY DRIVER OF OVERALL GDP GROWTH IN MANY OF TODAY'S EMERGING MARKET AND DEVELOPING COUNTRIES, BOOSTING THEIR POTENTIAL WORKFORCE AND DOMESTIC CONSUMER MARKETS – PWC
Read Related Story: Philippine Economy Sizzles in Q3 Growing 6.9%, of of Asia's Best
To stay on track with the economic powerhouse projection, the PwC recommends emerging markets like the Philippines to consider the opportunities for business:
As emerging markets mature, they will become less attractive as low cost manufacturing bases but more attractive as consumer and business-to-business (B2B) markets
But international companies need strategies that are flexible enough to adapt to local customer preferences and rapidly evolving local market dynamics
Since emerging markets can be volatile, international investors also need to be patient enough to ride out the short-term economic and political cycles in these countries
BUSINESSES NEED TO ADOPT FLEXIBLE, DYNAMIC AND PATIENT STRATEGIES TO NAVIGATE THESE RAPIDLY EVOLVING AND MATURING EMERGING MARKETS – PWC
PwC also identified key challenges to policy makers including:
Avoid a slide back into protectionism, which history suggests would be bad for global growth in the long run
Ensuring that the potential benefits of globalisation are shared more equally across society
Developing new green technologies to ensure that long-term global growth is environmentally sustainable
TO REALISE THIS ECONOMIC POTENTIAL, EMERGING MARKET GOVERNMENTS NEED TO IMPLEMENT STRUCTURAL REFORMS TO IMPROVE THEIR MACROECONOMIC FUNDAMENTALS AND INSTITUTIONS – PWC
The PwC report on the Philippines and the world projects that the largest economies will more than double in size by 2050, far outstripping population growth, due to continued technology-driven productivity improvements, assuming broadly growthfriendly policies (including no sustained long-term retreat into protectionism) and no major global civilisation-threatening catastrophes.
Facebook Comments