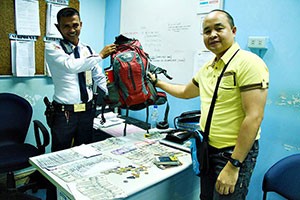 NAIA security guard Damian Namion has distinguished himself as an honest security guard for returning P.5 Million worth of cash and personal effects accidentally left in a cart by an OFW.
While making his regular rounds, Namion, a security guard for Advance Forces Security found an unattended bag at the arrival extension of the Ninoy Aquino International Airport Terminal 1.
Namion immediately reported the found bag to the airport police for a safety inspection.
When the bag was confirmed free of explosives, Namion brought the bag to the airport's Intelligence and Investigation Division to identify its rightful owner and for proper inventory of the bag's contents.
A total of US$10,700 and P1,600 cash was found inside the bag along with an ASUS laptop, a passport and a seaman's book. The bag also had a tag that had the owner's name and contact details.
Bag owner Jessie Amor was already on his way home to Antipolo City when he got the call from airport security. He immediately returned to the airport to claim his belongings. Amor said that he had forgotten the bag due to his excitement at seeing his family.
Amor, an OFW engineer based in Malaysia, was thankful to Namion for returning the bag that he says did not only contain his belongings, but also "padala" for his co-workers' families in the Philippines.
Jose Angel Honrado, Manila International Airport Authority General Manager, commended Namion for his honesty saying that "Namion's example should be the standard of good service to passengers which all airport personnel should emulate."
Along with other outstanding personnel, Namion will be honoured at an MIAA commendation ceremony. As thanks for returning his belongings, Amor gave Namion $300.
But the giving apparently doesn't stop there as Namion reportedly shared $200 of his tip evenly among his co-workers. Namion's selfless gesture is seen by his peers in a special light since the guard reportedly just gets by to provide for his two children on his P12k monthly salary. Namion reportedly also just borrowed 100 pesos from a co-worker in order to buy lunch that day.
A bag containing half a million pesos worth of valuables is truly tempting to keep, but for a humble and upright security guard such as Danny Namion honesty and integrity were worth so much more.
Facebook Comments