Filipino world boxing champion Manny Pacquiao made a cut above the rest of fellow transformative leaders in Asia and grabbed the top honors as the 2015 Asia Game Changer of the Year.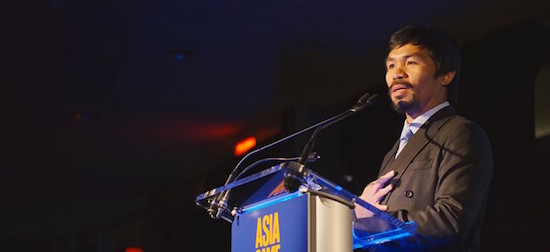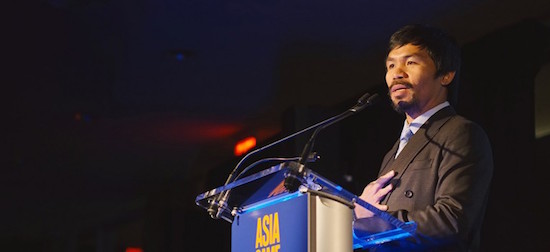 Pacquiao was given the top award by Asia Society in ceremonies held at the United Nations in New York.
"The Asia Game Changer Awards address the lack of recognition for Asians who are transforming ideas into action and improving lives," announced Asia Society President Josette Sheeran.
While all honorees received widespread support, "one individual rose to the top of our list," added Sheeran. "Manny Pacquiao achieved his remarkable success after a childhood of extreme hunger and poverty. Today, Manny is a major humanitarian force, directing his philanthropy toward numerous causes, including education and the fight against human trafficking. He is a remarkable inspiration and demonstrates the power of giving back to transform people's lives."
The Filipino boxing champion and philanthropist-politician led the group of awardees that included scientists, a fighter pilot, a dancer, and a comedian.
Asia Society selected the honorees after surveying over 1,000 global leaders who "inspire the world to do things differently."
Facebook Comments