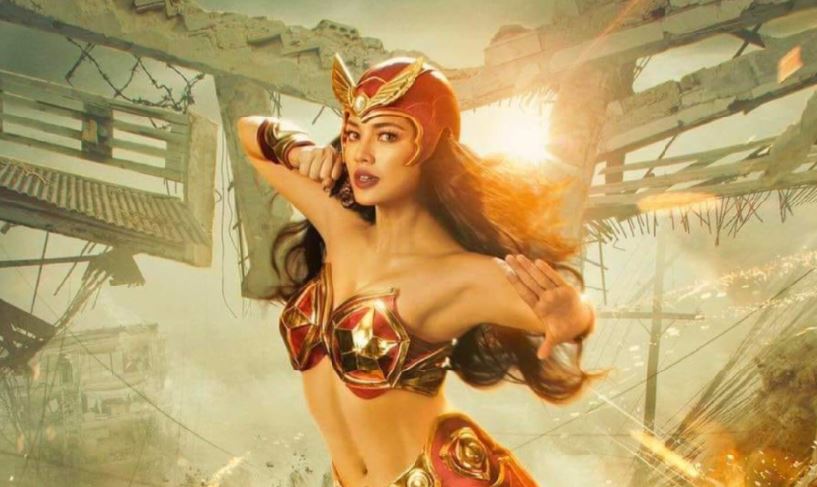 Good News Pilipinas lists 10 Reasons Why the Philippines' New Darna Is A Must-Watch Series for viewers of all ages.
After almost a decade since the announcement of a new reimagining of the Filipino superheroine, the wait was definitely worth the new Darna TV series.
Mars Ravelo's Darna has been a staple in Philippine pop culture since its comic was released in 1950. With over 14 film adaptations and now 4 TV series, the female superhero has been known by every generation as an embodiment of Filipino traits of empathy and compassion.
In its two-week run, the titular role portrayed by Jane De Leon had managed to capture the hearts of millions of viewers with its modern and gripping adaptation of the iconic Philippine superhero.
With lead actors such as De Leon playing the human Narda and superhero Darna, Zaijian Jaranilla as the trusted sidekick Ding, Joshua Garcia taking the role of a police officer named Brian Robles, and Janella Salvador being Darna's archnemesis Valentina, this action-drama fantaserye is something you should rigorously watch.
In case you have been contemplating it, Good News Pilipinas came up with solid 10 Reasons Why The New Darna TV Series Should be on your Must-Watch List:
1 The First Darna Was A Mother
Did you know that Mars Ravelo came up with the idea of a female superhero because of his single mother? Iza Calzado's short but iconic stint as the first Darna is an homage to our real-life superheroes, our dear mothers. Iza's role as Leonor Custodio, mother of Jane De Leon's character Narda Custodio, gives us an idea of the origins of the Marte-an creature.
Fun Fact: Darna is inspired by Mars Ravelo's single mother. Watching her singlehandedly raise them, Darna was created from the inspiration of his mother and Superman. #Darna @GoodNewsPinas_ https://t.co/GNkYSRjK4F

— Martina Torres (@martinajoyce_) August 26, 2022
2 Mix of Fresh and Veteran Actors
Mars Ravelo's Darna: The TV Series includes fresh faces and veteran actors in its cast of characters. Veteran actors like Rio Locsin, who also played the iconic character in 1979, Joko Diaz, Levi Ignacio, and Richard Quan are in supporting roles. While Young JV, Joj Agpangan, Yogo Singh, and Paolo Gumabao are among the new breed of actors in the series
The cast of the new #darnathetvseries is a mix of new and veteran actors. #Darna @GoodNewsPinas_ https://t.co/feZzb3v9DI

— Martina Torres (@martinajoyce_) August 26, 2022
3 Cinematic Visual and Sound Effects
This may be well expected given that this adaptation was originally intended for a film but the Visual and Sound Effects of the new Darna series are at an all-new level for Philippine TV. The cinematography of the series is promising to the point that viewers praised this improvement that has the potential for a Marvel or DC comparison.
Viewers appreciate the visual and sound FX of the new #darnatvseries, says it needs polishing but @ABSCBN nailed it. #Darna @GoodNewsPinas_ https://t.co/DfOuCgZtft

— Martina Torres (@martinajoyce_) August 26, 2022
4 Comic Elements Integrated with Storytelling
It seems that JRB Creative Productions, in charge of the new series, integrated the comic origin of the Philippine superheroine with the storytelling. This element was used creatively when it was revealed that Darna was a comic story that Narda and Ding's father, Danilo Custodio played by Joem Bascon, created to introduce them to 'Babaeng Lumilipad' (Flying Lady) which was actually their mother Leonor.
https://twitter.com/martinajoyce_/status/1563034686250950656
5 Taking On Real-Life Social Issues
Despite the supernatural theme, the new adaptation tackles real-life social issues such as poverty, environmental issues, corruption, police immunity, unemployment, and even computer game addiction.
A viewer applauds the grit and relevance of issues tackled in the new #Darna TV series and hopes others see it as a reminder of what needs to change. @GoodNewsPinas_ https://t.co/xCrfaBDZWr

— Martina Torres (@martinajoyce_) August 26, 2022
6 'Super Villain' Apologist
Fans are commenting how the build-up of the series' villains is contrary to the usual pure evil backstory. Extras, current villains with super strength or ability, are shown as victims of a system that fails its people.
Jerald Napoles' character is a poor man whom people treated badly. He then became a criminal that robs banks and convenience stores for money and food.
Dominic Ochoa's Engineer Javier Toledo character wanted to expose the corruption in the project he is handling but an accident happened and he was given the ability to stir earthquakes.
Even Janella Salvador's most-awaited Valentina supervillain is getting its advanced sympathy. Her alter ego, the human Regina Vanguardia, is a fierce vlogger, philanthropist, and lawyer of the defenseless.
Janella Salvador's Valentina is getting sympathy along with other 'villains' of the #darnathetvseries for a fascinating and interesting backstory.#Darna @GoodNewsPinas_ https://t.co/k49l2QSrfV

— Martina Torres (@martinajoyce_) August 26, 2022
7 Narda-Brian-Regina Love Triangle
Darna may be filled with action and drama but it definitely got room for romance. The budding love triangle of the characters of Jane De Leon (Narda and Darna), Joshua Garcia (Brian Robles), and Janella Salvador (Regina and Valentina) is something we should all watch out to see. The chemistry of the three is quickly captivating the hearts of its viewers.
Fans of the new #Darna TV series get caught in the Narda-Brian-Regina love triangle. @GoodNewsPinas_ https://t.co/lHxJuCTMhc

— Martina Torres (@martinajoyce_) August 26, 2022
8 Joko Diaz's Interesting and Mysterious Character
Veteran action star Joko Diaz, best known for being the kontrabida, is earning the curiosity of the viewers with his mysterious character. As of this writing, his character Master Claudio is on the good side as he revealed he is a martial arts teacher. Master Claudio is teaching Ding, Narda's younger brother played by Zaijian Jaranilla, how to defend himself and imparts to him important lessons such as using his skills for the good. Right now, theories are being made about Diaz's character whether he is an ally or an enemy.
Joko Diaz's character in the new #darnatvseries stirs intrigues and theories. #Darna @GoodNewsPinas_ https://t.co/7i0Ri0U1vf

— Martina Torres (@martinajoyce_) August 26, 2022
9 Realistic Acting and Grounded Storytelling
Director Chito S. Roño keeps little mistakes of the actors that give the final cut a natural element in it. The stellar acting of the leads is gripping and convincing even in scenes without dialogues. One of the most notable is the apparition scene of Leonor where Iza's expressive eyes are beyond words. Despite Darna battling monsters and aliens, Roño keeps it grounded with human-dominated elements of the storytelling.
This FB User, who is also a writer, commends the natural and honest scene between Narda and Ding where Jane mistakenly said "huwag kang magsalita at may laman ang tyan mo." instead of "may laman 'yang bibig mo." #Darna @GoodNewsPinas_ pic.twitter.com/CUo5MyDkmZ

— Martina Torres (@martinajoyce_) August 26, 2022
This scene of Iza coming back as an apparition of Leonor is expressive with subtle acting. Her expression is a reassurance to Narda that she is ready for her mission as Darna. #Darna @GoodNewsPinas_ pic.twitter.com/MrCD6Qu0rA

— Martina Torres (@martinajoyce_) August 26, 2022
10 Imparts Great Relevant Lessons and Reminders
Darna has only been gracing our screens for two weeks but it has already taught us great relevant lessons and reminders. It has taught us that we are our own heroes if we believe in ourselves.
Leonor and Master Claudio remind us that it is essential to pause and take a rest from time to time.
The first Darna, Leonor, said it best when she said "Kaiht na anong gusto mong gawin bast hindi ka sumuko kahit yung mga akala mong hindi mo kaya, magagawa mo."
(Whatever you want to achieve, no matter how unattainable it may seem, can be realized with determination and persistence.)
Perhaps the greatest and most important so far is Narda and Ding's favorite – "Ang pinakamalaking kasalanan ay kapag may kakayahan kang tumulong pero wala ka namang ginawa."
(The greatest sin of all is when you have the opportunity to help yet you did nothing.)
#Darna lead actress, Jane De Leon, shares the official poster of the new series, and captions it with the most important lesson from Leonor:

"Ang pinakamalaking kasalanan ay kapag may kakayahan kang tumulong pero wala ka namang ginawa."@GoodNewsPinas_https://t.co/ykErZ4qfdC pic.twitter.com/N51dSNjMma

— Martina Torres (@martinajoyce_) August 26, 2022
ABS-CBN's adaptation of the iconic comic story has been 10 years in the making due to the adversities with the withdrawal of the real-life Darna, actress and Asia's Hero of Philanthropy Awardee Angel Locsin, successor Liza Soberano's redirection due to health reasons, the COVID-19 pandemic, and the network's shutdown. Jane De Leon's portrayal is a promising and justifiable comeback for the Filipino superheroine since Marian Rivera's 2009 portrayal.
Jane has big shoes to fill as both of the previous Darna actresses have embodied the role beyond the screen. During the pandemic, Angel Locsin's Shop and Share store has pooled PHP 6 million from donations of 44 Filipino celebrities to help provide COVID-19 vaccine and testing for workers and the urban poor in the Philippines, while Marian Rivera shared her family's Menudo heirloom recipe and prepared homecooked meals for front liners in Quezon City.
AGREE with these 10 Reasons Why the Philippines' New Darna Is A Must-Watch Series? SHARE THIS STORY to spread the word about the rebooted Filipina superhero!
Good News Pilipinas is a Lasallian Scholarum Awardee. TELL US your good news story tips by messaging GoodNewsPilipinas.com on Facebook, Twitter, Instagram, or e-mail editor@goodnewspilipinas.com and WATCH Good News Pilipinas TV YouTube & Good News Pilipinas TikTok for more Filipino Pride stories!
Facebook Comments