One hundred of the best films from the regions of the Philippines will be screened for free and open to the public at the Cinema Rehiyon 8 film festival from November 28 – December 2 at the De La Salle University – Dasmariňas in Cavite.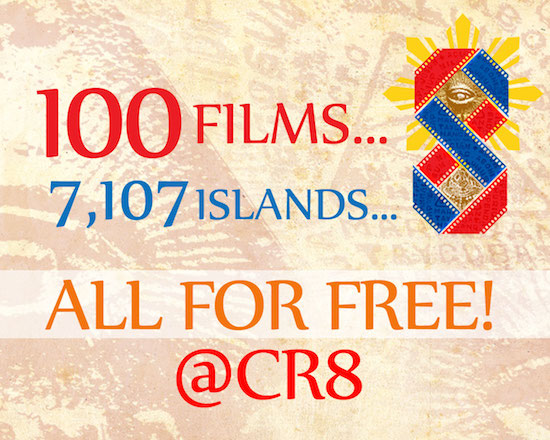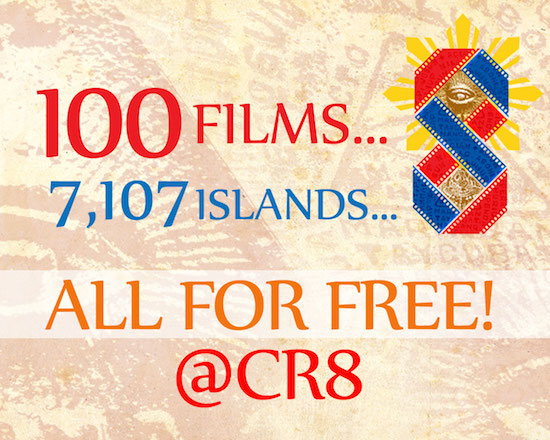 A total of 97 new films and 3 retrospective films would be shown.  Over a hundred artists and filmmakers from Luzon, Visayas and Mindanao are taking all the roads to Cavite to be part of Cinema Rehiyon on its 8th year. The regional filmmakers will be telling their stories through their short and full-length films.
The five-day film festival carries the theme, "Creating Cinema Communities, Celebrating Cultural Legacies."
The National Commission for Culture and the Arts (NCCA) initiated the event in cooperation with the University of the Philippines Los Baňos Foundation Inc. (UPLB FI) and UPLB Pelikulab hosted by De La Salle University – Dasmarinas (DLSU-D) and with the support of the Film Development Council of the Philippines (FDCP).
Internationally acclaimed Filipino filmmakers as well as locally recognized and emerging artists from the different regions in Luzon, Visayas and Mindanao will converge at DLSU-D to celebrate this historic event. These artists got accolades from international film festivals, Gawad Urian and other local and independent film fests. Peque Gallaga, a multi-awarded filmmaker, known for his 1982 work, "Oro, Plata, Mata," which is considered as his most important contribution to Philippine cinema, would grace the event together with film director/producer/writer Lorenzo "Lore" Reyes. Reyes co-directed more than 20 films with Gallaga. Also joining the festival are the following award-winning filmmakers: Jason Paul Laxamana of Pampanga for his films, "Babagwa" (2013) and Magkakabaung (2014); Moro filmmaker Teng Mangansakan of Maguindanao for his movie, "Forbidden Memory" which delved on the massacre of less than 2,000 Moro men and women killed inside a mosque in Malisbong, Sultan Kudarat during the Marcos era; Sheron Dayoc, 2016 Best Film, "Women of the Weeping River in the QCinema International Film Festival Awards; Cebu's Remton Zuasola for his "Ang Damgo ni Eleuteria" and "To Siomai Love." Dr. Alvin Yapan of Naga for "Debosyon" (2010), "Sayaw ng Dalawang Kaliwang Paa" (2011) and "Ang Panggagahasa kay Fe (2009); Cagayan Valley's Zig Dulay for his creation, entitled "Paglipay" (Crossing), Best Picture in ToFarm Film Festival and Lemuel Lorca of Quezon Province for "Ned's Project," would also be present.
One of the highlights of the Cinema Rehiyon 8 celebration is the tribute to be given to three people who made a mark in the history of Philippine cinema, namely, the (late) Leopoldo Salcedo, Ramon Revilla Sr. and Edna Luna.
On the opening day, November 28, one of Philippine cinema's greatest actors, the late Leopoldo Salcedo would be honored and his 1961 film, "The Moises Padilla Story" would be featured.  Known as "The Great Profile," this moreno actor, a two-time FAMAS awardee was recognized for his role in the featured film as Best Actor and as Best Supporting Actor for his role in the 1976 movie "Ganito Kami Noon, Paano Kayo Ngayon." Gerry de Leon directed the 1961 film while Eddie Romero was the director for the 1976 romantic musical drama.
On November 30 th the festival will pay tribute to Edna Luna, the first-ever "Dyesebel" which was produced in 1953. Luna, a morena beauty starred in other films such as "Kamay ni Kain," "Pedro Penduko," "Banga ni Zimador," "Bakya Mo Neneng," "Anak ng Lasengga," "Obra Maestra," and "Cinco Hermanas." National artist Gerry de Leon directed most of her films. Salcedo, Revilla and Luna are all Caviteños.
On the closing day, December 2, 2016, a tribute will be accorded to actor and former senator Ramon Revilla Sr. for his unforgettable roles in "Nardong Putik," "Pepeng Agimat," and "Hulihin Si Tiagong Akyat," where he received his first FAMAS award in 1972. The families of these Philippine cinema icons would grace the event.
Another most awaited event is the forum set on November 30, 2016 at the Aguinaldo Shrine which will tackle the controversy surrounding Andres Bonifacio and Emilio Aquinaldo as depicted in a number of films. Nick Deocampo, known director, film historian and writer will conduct a lecture-forum about this subject entitled, "Representing Filipino National Heroes in the Movies."
A tour of the beautiful and historic sites of Cavite would be scheduled for the delegates such as in Tagaytay, Maragondon Trial House, Emilio Aguinaldo Shrine in Kawit and "The Backyard" for the film screening.
To secure seats for the free screenings, just register online via this link: https://goo.gl/7P6KUu Meanwhile, you may go to the Facebook Page : Cinema Rehiyon 8 Cavite for updates.
Facebook Comments