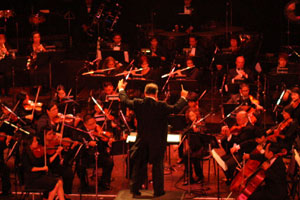 The first and only Filipino orchestra outside the country led the festive opening of the 117th Philippine Independence Day rites in California.
The Filipino-American Symphony Orchestra (FASO) conducted by its artistic director, maestro Robert "Bob" Shroder, performed original Pilipino music much to the delight of the crowd gathered for the festivities at the Balboa Park in San Diego.
The unique orchestra also accompanied performing arts groups from San Diego and Los Angeles in a first-of-its-kind collaboration of musical presentations to mark the country's celebration of its nationhood. The FASO was joined on stage by the Samahan Filipino American Performing Arts and Education Center, Malaya Filipino American Dance Arts, Kayamanan ng Lahi Philippine Folk Arts, and the PASACAT Philippine Performing Arts Company.
In an interview with GoodNewsPilipinas, maestro Shroder talked about how Filipino children in America are "born craving Filipino culture." He sees the need to explain to kids, for Fil-Asian studies, and for "orchestra music that soothes the soul" as necessary ingredients in bringing up Filipino-Americans.
Philippine-born and bred, multi-awarded musician maestro Shroder took on the reins of the FASO in 2009 and has since led FASO in drawing audiences to shows like the recent "FASO Goes Broadway" where the orchestra tapped Filipino-American artists to perform full-orchestra renditions of great showstoppers, powerful ballads, and rousing tunes. Their previous "FASO Goes to the Movies" and "Bach to Rock" were equally applauded and received great reviews for performances that rocked auditoriums and mesmerized audiences to their quality musicianship.
The Los Angeles-established FASO is the realization of the long-time dream of Filipino-American musicians based in Southern California to have their own symphony orchestra.
FASO states the problem was not the lack of talent, because Filipinos are naturally gifted musicians, but the right team to manage the dream orchestra.
Shroder, a native of of Kawit, Cavite where Philippine Independence was declared in 1898, was a key to making the dream a reality. His skills, passion and reputation of being an accomplished musician with a long list of musical collaborations with Philippine-based major musicians for recordings not only of classical pieces but also of pop music and movie themes were seen by Asian Journal publishers Roger and Cora Oriel and editor Lito Cruz as the right fit for the challenge.
He himself was principal flutist of the Manila Symphony Orchestra and taught flute and chamber music at the University of the Philippines College of Music before he migrated to the United States in 1991. Shroder shows his own musicianship when he performs the flute while he conducts the FASO.
Shroder shares his pride to be Filipino. "We need to unite to function as one, whether we like it or not. Once a Filipino always a Filipino," the celebrated FASO director added.
The FASO is currently auditioning Filipino-American singers for its upcoming "FASO Goes Pops!" show to be staged this November in Glendale. The musical event will have the FASO
Facebook Comments