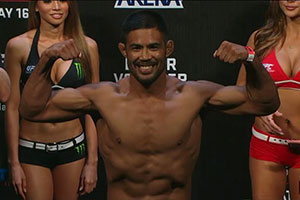 UFC fighter Mark "the Filipino Wrecking Machine" Muñoz may have hung up his gloves and retired from his UFC career but he will continue in the sport of wrestling – this time as a mentor for wrestlers in the Philippines.
With a record of 14 wins and 6 losses, Mark Muñoz ended his eight-year mixed martial arts career after his last fight with Luke Barnatt in UFC Fight Night Manila last May, where he won via unanimous decision.
In his retirement speech, Muñoz spoke in Filipino and English to thank his countrymen and pledge his continued representation of the Philippines in the sport. The mixed martial artist, considered the foremost gentleman and class act in the sport, also vowed to continue his anti-bullying campaign where he has helped changed lives in a positive way.
Muñoz' martial arts career does not end in his retirement as he declared plans on coming back home to the Philippines to develop wrestling in the country. He mentioned in the post-fight press conference that "wrestling is a discipline that the Philippines needs." "Their striking is good, jiu jitsu is good, but I think wrestling is a deficient a little bit," he added.
Muñoz commended Filipino fighters saying "There is so much talent here in the Philippines."
"Mabilis ang suntok at sipa. They're good," he added, but believes that wrestling is the missing link saying that "For me, it's just connecting the dots. Wrestling is the glue that keeps everything together."
Mark Muñoz made it clear in the UFC Fight-night Manila post conference his desire to come back to the Philippines and develop Filipino fighters into better wrestlers. "I want to take the good fighters and develop them in wrestling and take the sport up a notch in the Philippines."
Before entering the world of mixed martial arts, Muñoz began wrestling at the age of 13 for the wrestling varsity team at Vallejo High School California where he became two-time State Champion, an Asics First Team All-American, a 1995 National High School Champion, and the 1996 NHSCA National High School Champion.
In his collegiate years, Muñoz went to Oklahoma State University where he compiled 121 wins overall, was a two-time All-American, and won a NCAA National Championship in 2001 as a senior.
Facebook Comments