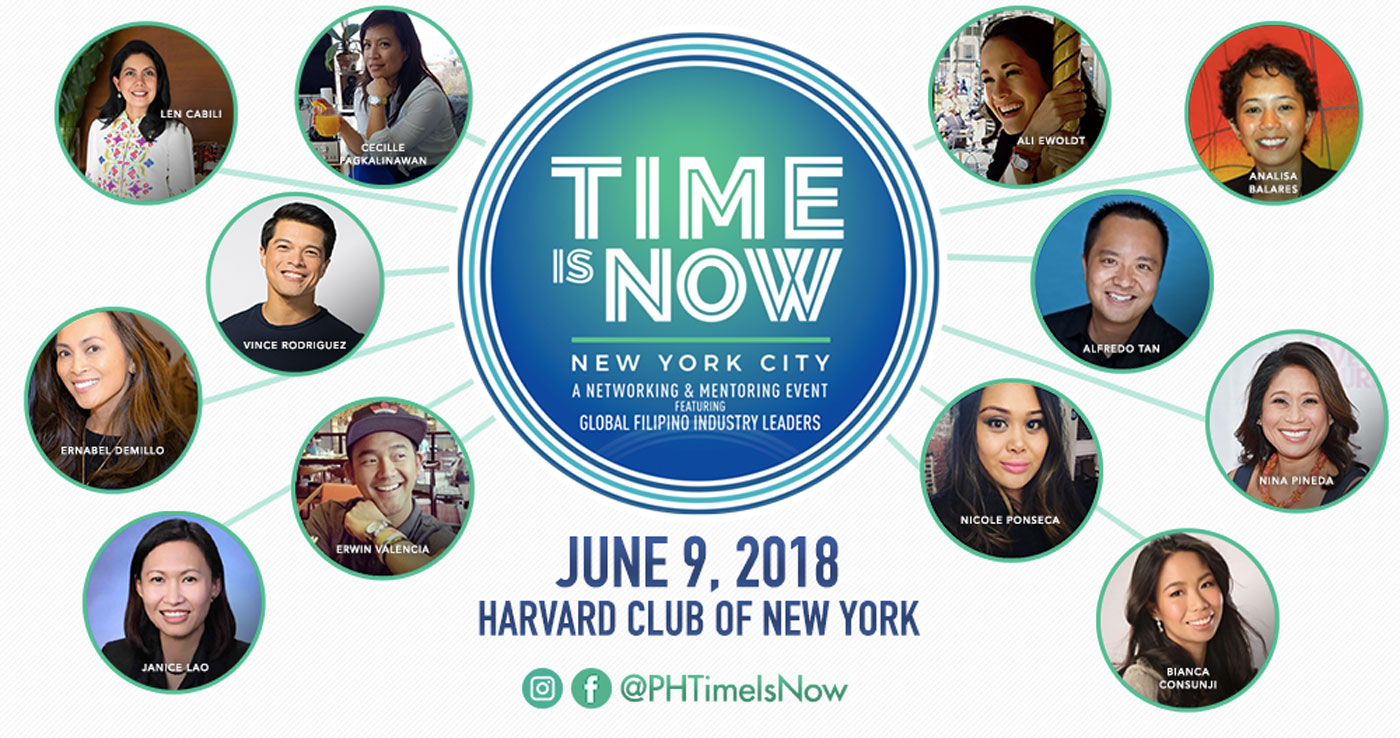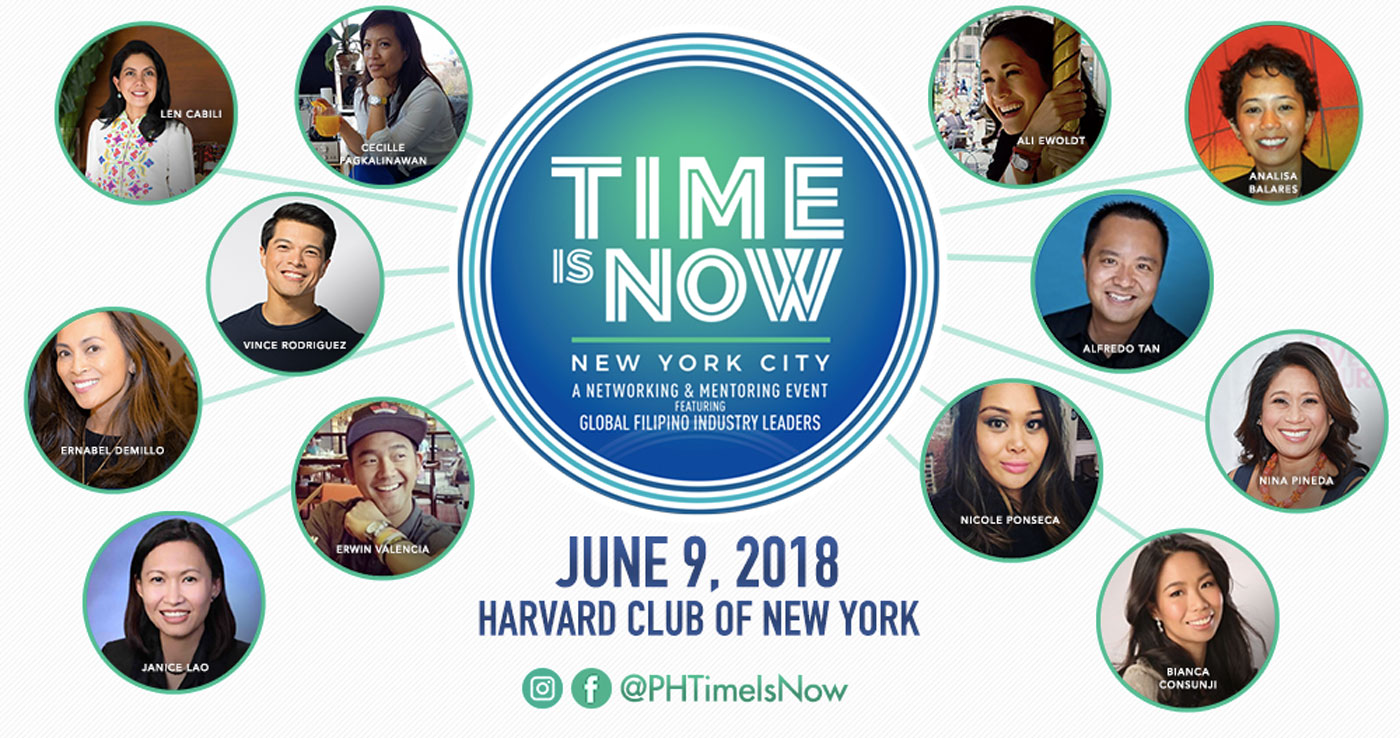 The legendary Filipino ambition, perseverance and talent will be in the spotlight on the world stage as some 20 Filipino innovators and changemakers from around the world gather in New York City for the first time this June to share their personal stories of learning, growth and success in hopes of inspiring the next generation.
Some 20 global Filipino industry leaders have been confirmed to lead the first "PH Time Is Now Networking and Mentoring Summit" on June 9, 2018, Saturday at the Harvard Club of New York City.
During the event, attendees will have the opportunity to meet, engage and collaborate with fellow innovators and changemakers; and take part in building a community of global Filipinos who innovate together and mentor and support each other.
"We were inspired to help create a space and time for global Filipinos to connect with each other and help each other. Every minute and every session of PH Time Is Now will teach and challenge attendees to create meaningful paths for personal and professional success," said PH Time Is Now co-founder Carissa Villacorta.
"It's about time we highlight new global Filipinos who are making their presence felt in the world and connect them with other Filipinos who are looking to do the same. This is about SHARING TIME, BRAINSTORMING and MENTORING so that together, we can help create more success stories and happy journeys," Villacorta shared in a media release sent to GNP.
The PH Time Is Now roster of facilitators, mentors and trailblazers are all leaders in their respective fields, including Vincent Rodriguez III, the first Filipino American lead star in a TV Series. His show "Crazy Ex-Girlfriend" also had Filipino international broadway star Lea Salonga in one of its season finales.
Joining the Hollywood star in the list of global Pinoy mentors are:
Trailblazers
Bianca Consunji, Executive Producer at Buzzfeed News
Vanessa Gabriel, Product Operations Specialist at Uber
Nicole Ponseca, Owner of Maharlika Bistro and Jeepney Gastropub
Alfredo Tan, Chief Digital and Innovation Officer at WestJet
Erwin Valencia, Physical Therapist with the New York Knicks
Facilitators
Ernabel Demillo, Host of Asian American Life on CUNY-TV
Nina Pineda, Reporter at WABC-TV
Hazel Sanchez, Reporter at WCBS-TV
There will also be MENTORS that attendees can share time with to consult with as they navigate their respective Global Filipino journeys:
Analisa Balares, CEO and Founder of Womensphere and Young Global Leader 2012
Janice Lao, Chief Corporate and Sustainability Officer at Hong Kong & Shanghai Hotels
Cecilia Pagkalinawan, CEO of StyleTrek, appLOUD and BRWN Media
Mike Sagun, Professional Development Coach
Earl Valencia, Founder of Valence Enterprises, Director of Advanced Engineering at Dell EMC and WEF Young Global Leader 2014
Ayesha Vera-Yu, CEO and Founder of Advancement for Rural Kids (ARK) and WEF Young Global Leader 2014
Jess Villarina, Head of Payments and Cash Management at Société Générale Corporate & Investment Banking
The event will also feature Entrepreneurship Panel featuring:
Ian Doromal (Co-Founder of ecoSPEARS),
Joy Murao (Global Practice Support Executive and eDiscovery Strategist at Practice Aligned Resources),
Mollie Coleman (Founder of High Caliber Events),
and
William Peetoom (President of the FilAm Chamber of Commerce, San Diego).
The panel will be moderated by the FilAmChamber of Commerce's Secretary, Kristine Custodio.
PH Time Is Now is co-organized by ReachUs, LLC, the FilAmChamber of Commerce, San Diego (FACC), FYLPRO, Liga Filipina of Columbia University and the National Federation of Filipino American Associations (NaFFAA).
For more information or to attend, visit www.phtimeisnow.com or email carissa@reachusglobal.com. You may also participate in online discussions by following PHTimeIsNow on Facebook, Instagram and Twitter @phtimeisnow.
GoodNewsPilipinas.com is a media partner of PH Time Is Now.
Facebook Comments