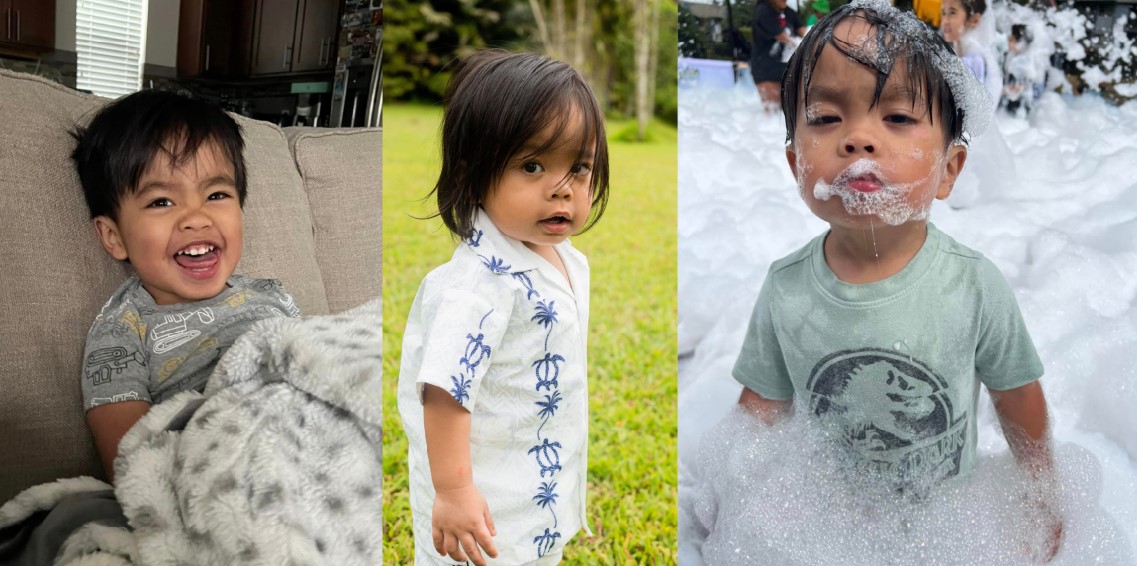 Three-year-old drowning victim Ezra Jacob Rosario was declared the youngest organ donor in the Philippines after his parents donated his organs and tissues to help other people live longer.
Ezra Jacob is being lauded as a young hero after his parents, Jennae and Julius Rosario, decided to donate his viable organs after the tragic accident in early November 2022.
Ezra's kidneys have since been successfully transplanted in a 24-year-old recipient and his corneas transplanted to a 22-year-old and a 3-year-old.
"Ezra will live on through others. With the support of our families, we decided to donate viable organs left in his body," Jennae Rosario shared in a Facebook post on November 12, a day after her child succumbed to injuries after fighting to live for nearly a week.
"The thought of our son being able to successfully extend and improve the quality of lives of others is a gift, as though he is physically gone, he is also, in some way, walking, living, and seeing life through others," Jennae wrote in a follow-up post on November 23.
The Rosario family is based in the United States and visited the Philippines for a vacation when the incident that took the boy's life happened.
Ezra drowned in a pool resort in Paoay, Ilocos Norte, while celebrating his birthday with his twin Elijah on November 6, a day after the long-planned church wedding of his parents.
His family members performed CPR and were able to revive him. He was then rushed to the nearest provincial hospital to stabilize his condition. However, even with the careful attention given by the hospital where Ezra was first brought, Jenna said his condition required that the boy be sent immediately to a Manila hospital for better treatment.
"Unfortunately, he needed to be intubated and sedated but from there, we saw signs of improvement as our little man is never short of being a strong fighter. His doctors and nurses were the best in the area but unfortunately, he also needed equipment and a level of care that can be provided only in Manila where there are better facilities and services.
"Our family quickly rounded up the funds to secure a private charter plane and med air team (doctor, RT, and nurse) to airlift us to Manila so that he can be transferred to St. Luke's Medical Center," she said.
Ezra was pronounced brain-dead for the second time and eventually passed away.
Rosario shared with Good News Pilipinas that her boy was brought to Vigan, Ilocos Sur, on November 19 for his cremation and that the family plans to bring his remains back to the U.S. in the last week of November.
Jennae asks for prayers and support as they go through the most painful time of their lives.
"Please continue to pray for us, as this new journey we're on will surely be indefinite. It will take time for us to move forward and it'll for sure test our relationship and relationships with others.
"We will make sure Eli knows, and the world knows, that his twin brother, Ezra, is a fighter, a brave, strong, kind, generous boy who fought his hardest battle and ultimately won through his generosity and love. He is a HERO," Jennae added.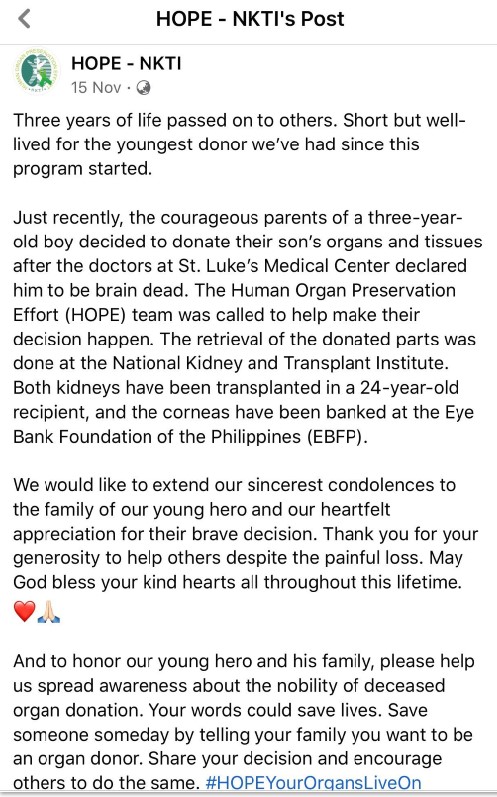 "He is the youngest organ donor in the Philippines and the first pedia organ donor at St. Luke's Medical Center. What an honor to have a hero son," said Jennae.
Ezra lived a short life but will continue to live on through other people's lives – a hero and an angel.
The Human Organ Preservation Effort (HOPE) of the National Kidney and Transplant Institute (NKTI) named Ezra as the youngest organ donor since the program started and the first child organ donor at St. Luke's Medical Center.
"Three years of life passed on to others. Short but well-lived for the youngest donor we've had since this program started," NKTI-HOPE said.
HOPE-NKTI caters to potential deceased organ donors and specializes in the prevention, diagnosis, rehabilitation, and treatment of kidney and allied diseases through dialysis and transplantation.
Ezra Jacob Rosario's story of organ donation to help other people live longer is unique among the many stories of people providing donations after typhoons and disasters or sharing unused personal belongings or items with those in need.
SHARE THIS STORY of 3-year-old drowning victim Ezra Jacob Rosario to inspire others to give the gift of themselves to help others live with organ donation.
Good News Pilipinas is a Lasallian Scholarum Awardee. TELL US your good news story tips by messaging GoodNewsPilipinas.com on Facebook, Twitter, Instagram, or e-mail editor@goodnewspilipinas.com and WATCH Good News Pilipinas TV YouTube & Good News Pilipinas TikTok for more Filipino Pride stories!
Facebook Comments