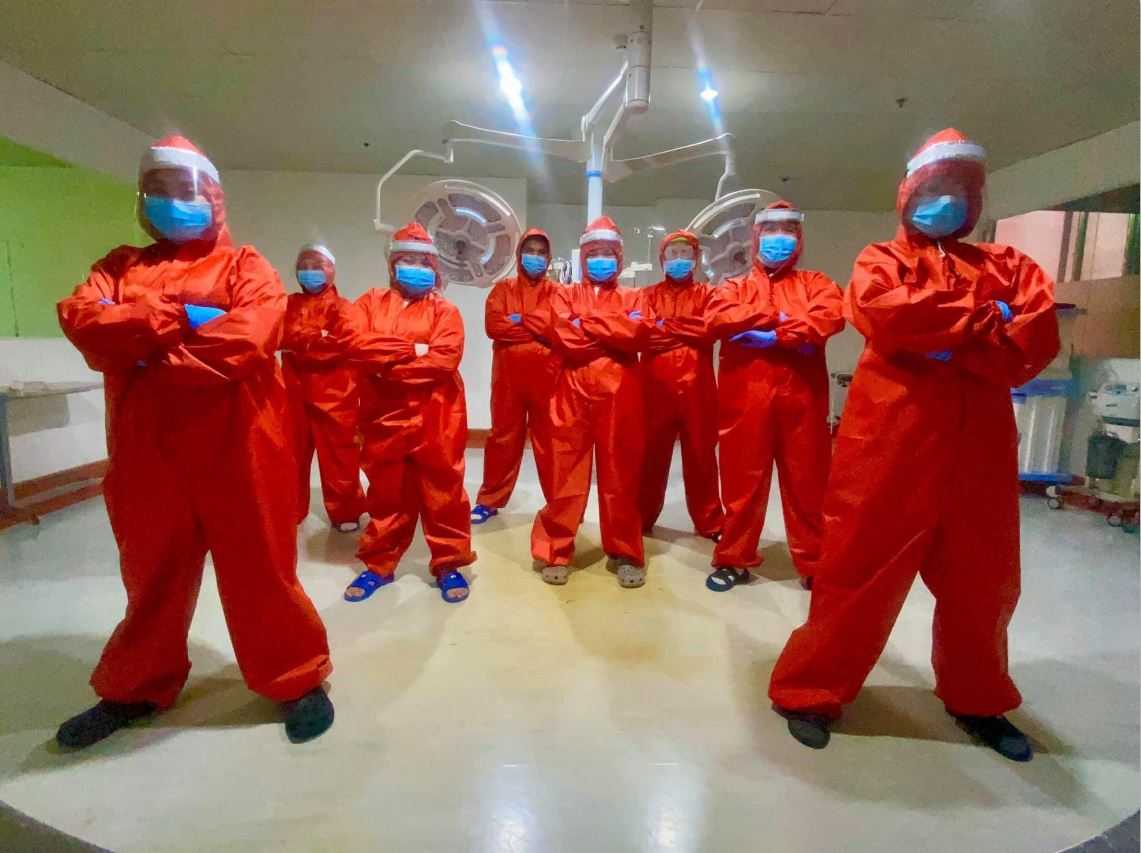 Thirty-nine Pinoys changemakers who have shown exemplary acts amid the COVID 19 pandemic are being honored in the Ayala Malls Extra Mile campaign.
The 39 individuals were chosen from among the nominees sent in when Ayala Malls made the call in July for ordinary people doing extraordinary acts of kindness.
The 16th edition of the campaign has chosen to pay tribute to everyday individuals – those who assisted people who lost their jobs during the community quarantine, donors of PPEs, food, and cash assistance, to providers of learning modules.
"The story of each Changemaker is an example of what any person can do for a more optimistic future. No kind act is too small to make a difference. We hope that the Extra Mile campaign and its outstanding honorees will spark a desire for kindness in every Filipino's life," shares Ayala Malls president Jennylle Tupaz.
In selecting this year's batch of Changemakers, Ayala Malls was aided by accomplished advocates who have gone the extra mile themselves:
Department of Tourism Secretary, Bernadette Romulo-Puyat; Senior Anchor and Correspondent at CNN Philippines, Pinky Webb; Filipino educator and 2009 CNN Hero of the Year, Efren Peñaflorida; Project Smile founder, Sam Tamayo; Medical Officer and former Doctor to the Barrio, Montana Amir Cheng Dominguez; and Rags2Riches founder, Reese Fernandez-Ruiz.
The 39 honorees are recognized for their selfless acts of kindness by initiating many efforts like fundraising and donations for the benefit of vulnerable communities. Here are the 39 Extra Mile Changemakers:
Marco Alejandro "Aldo" Panlilio: Sharing Hope through 200 Pesos
Aldo founded the Your 200 Pesos or Y2P Project, a program dedicated to help frontliners and professionals who lost their jobs during ECQ.
Enrique Prado: Promoting Mobility on Two Wheels
Enrique sourced materials for DIY face shields, which were produced and donated to AFP frontliners and 1500 healthcare workers in local hospitals. He also sent P10,000 worth of food to three struggling families, 150 food packs to a vulnerable community, and 125 bikes to deserving individuals.
Dr.Tiger Garrido: Protecting the Front Lines
A medical professional, Tiger sourced and distributed Personal Protection Equipment (PPEs) in different health institutions. He reached 3,000 front liners in 63 hospitals in the last 3 months.
Carmaela Alcantara: Designing for Front Liners
Carmaela provided 4,000 locally-made PPEs to public hospitals in her province. Her endeavor also provided livelihood for sewers within her community.
Ismael Jerusalem: Crafting Protective Care
Ismael created face shields via 3-D printing for distribution to frontliners in Legazpi City, Albay. He and fellow artists earned nearly P100,000 enough to provide more than 3,000 face shields for free.
Janice Cuevas: Conducting Yoga Classes for a Cause
Janice was able to raise funds and provide PPEs to frontliners, as well as distribute sanitary kits and food packs to vulnerable communities and charity organizations.
Gary Ramirez: Feeding Barangays One Meal at a Time
Gary launched "Pakainin ang Buong Barangay," a Facebook page that encouraged people to help feed residents of poor barangays during the lockdown. This effort reached 11 cities and municipalities, and has provided 45,000 meals to indigent families.
Paulina Clara Zulueta: Leading a Caravan of Care
Paulina initiated the Arawan: Para Pu Karela (Para Po Sa Kanila), a fundraising and relief distribution project that was able to provide grocery packs worth P500 each to drivers of selected JODA in Angeles City and 600 drivers in Baguio city.
Carla May Berina-Kim: Fueling frontliners with proper nutrition
Carla organized a fundraising event to provide hot meals for frontliners. Along with her family and friends, they were able to gather 340,000 cash and 350,000 worth of in-kind donations, which reached 21 hospitals in 9 cities within NCR.
Dr. Vincent Paul Olalia: Disseminating information and distributing protection
Vincent was instrumental in helping a business establishment recover and restart after the enhanced community quarantine was lifted to allow stores to reopen.
Dr. Aimee Nunez-Regala: Keeping others safe despite her own vulnerability
Dr. Aimee gathered thousands of PPEs in the form of bunny suits, isolation gowns, n95 masks, goggles, face shields, gloves, head & shoe covers, and ear savers, which she eventually distributed to hospitals in need.
Malaya Genotiva: Lending learners a helping hand
Malaya helped those without access to learning resources through The Mitsa Project. She was also able to help print 395 modules and deliver 214 module workbooks to families.
Maria Gliceria "Ria" Valdez: Giving Gadgets to Get Students Online
Ria and her friends created The Mitsa Project (TMP) to collect and distribute gadgets for students due to the enforced online classes.
Nini Andrada Sacro: Mobilizing Kindness
Nini, with the help of her team of volunteers and donations from various restaurants and the Philippine Army, did an initiative that fed 12,000 frontliners, homeless and street kids, and locally stranded individuals and OFWs.
April Joy Cruz: Extending help where it is needed the most
Joy launched a DSWD-accredited donation drive that gathered P2.5 million worth of donations, which reached 89 hospitals and 25 institutions nationwide.
Maxine Andrea Carasig: Connecting Farmers to the Consumers
Maxine, along with fellow volunteers and friends, started an initiative called Sadiwa, which brought surplus produce from local farmers to consumers to support the farmer's livelihoods. They have since helped 21 farmers and their families.
Marvin Bagube and Renan Dela Cruz: Sustaining sweetness to pay it forward
Marvin and Renan of Le Sucre Lab continued operations despite less revenue to sustain their feeding drive for various vulnerable communities. Their relief drive supported frontliners and those who lost their livelihood during the ECQ like jeepney and tricycle drivers.
Tracy Ampil: Moving healthcare forward through unconventional means
Tracy started MediDyip, a transport system that provided safe transportation for PUIs, PUMs, and patients safe to healthcare facilities, and supported the livelihood of the jeepney drivers.
Engr. Marvin Caparros: Building a Foundation of Social Responsibility
Engr. Marvin Caparros and his friends raised P8.5 million in donations, which reached more than 1,500 people from the poorest barangays in Quezon City. They also provided hot meals and groceries to thousands of frontliners and distributed 5,000 PPEs to many government hospitals.
Simon Fernan: Making more effective masks
Simon Fernan created modified 3D printed adaptors that can convert reusable respirator masks as a response to the shortage of PPE equipment in hospitals in Cebu.
Evelyn Nacario-Castro: Caring for farmer communities and frontliners
Her "Usa Ka Gasa para sa Duha ka Pamilya" initiative purchased vegetables from local farmers and provided Family Support Packs, while her other project SAKSI helped in the reproduction and distribution of PPE materials to Bisaya-speaking communities.
Jumax Morgia: Helping through Manufacturing and Distribution
Jumax spearheaded the manufacturing of 10,000 face shields, 300 hazmat suits, and 50 sanitation tents, which were distributed to most hospitals in Cebu City, Lapu-Lapu, and Talisay.
Karl Arriola: Aiding Small Businesses in Cebu
Through their Cebu-based new-generation law firm KaLe Solutions, Atty. Karl Arriola and Atty. Leny Ignalaga extended help to small businesses in need by providing cash and goods donated by their clients, including 100 pieces of facemasks, 300 pieces of clothing, food packs, 2 laptops, a cell phone, and cash worth P50,000.
Michael Arcilla: Empathizing with those Affected by the ECQ
Michael provided grocery items to more than 300 families and provided more than 100 face masks and eye glass protectors for the tricycle drivers in his community, as well as two mountain bikes for Makati residents.
Gian Dela Rama: Enabling Vital Communication
With his Knowledge Inspires Responsible Action (KIRA) platform, Gian connected the Department of Health with many online users via its official Kontracovid-19 chatbot. KIRA was turned over to the DOH for free, as Gian's true act of community service.
Theriza Lanche: Saving Her Funds to Protect Others
Theriza provided 40 PPEs and 82 hot meals for medical staff who take care of kids with critical illnesses at the Philippine Children's Medical Center.
Marlon Pia: Championing the Marginalized Indigenous Communities
Marlon launched Ayuda para sa Aeta, an on-line fundraiser to purchase relief food packs for 2,000 mountain Aetas good for two weeks. Through collective efforts, he was able to help 2,000 Aeta families from 3 barangays situated in 20 mountain communities.
Manoling Francisco, SJ: Aiding Communities through the Tanging Yaman Foundation
Through the Tanging Yaman Foundation which Manoling founded, he was able to provide 125,075 food packs for 252 communities, PPEs for 208 hospitals and health clinics, 56,940 hot meals for frontliners in 7 Hospitals within the ECQ period.
Mary Lorraine Pingol: Helping a Homeless Woman Deliver a Baby
Despite running late for work, nurse Mary Lorraine Pingol stopped to help a homeless woman deliver her baby on a sidewalk in Makati City.
Mariko David, Marie Sol Bartolome, and Shiela Marie Borongan: The Wagi Project
Through "Bid for A Cause," also known as "Sale for A Cause," they were able to earn P113,629.88 from bidding, cash, and kind donations. This benefitted 8 beneficiaries from NCR, Cavite, Laguna, Zambales & Sarangani.
Stanley Seludo: Helping Musicians and Businesses
Stanley was able to help displaced musicians and roadies earn a living during the pandemic. He also helped businesses with logistical needs.
Christine Remo: Provisions for Frontliners
Christine Remo prepared packed home-cooked meals for at least 3,000 front liners which included hospital staff, security guards, maintenance, and elevator operators.
Svethllana Patricia De Guzman: Aiding Drivers
Svethllana was able to raise funds worth P45,635 and distribute relief packs for 206 drivers.
Joel dela Paz: #BayanihanSaMontalban to support Jeepney Drivers
Through #BayanihanSaMontalban, Joel was able to help jeepney drivers from different Jeepney Operators and Drivers Associations (JODAs) in Montalban and San Mateo, Rizal by providing relief packs as well as monetary and in-kind donations.
Dale James Ferrer: Donations for Musicians
Dale raised P50,000 and distributed P1,000 thru GCASH for each beneficiary in need of groceries, medicines, and baby milk. He also provided P50,000 cash and a few sacks of rice to 50 musicians and their families.
Micaela Gavino: Aiding Students with WiFi
Through Salindiwa, Micaela was about to donate pocket WiFi units to students-in-need from Grades 4 to 6.
Renz Allan Lacorte: Providing Educational Materials at Davao del Norte
Through TulongSkwela PH, Renz seeks to raise donations–particularly connectivity devices and educational materials–for selected public schools in the rural barangays of Davao del Norte.
Sharra Crizel Elep: Distance Learning for Students
Through Reconnect PH, Sharra was able to raise P89,621 that would provide distance learning kits for JHS, SHS and colleges.
Dionicio Castro Jr.: Food Packs for Barangay
With P30,000 worth of funds that Dionicio's friend provided, he was able to gather food packs good for 500 families.
Kindness is a light that shines brightest in the dark. Although the pandemic changed the tide of the times, Ayala Malls remains dedicated to promote what every Filipino needs now: the spirit of bayanihan. Check out the full stories of the 39 Extra Mile Changemakers at ayalamalls.com/pasyal
The Ayala Group of companies had also provided handwashing facilities, hygiene kits, and care packs to schools that reopened this October.
SEND CHEERS in the comments below to the 39 Pinoy changemakers honored by the Ayala Malls Extra Mile Campaign.
Want to know how to be a Proud Pinoy? Like, Follow, Subscribe to GoodNewsPilipinas.com, and our socials on Facebook, Twitter, Instagram, Good News Pilipinas! TV on YouTube, for new story notifications, and e-mail newsletters for updates on more Filipino Pride stories.
Facebook Comments