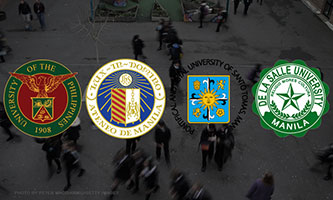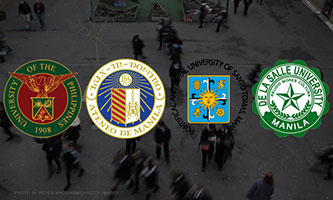 Four leading universities from the Philippines ranked in the 2015 QS University Rankings of top schools in Asia.
The country's state university, University of the Philippines (UP) led the Philippine entries at the 70th spot. UP also led last year's Philippine universities earning the 63rd spot in 2014.
Jesuit school Ateneo de Manila University (AdMU) ranked 114th this year, one level higher than its spot in last year's QS Rankings.
The first Asian Pontifical university, the University of Sto. Thomas (UST), ranked 143th, down from its 141st spot in 2014.
Lasallian school De La Salle University posted a rank at 181-190th , down from its 151-160th spot last year.
Education firm Quacquarelli Symonds has been ranking schools to compare the world's highest-performing universities, exploring leading universities in different world regions, comparing data in specific subject areas, and allowing students to compare options for international study.
QS Asia has been ranking Asian universities since 2009. It organizes higher education events on behalf of QS Education Trust which provides and sources education scholarships for international students, conducts QS seminars, and promotes other philanthropic and social aspects of international education on a global scale and with a special focus on Asia.
The London-based education group uses nine indicators in determining ranks in Asia, namely:
Academic reputation (30%)
Employer reputation (10%)
Faculty/student ratio (20%)
Citations per paper (15%)
Papers per faculty (15%)
Proportion of international faculty (2.5%)
Proportion of international students (2.5%)
Proportion of inbound exchange students (2.5%)
Proportion of outbound exchange students (2.5%)
The QS University Rankings: Asia 2015 top three schools in Asia are the National University of Singapore, the University of Hong Kong, and the Korea Advanced Institute of Science and Technology.
Facebook Comments