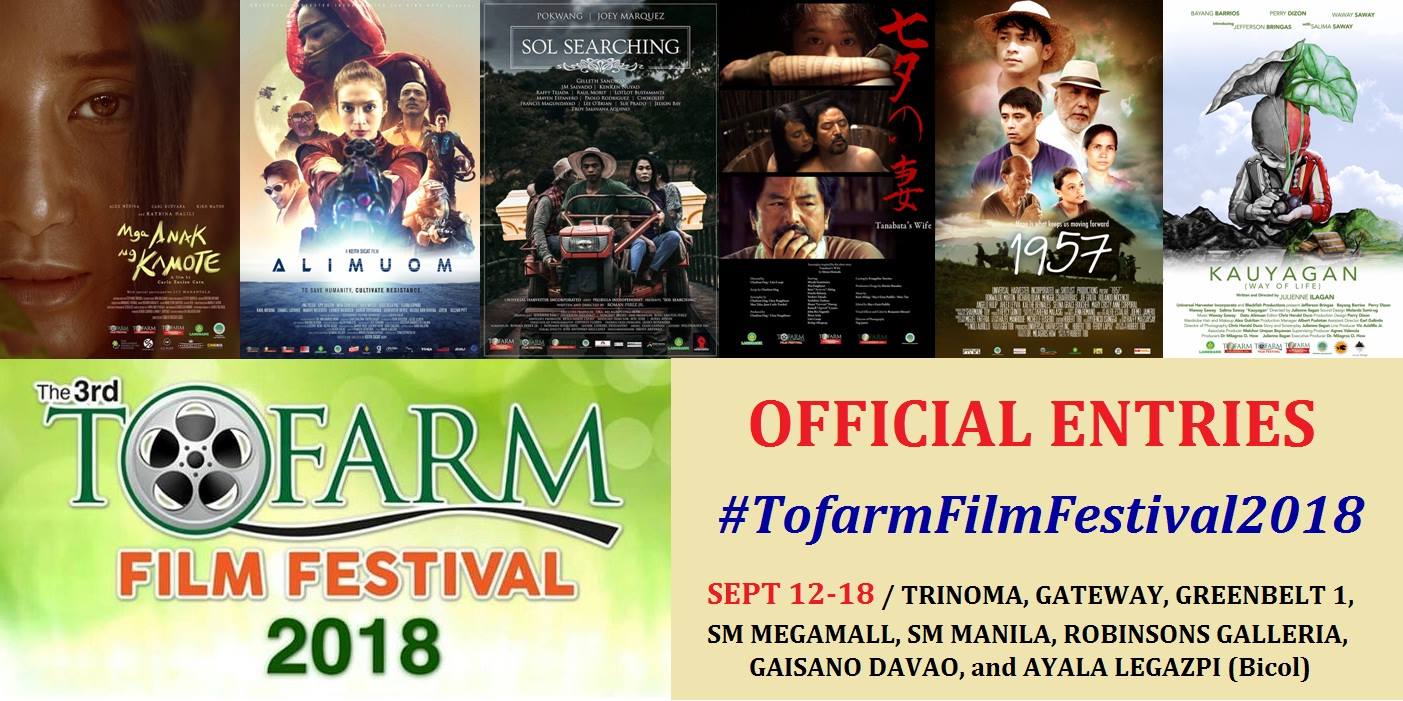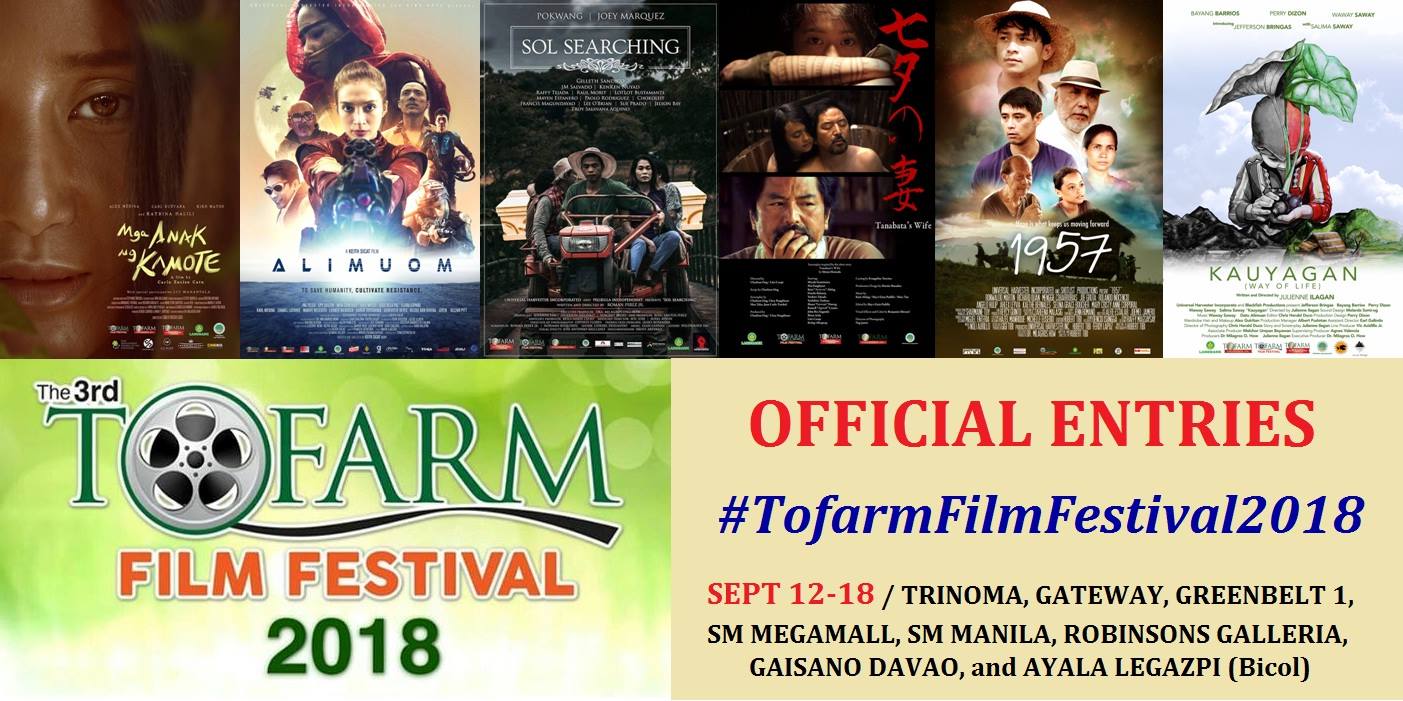 The stories and aspirations of Filipino farmers are again celebrated in the 3rd edition of the ToFarm Film Festival in Philippine cinemas this September.
The films are being screened until September 18, 2018 at the Trinoma, Gateway, Greenbelt 1, SM Megamall, SM Manila, Robinsons Galleria, Gaisano Davao, and Ayala Legaspi in Bicol.
The ToFarm Film Festival acknowledges and gives recognition to the noble champions of agriculture through the film medium that promotes and raises awareness about Filipino farmers.
The festival is organized by the ToFarm, an organization that awards the Most Outstanding Farmers of the Philippines.
The Six official entries in the Full Length competition of the ToFarm Film Festival Year 3 are:
1. "1957" — historical drama, written and directed by Hubert Tibi
SYNOPSIS – A group of farmers in Bicol are at the mercy of Don Jose, a strict landlord. 20 year-old Lucio, son of a former member of the Hukbalahap, pins hopes on the arrival of President Ramon Magsaysay in their area, for genuine land reform to take place. We know what happened in 1957…
CAST — Ronwaldo Martin, Richard Quan, and Menggie Cobarrubias
2. "ALIMUOM" — science fiction, written and directed by Keith Sicat
SYNOPSIS — A futuristic Philippines with specific sections of the country under individual bio-domes. The OFWs are actually Outerspace Filipino Workers and the song Bahay-Kubo is a distant memory that makes a young boy ask: "Ano ang singkamas?"
CAST — Ina Feleo, Epy Quizon, Mon Confiado, Dido Dela Paz, Elora Espano, and Kiko Matos
3. "TANABATA'S WIFE" — period romance, written by Charlson Ong, directed by Charlson Ong and Lito Casaje
SYNOPSIS — Based on the classic Philippine short story "Tanabata's Wife", set in the 1920's, to also feature a Japanese actor. Tanabata-San is a successful Japanese immigrant farmer in La Trinidad Valley in Benguet, where the Japanese have been known to pioneer the planting of salad greens. Middle-aged and lonely, he hires a young feisty Bontoc woman, Fasang, as farmhand, and falls in love with her. They get married and have a son, but Fasang is attracted to the city lights of Baguio that is now taking shape, and to someone else.
CAST — Miyuki Kamimura (Japanese actor), Mai Fanglayan
4. "MGA ANAK NG KAMOTE" – futuristic drama, written by John Carlo Pacala, directed by Carlo Encisco Catu
SYNOPSIS — Set in the Philippines, 2052, when the planting of kamote has been outlawed and those caught planting and selling kamote is put in jail, no thanks to the Kamote Planting Regulation Act.
CAST – Katrina Halili, Alex Medina, Carl Guevara, and Kiko Matos
5. "SOL SEARCHING" — dark comedy, written and directed by Roman Perez, Jr.
SYNOPSIS — Teacher Sol is dead and cannot be buried because there are no funds. How will the community come forward to put her to rest, this strict and no-nonsense teacher of grade school students and farmers who need to be taught scientific farming methods?
CAST — Pokwang, Joey Marquez, JM Salvado, Gilleth Sandico
6. "KAUYAGAN" — a tribal drama, written and directed by Julienne Ilagan (Ilagan Julienne)
SYNOPSIS — A Talaandig tribal drama, it is the story of a hesitant datu-presumptive and how he learns to rise up to become leader of his people.
CAST — Bayang Barrios, Jeff Bringas, WawaySaway
The esteemed Selection Committee are composed of Raquel Villavicencio (chairperson), Krip Yuson, Antoinette Jadaone, Mario Cornejo, and Manny Buising.
ToFarm Film Festival 2018 Executive Producer is Dr. Milagros O. How of Universal Harvester, Inc., Festival Director is Bibeth Orteza, Managing Director is Joey Romero, Sonny Guingab is Tofarm Committee Member, and Agnes Valencia is Supervising Producer.
The ToFarm Film Festival will award the films which best exemplify the ideals of the competition to put a spotlight onto the farmers' lives – their triumph and tribulations, challenges and success.
Facebook Comments