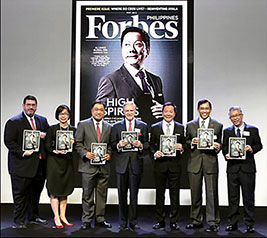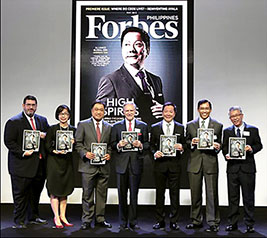 Eight well-known powerful companies in the Philippines made it to Forbes' 2000 list World's Biggest Public Companies.
The combined market capitalizations of the eight local firms are valued at $77.763 billion with profits amounting to $3.734 billion.
Leading the Philippine entries on the Forbes 2000 at 911th spot is Henry Sy's SM Investment Corporations (SMIC) with a market value assessed at $16.7 billion and businesses in banking, retail, and property.
SM President Harley Sy released a statement indicating the company's focus on expanding their business with the favorable economic outlook. "Our expansion plans are geared towards meeting the needs of underserved customers across the country and to positioning ourselves to compete effectively in each of our growing markets," according to Sy.
Following SMIC is Ayala's Bank of the Philippine Islands (BPI) which took the 1243rd spot. With a market value of $9.1 billion, the pioneer bank in the Philippines and Southeast Asian Region has made it as one of the world's most powerful companies.
BPI chairman Jaime Zobel de Ayala and BPI CEO Cezar Consing issued a joint statement pointing to their client-focused services. ""We are also the only major Philippine bank that pays dividends on a regular basis. We believe that BPI has the products and services needed to take full advantage of the growth in the Philippine economy," the statement said.
Meanwhile, Manny Pangilinan's two huge companies also ranked in the top 2000 most influential and valuable business firms. With a market value of $14.2 billion, the country's largest telecommunication company Philippine Long Distance Telephone Co. (PLDT) placed at 1,259th,. The Philippines' largest power distributor, Manila Electronic Company (Meralco), placed 1,808th with a total market value of $6.8 billion.
Metropolitan Bank & Trust Co. is next most influential company in the Philippines taking the 1297th spot in Forbes' Global ranking. Owned by tycoon George Ty, the company's market capitalization is at $7.1 billion.
At 1344th place is the Philippines' oldest conglomerate, Ayala Corporation. The company's president and Chief Operating Officer Fernando Zobel de Ayala released a statement that they are looking towards achieving their net income target of P20 billion a year ahead of schedule as "our business units sustain their growth momentum and the overall business environment continues to be encouraging."
Another Philippine company which made it on the list is JG Summit Holdings which took the 1525th spot at $11.9 billion market capitalization. JG Summit is owned by the second richest man in the Philippines John Gokongwei, Jr.
CEO Ramon Ang's Top Frontier Investment Holdings is the youngest company, placing at 1792th. Top Frontier is the largest shareholder of 124-year old San Miguel Corporation.The 13th Annual Global 2000 ranking enlisted top business firms using criteria for profits, sales, assets, and market values.
Facebook Comments