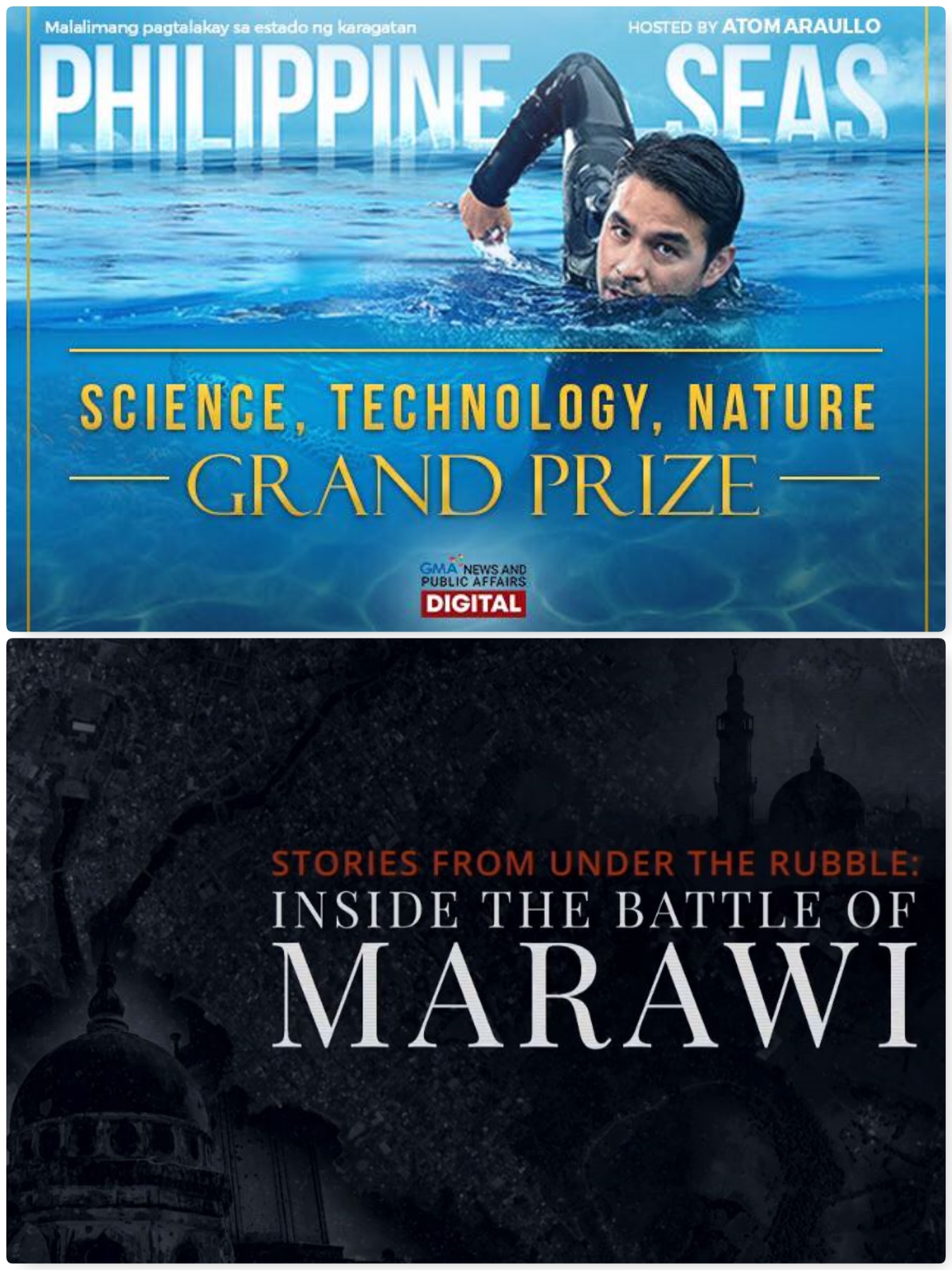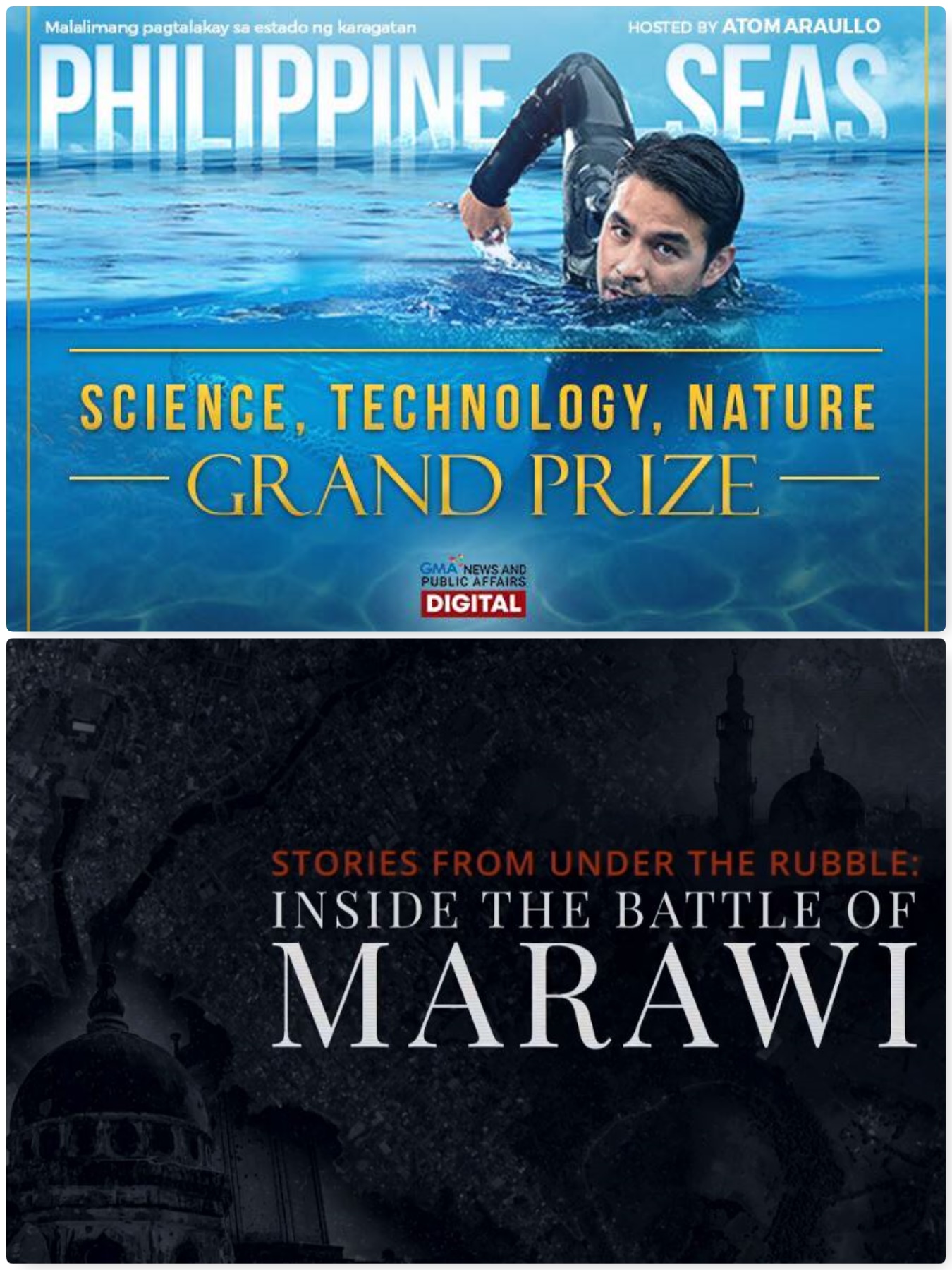 Philippine broadcast networks, ABSCBN and GMA, have won against their competitors at the prestigious Association for International Broadcasting Awards (AIBs) 2018 held in London on November 7.
The AIBs, the independent and respected international awards for factual video, audio, and interactive productions, recognized ABSCBN's "Stories From Under the Rubble: Inside the Battle of Marawi" and GMA Network's "Philippine Seas" as the best in their award categories.
Philippine Seas, a documentary by Atom Araullo which had previously won the Gold Camera award for Documentary: Environment, Ecology at the U.S. International Film & Video Festival in June this year, was declared winner of the London AIBs for Science, Technology and Nature.
Stories From Under the Rubble: Inside the Battle of Marawi, the 9-part special report written by Patrick Quintos, developed for the web by Regie Francisco and published on the ABS-CBN News Digital website featuring drone videos from Val Cuenca and photos from Jonathan Cellona and Fernando Sepe Jr. who previously received citation from the Days Japan International Photojournalism Awards, was declared winner of the Interactive award.
Araullo's GMA Network documentary which uncovered the wonders and threats surrounding the world-renowned center of marine biodiversity found in the Philippines in a rigorous 10-day expedition across Luzon, Visayas and Mindanao, won the Science, Technology and Nature category against shortlisted productions from NHK Japan Broadcasting Corporation, Radio-Canada, Al Jazeera English, taglicht media Film- und Fernsehproduktion GmbH, CNN, and BBC News Digital.
The AIBs selected Philippine Seas as the best of the productions that "successfully explore the world around us in an exciting and distinctive way. In every way the curiosity and interest of the viewer will have been aroused without them feeling they were being lectured to. The story telling engage the viewer encouraging them to want to know more about the subject."
The ABSCBN News Digital report which looked at the different facets of the 5-month siege of Marawi City staged by Islamic State sympathizers in 2017, won the Interactive category over shortlisted productions from VoA, MBN, RFE/RL, RFA and the Office of Cuba Broadcasting, BBC World Service, Radio New Zealand, Radio Free Europe/Radio Liberty, and RT.
The AIBs selected Stories From Under the Rubble: Inside the Battle of Marawi as the best "in its clear storytelling with appropriate use of sound and images, well researched with verifiable facts and clear signposting to other relevant sources."
GMA Network also received a Highly Commended award for Reel Time – Batang Maestro as a "visually stunning" production which competed in the Domestic Affairs category that recognized "journalistically ambitious coverage of contemporary subjects in productions that reflect the channel's or platform's audience."
The AIBs given to ABSCBN and GMA place the two networks in the elite list of broadcast networks awarded by the non-profit non-governmental organization which marks its 14th year of giving the awards.
Facebook Comments