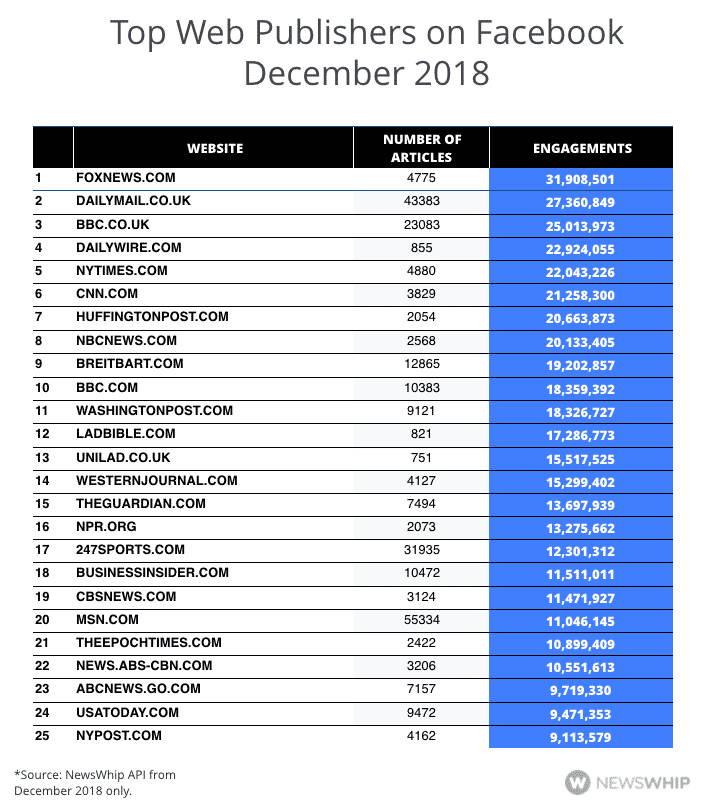 The ABS-CBN News website is in the world's top 25 web publishers list released by social media analytics platform, NewsWhip.
NEWS.ABS-CBN.COM ranked 22nd on "The top 25 publishers of December 2018," a digital analytics report by NewsWhip released on January 15.
Fox News led the list at no. 1, while the Philippine network edged out American top networks ABC News, USA Today, and New York Post.
ABS-CBN is the only Philippine website on the top 25 list of websites with the strongest engagements on Facebook.
The NewsWhip analysis includes English-language content from publishers, ranked by Facebook likes, shares, and comments to their web content. Additionally, these rankings do not include media natively uploaded to a Facebook Page, such as a Facebook video.
NewsWhip's Benedict Nicholson credits the ranking of the top 25 web publishers on Facebook to the loyal audiences and engaging content of the listed sites.
ABS-CBN News had 3,206 articles with 10.5 million engagements. According to the ABS-CBN report the surge was driven by a couple of articles – one about the Ateneo de Manila University bullying incident, and the other the most significant story about the Miss Universe 2018 pageant and the consequent victory of Catriona Gray.
ABS-CBN News says it is looking forward to a stronger performance on their Facebook account as it partners with big social media organizations in preparation for the 2019 elections.
With reports from Homer S. Balibay
Facebook Comments