Pinoy a capella group and internet sensation, Acapellago, topped the AKA VIII A Capella Asia Pacific Championship League (APACCL) held in September in Singapore, winning over the region's a capella champions.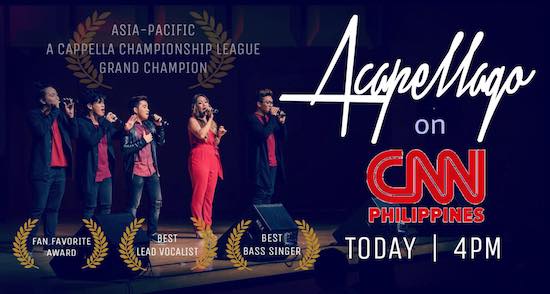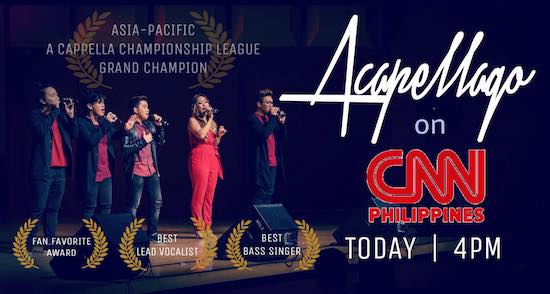 The 5-member vocal ensemble emerged as overall champions of the invitational competition against a capella champions from Hongkong, Taiwan, Malaysia, Australia, and Singapore.
The group's female soloist, Michelle Corpuz Pascual (soprano), won as Best Lead Vocal.
Ronnel Allen Roman Laderas was recognized as Best Bass Singer.
Acapellago won with their rendition of the Whitney Houston pop hit, Queen of the Night.
Lead judge Deke Sharon, known as the Father of Contemporary A Capella and hit film Pitch Perfect's musical director and arranger, shared to media his admiration for the Filipino singing group.
Acapellago members include Pascual and Laderas , Almond Pondevida Bolante (counter-tenor), Joshua Fernandez Cadelina (tenor), Ricky Gavin Roman Laderas (beatboxer).
The group is known to be internet stars with their viral hit "Tatlong Bibe."
The APACCL is an annual vocal competition open only by invitation to the best a capella singers in the Asia Pacific Region who compete Knock Out Style.
Facebook Comments