A 22-year-old Filipino physicist won in the Nuclear Olympiad held in Vienna, besting the world's best and getting into the final round of the competition.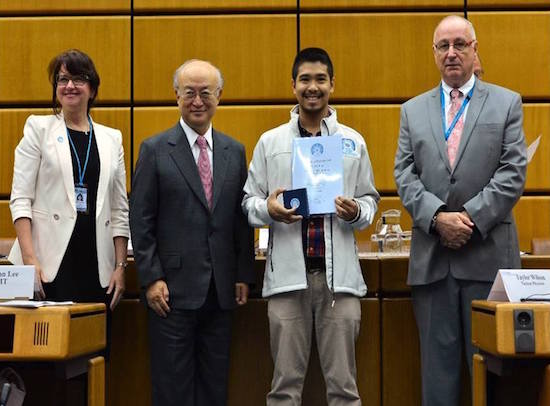 Anton Tanquintic, a cum laude graduate of Applied Physics and Materials Engineering from Ateneo de Manila University, won second place at the World Nuclear University (WNU) Nuclear Olympiad for his "clear and innovative presentation on the production of radioisotopes and its practical application on food and agriculture enamored judges and audience."
The Department of Foreign Affairs reports that "if not for the number of likes where the Brazilian candidate took the lead, Anton would have been the Nuclear Olympiad champion."
The government release said Tanquintic said he had no expectations when he entered the Olympiad and considered being flown by IAEA to Vienna as one of the five finalists as the reward for his efforts.
Tanquintic had previously undertaken an internship at the Philippine Nuclear Research Institute under the leadership of Dr. Alumanda dela Rosa.
Tanquintic went through a 3-stage selection which had him prepare a 60-minute video on nuclear sciences impact to daily life for a social media likes campaign, his written essay, and a 6-minute presentation of his concept and interpretation of the competition theme, "Nuclear Techniques for Global Development."
The nuclear Olympiad was hosted by the International Atomic Energy Agency (IAEA) during its 59th General Conference. The IAEA presented the Olympiad as part of its promotion for public awareness on the peaceful uses of nuclear energy and as part of its program to develop scientists.
Facebook Comments