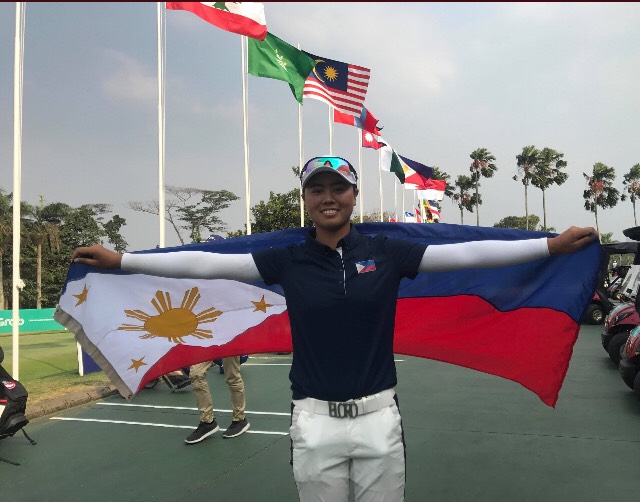 The Philippines' Asian Games gold medalist, Yuka Saso, has been invited to join the inaugural cast of the first annual Augusta National Women's Amateur golf tournament scheduled to be held this April 3-6, 2019 in Georgia.
Saso, the Philippines' Asian Games champion in 2018, was invited to the newest event on the women's golf calendar to be held one of the world's most prestigious courses by the Board of Governors of the Augusta National Golf Club led by its chairman Fred S. Ridley.
A letter dated January 8, 2019 was posted on social media by Saso's father saying the Filipino golfer is being invited "because of your amazing skill and ability to inspire others."
The letter also states how the new women's golf event is being presented as a historical event.
"We believe this event will be much more than a golf tournament. What happens in April will be a historic and seminal moment for the game of golf. Congratulations on being part of this groundbreaking championship," stated the invitation letter to Saso.
The Augusta National Women's Amateur will be the first women's event hosted at ANGC, which didn't accept its first female members until 2012.
"I thought that this was the right time to do this," Augusta National Golf Club chairman Fred Ridley said during last year's Masters. "It was the right time for the women's game. I thought for us to have the greatest impact on women's golf that we needed to be committed to do it here at Augusta National," reported Golf Digest.
Aside from the location(s), the structure of the 54-hole tournament makes it unique as well. All 72 competitors will play the 36 holes on Wednesday and Thursday (April 3-4) at Champions Retreat Golf Club in nearby Evans, Ga., before playing a practice round at Augusta National on Friday. Then on Saturday, the top 30 and ties from the first two rounds will play the final round at Augusta National.
Final-round coverage will air on NBC from noon to 3 ET.
Inquirer Golf's Jong Arcano reported that the only Filipinos to have played at the Masters at Augusta are amateur Golem Silverio, Ben Arda and Frankie Minoza.
Yuka Saso will be the first Filipina to play on the prestigious site of the Masters at Augusta men's golf tournament.
For more Filipino Pride stories watch the premiere of GoodNewsPilipinas! TV WEEK IN REVIEW this Friday at 6PM on YouTube. Follow this link and subscribe https://www.youtube.com/channel/UCXLFAept4lulC8XcPmFx7Mg
Facebook Comments