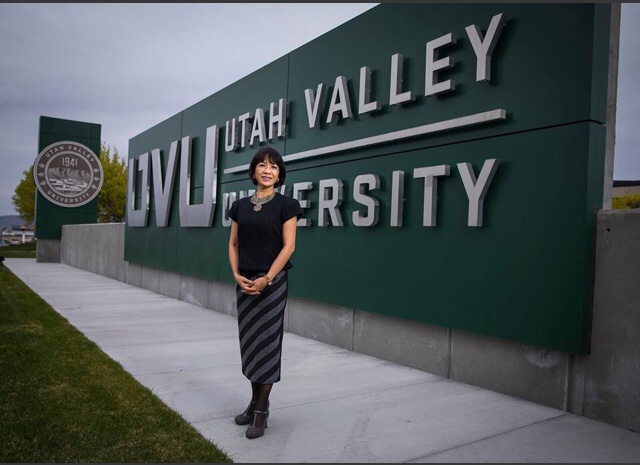 Philippine-born and raised Dr. Astrid S. Tuminez has overcome her impoverished beginnings to become the first woman president of Utah Valley University (UVU).
Dr. Tuminez was named to the post as the 7th president of Utah's largest public university by its Board of Regents after considering between her and three other candidates who are officials from other universities.
Prior to her appointment as UVU president, Dr. Tuminez was the Southeast Asia Microsoft Regional Director for Corporate, External, and Legal Affairs responsible for driving government relations, corporate citizenship, as well as business and regulatory initiatives in the region.
In a Microsoft interview by Grace Chng, the Filipina leader revealed how she grew up in poverty in the Philippines. She candidly talked about the hardships of being one of seven siblings and not being able to eat regular breakfasts as a child.
The young Tuminez had only one pair of socks and when it rained she plugged the holes in her shoes with lollipop wrappers.
Tuminez testified how profoundly education had changed her life when she was 5 years old when the Catholic nuns in the city invited her and her sisters to attend their school.
"I was illiterate on the first day of school. In my school, the smartest child was put in the first seat, first row. The dumbest child was in the last seat, last row, and I was actually in the last seat, last row," recounts Tuminez to Chng. "But after a few months, I'm happy to report that I ended up sitting right in front – and I'm here where I am now all because of my access to education."
Dr. Tuminez has risen out of her humble beginnings and now holds a bachelor's degree from Brigham Young University, a master's degree from Harvard University, and a doctoral degree from the Massachusetts Institute of Technology.
Prior to her Microsoft post, Tuminez was the Vice Dean of Research and Assistant Dean of Executive Education at the Lee Kuan Yew School of Public Policy at the National University of Singapore, where she trained over 2,000 government officials and private-sector professionals in leadership and organizational change.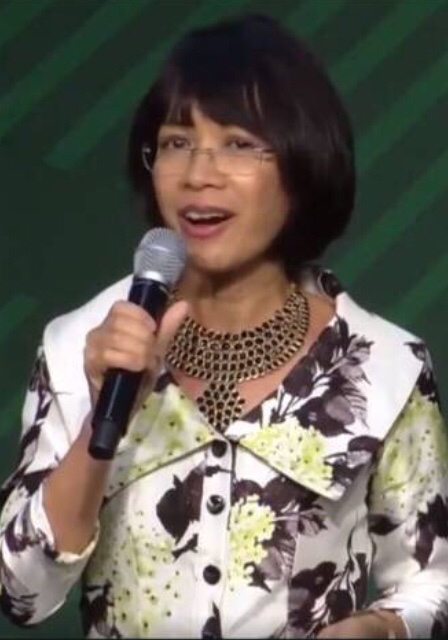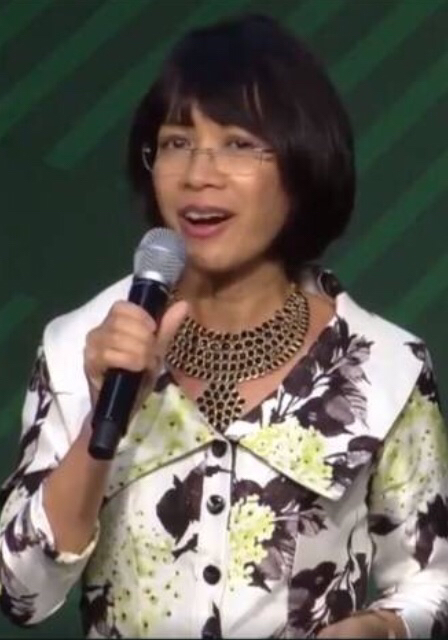 Among her many achievements, Tuminez was given the 2016 Gold Standard Award for Professional Excellence by Public Affairs Asia for her work in corporate affairs and public policy. She received the Filipina Women's Network's "100 Most Influential" Filipinas recognition in 2013.
"Dr. Tuminez has proven to be a dynamic leader across academic, nonprofit, public policy, and corporate sectors. Throughout her storied career, she has focused on bridging gaps in education and opportunity to make a difference in people's lives, which seamlessly aligns with UVU's institutional mission and core themes," said Daniel W. Campbell, chair of the Board of Regents. "Dr. Tuminez's experience, vision, and dedication to student success will ensure that UVU continues to thrive in the years ahead."
Tuminez was included in the Presidential Search shortlist from a pool of 41 national and international applicants for the position and recommended by a 24-member national search committee.
"Out of an impressive field of candidates, Dr. Tuminez rose to the top in the search for the next president to lead UVU," David L. Buhler, Utah Commissioner of Higher Education. "She articulated a clear and compelling vision for UVU, and she understands the value of collaboration within Utah's system of public colleges and universities."
In her acceptance speech broadcast on the UVU social media, Dr. Tuminez honored her family for raising her.
"My father is not here anymore. My mother is 84. Neither of my parents went to college. My mother had a very hard life, she's a fighter and she's a very smart woman… My sister raised me. She was only 15 years old and had to raise six siblings. Thank you very much for raising me," the new UVU president said to an applauding audience.
She thanked the university community for welcoming her as its new president.
"I am incredibly honored to be given the opportunity to lead Utah Valley University, and I offer my thanks to the Board of Regents and the search committee for their confidence in me," Tuminez said. "UVU's nationally-recognized dual-mission role, with its emphasis on engaged learning and inclusivity, gives students the opportunity to access higher education and transform lives. I look forward to meeting and working with students, faculty and staff, UVU trustees, and community leaders to lead the university to the next phase of relevance, growth, and impact."
Dr. Astrid S. Tuminez will sit as the UVU President this fall.
Watch Dr. Astrid S. Tuminez acceptance speech here:
Facebook Comments