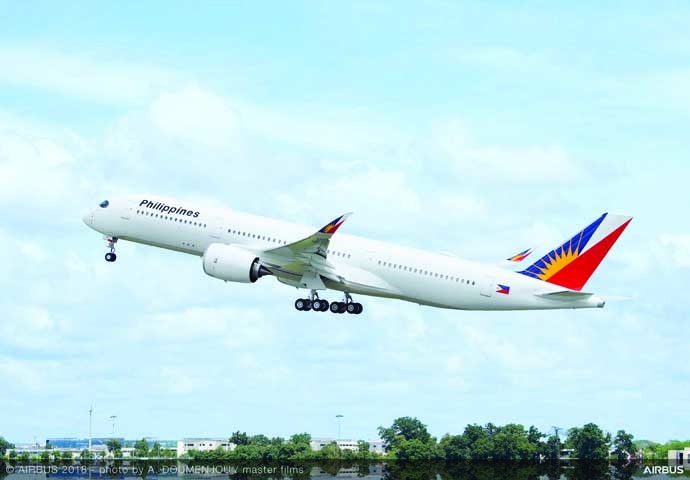 Philippine Airlines (PAL) has won another international victory, earning the world's Most Improved Airline for 2019 award from AirlineRatings.com.
This is the fourth major global accolade to be received by PAL in 2018.
The Australian based airline review group cited PAL's "move to expand its global footprint using new generation fuel-efficient aircraft equipped with the latest cabins."
"Philippine Airlines has expanded its global footprint by more than 60 percent in recent years with innovative services such as a single-aisle A321neo flight between Manila and Brisbane and an A350-900 trans-polar route to New York," said website editor-in-chief Geoffrey Thomas.
"The four times weekly A321neo service featured the first flat-bed business product on a narrowbody aircraft operated to Australia and replaced three flights a week run by a fuel-hungry A340," it said.
The review body lauded PAL for its efforts to upgrade its aircraft and service.
AirlineRatings.Com took note of PAL's 16-hour nonstop route from Manila to New York City, which is one of the longest flights in the world.
"The world is taking notice of the continuing transformation of Philippine Airlines", said PAL president and COO Jaime Bautista in a statement.
He added, "We are once again elated and truly humbled by this latest seal of approval, this time from AirlineRatings.com. I share this honor with my PAL family—a team of hardworking professionals dedicated to maintain and sustain a high-quality brand of service that is fueled by the heart of the Filipino service philosophy."
In February this year, the Filipino airline was certified as a Four Star global airline by the international rating firm Skytrax after excelling in rigorous independent audits of PAL's inflight and ground services and products.
London-based Skytrax also gave PAL the 2nd Most Improved Airline for 2018 Award in July, based on worldwide passenger surveys.
Most recently, on September 25, PAL received the Four Star Major Regional Airline 2019 award from New-York based Airline Passenger Experience Association (Apex), again based on a comprehensive verified passenger voting system.
In addition, PAL also earned a 7-Star Safety rating (the highest possible) from AirlineRatings.com last September 30. The Filipino flag carrier, likewise, vaulted to the Top 50 World's Best Airlines rankings, as well as Top 30 Best Cabin Cleanliness rankings of Skytrax, both in July this year.
Facebook Comments