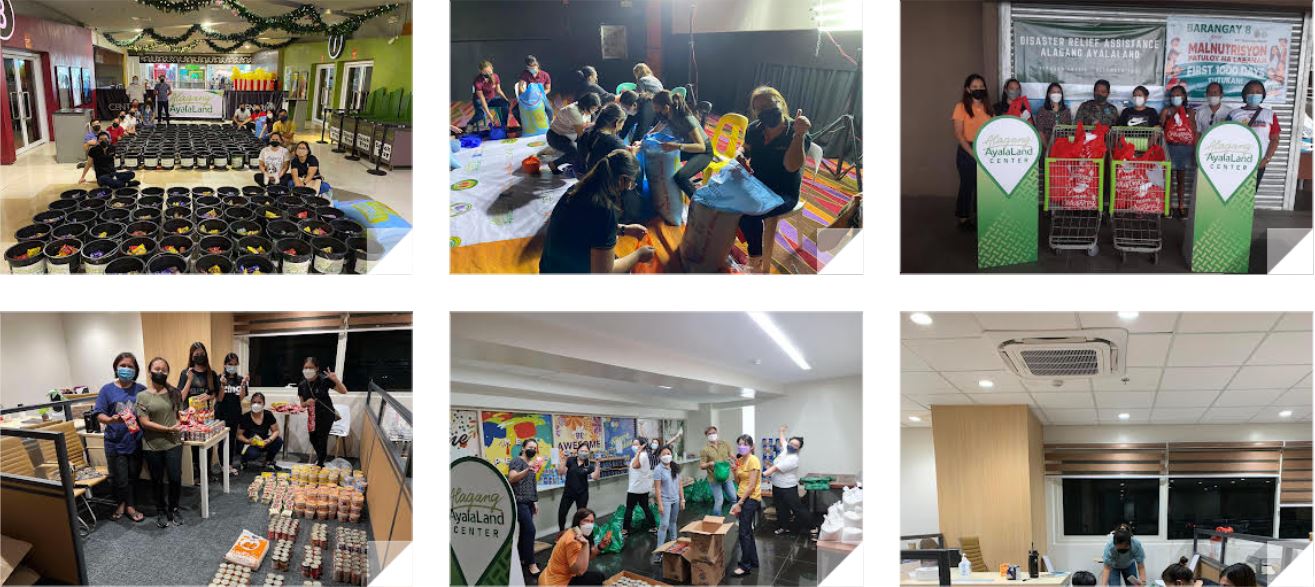 Through Alagang AyalaLand, the Ayala Malls chain is extending its resources to support families affected by Typhoon Odette.
Since Super Typhoon Odette struck the Philippines in mid-December 2021, distressed citizens have been given aid through the collection and distribution programs of relief goods at Ayala Malls Centrio in Cagayan de Oro, Ayala Malls Capitol Central in Bacolod, The District North Point in Talisay, Ayala Malls Central Bloc, and Ayala Center Cebu.
"As soon as the typhoon hit, Alagang AyalaLand activated its Disaster Relief Assistance Program to provide temporary refuge in our malls and has since given relief goods in hard hit communities around our developments. This is in the spirit of bayanihan to help our fellow Filipinos during this most trying time," shares Ayala Land President and CEO Bobby Dy.
Cagayan de Oro
The communal efforts of various private sectors, as led by Alagang AyalaLand Team – Cagayan de Oro, paved way for the distribution of relief packs to 400 property front line workers and households at flood-affected barangays where Ayala Land's properties are situated—specifically along Centrio Mall, Centrio Tower, Seda Hotel Centrio, Aspira Towers 1&2, Alveo Bayview Heights and Alegria Hills. All relief packs were released within 48 hours after the flood, with the support of Ayala Malls Centrio, Ayala Property Management Corporation (APMC), Seda Hotel Centrio, Avida, Alveo Land, Lagdigan Land Corp. and Makati Development Corporation (MDC).
Negros
Ayala Malls Capitol Central and The District North Point opened its doors as temporary shelters for evacuated families during the landfall of Typhoon Odette. Designated holding areas, restrooms, and free charging stations were provided, as well as waived overnight parking on December 16 and 17. Furthermore, Alagang AyalaLand continues to extend its disaster relief assistance in partnership with Ayala Group in Negros Occidental – Seda Capitol Central, Ayala Malls Capitol Central, Amaia Land Corp., and Ayala Land Inc. To date, over 100 families within Barangay 8, Bacolod City, and Zone 15 Talisay City have received support.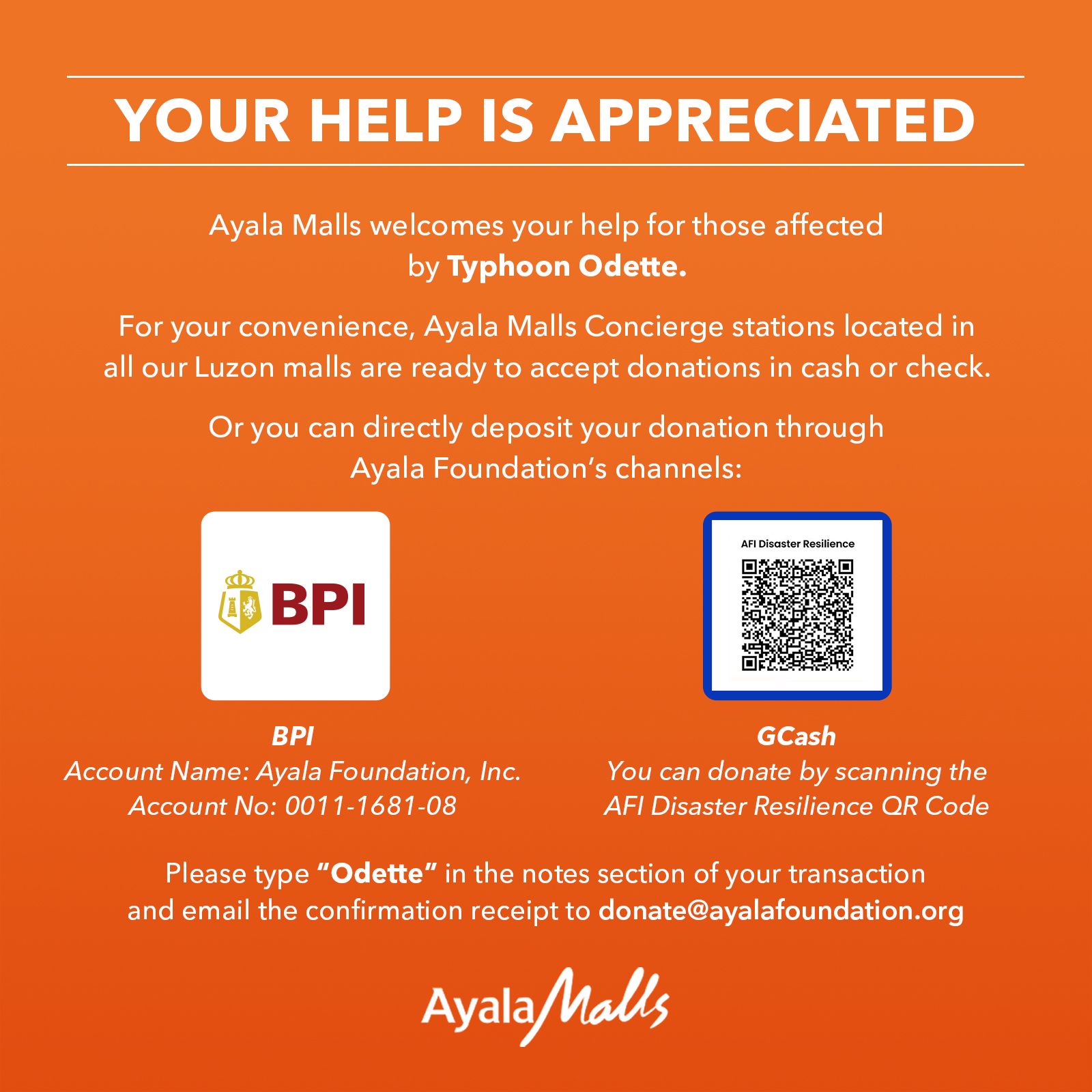 Cebu
Even prior to the landfall, Ayala Center Cebu and Ayala Malls Central Bloc already opened its doors for those who would need shelter. Charging stations and waived overnight parking fees were extended to help families get through the challenging time. A donation drive was quickly announced via social media to facilitate immediate distribution of essentials such as canned goods, noodles, rice, drinking water, and hygiene kits. Spearheaded by the Alagang AyalaLand Team — Cebu City, the group also cooperates with other businesses and organizations to prepare and distribute relief goods to 400 families from the frontliners and immediate communities. Additional kits worth around P1,500,000 will also be dispatched to seven barangays surrounding Cebu IT Park and Cebu Business Park, such as Barangay Luz, Camputhaw, Mabolo, Hipodromo, Carreta, Apas, and Lahug.
Further aiding fellow Cebuanos, Ayala Center Cebu and Ayala Malls Central Bloc recently reopened its doors to give easy access to groceries, banks, hardware stores, and pharmacies. A designated charging station has also been assigned at the PUV Terminal across the mall.
Ayala Land Malls President Chris Maglanoc echoes the ongoing need of affected families for support. "Let's continue to consider the needs of others, especially this Christmas. Ayala Malls remain open to provide easy access to essentials and other services that aim to spark the holiday spirit. This also includes avenues to drop off donations for the benefit of Typhoon Odette victims. Whether in cash or in-kind, any help will go a long way," he shares.
A call to donate: Support affected communities through Ayala Malls
Support affected families and vulnerable communities by donating in cash, check, or in-kind. Acceptable in-kind donations include canned goods, rice, drinking water, instant noodles, and/or hygiene kits. Interested donors may drop off donations at Ayala Malls Concierge stations in Luzon/Metro Manila. Other designated areas include Ayala Malls Capitol Central Concierge located on the first floor, as well as Ayala Malls Central Bloc near the Concierge and Ayala Center Cebu by the entrance of The Active Zone, near BreadTalk.
Patrons may also deposit cash donations directly through Ayala Foundation's channels:
BPI
Account Name: Ayala Foundation, Inc.
Account Number: 0011-1681-08
GCash
Scan the AFI Disaster Resilience QR Code
Complete your transaction by typing "Odette" in the notes section of your payment and email the confirmation receipt to donate@ayalafoundation.org
These Filipino celebrities are raising funds for typhoon relief efforts, while another OPM icon Noel Cabangon performed his most well-known hits on his birthday concert fundraiser to help the victims of Supertyphoon Odette in the Dinagat Islands.
Good News Pilipinas is celebrating its 15th Anniversary in 2021 by giving away prizes! Subscribe to this website and  Good News Pilipinas! TV YouTube channel and enter the raffle by telling us what you like about our stories in an email to editor@goodnewspilipinas.com
Facebook Comments