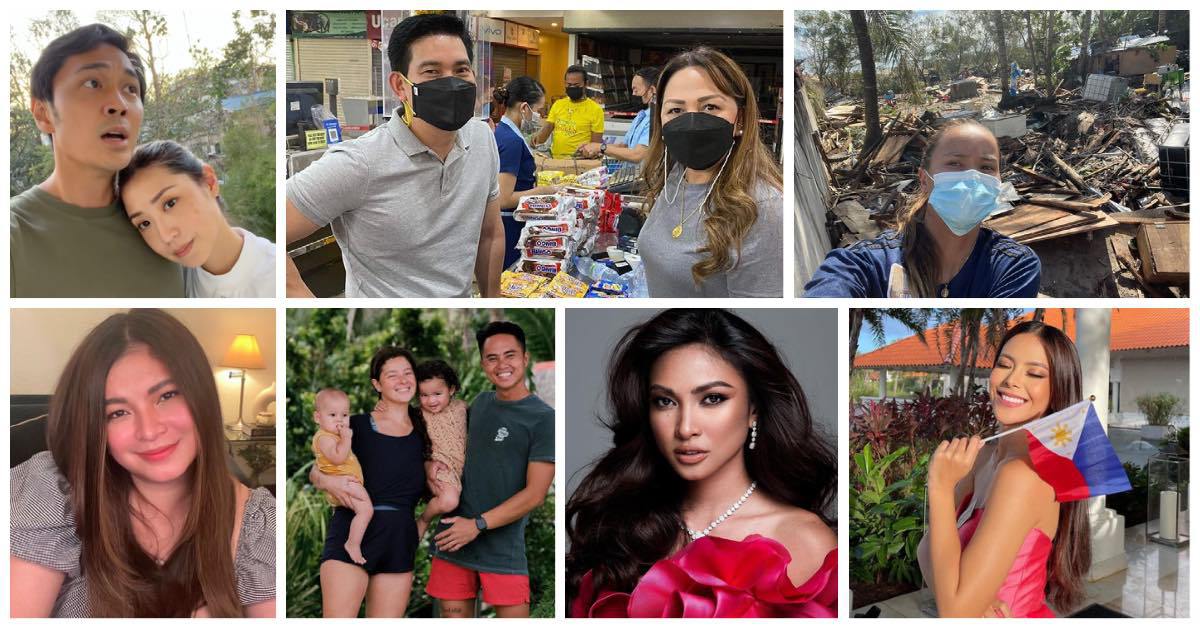 These Filipino celebrities and personalities are raising funds for relief efforts following the widespread destruction caused by Super Typhoon Odette in the Philippines.
Super Typhoon Odette, also known by its international name Rai, made landfall on parts of the Luzon, Visayas, and Mindanao islands on December 16 and 17, 2021, causing over 300 deaths and damaging the livelihoods and homes of nearly 3 million persons in 10 regions and 35 provinces.
Kind-hearted Filipinos across the country and other parts of the world are now mobilizing help for ongoing rescue and relief operations in the most devastated areas.
Here's a list of Pinoy celebrities, athletes, beauty queens, and other personalities who are using their platforms to call for donations for the victims of Typhoon Odette:
Tracy Maureen Perez
Miss World Philippines Tracy Maureen Perez has initiated a relief drive for people who were most affected by the Category 5 typhoon.
The Cebuana beauty queen shared photos of the severe damage left behind by the storm in parts of the Visayas and Mindanao.
"We are accepting donations in cash and in-kind for those who are affected by typhoon Odette, most especially the solo parents in Cordova and my fellow Argawanons (in the town of Argao)," Tracy Maureen Perez wrote in an Instagram post on December 20, 2021.
Perez said all the cash donations will go toward purchasing relief goods in Manila. She also teamed up with the Miss World Philippines organization and AirAsia to transport the goods to areas that need them the most.
Beatrice Luigi Gomez
Miss Universe Philippines Beatrice Luigi Gomez, in partnership with the Simply Share Foundation and the Naval Reserve Center of Eastern Visayas, is asking for donations from kind-hearted netizens to fund typhoon relief and response efforts.
The beauty queen recalled the "ghastly" phone call she had with her family before the storm hit her hometown of Cebu City.
"I was on FaceTime with my sister and mama when the storm was just about to hit. It only took minutes from a happy conversation to shift into a ghastly phone call as I heard them struggle the entire night," Beatrice Luigi Gomez shared on social media on December 18.
"I am now knocking on your hearts to help me in partnership with @simplysharefoundation and the Naval Reserve Center of Eastern Visayas to respond to this calamity and bring back hope and light to my fellow Sugboanons. Your simple act of kindness means a lot," Gomez adds.
Angel Locsin
Actress and humanitarian Angel Locsin joined a relief drive for typhoon victims in the country.
Locsin, a Forbes Asia Hero of Philanthropy awardee, has been lauded by netizens both locally and internationally for her charity efforts for those in need.
The actress also reposted a donation drive for typhoon relief and response efforts on her Instagram account.
Andi Eigenmann
Actress-turned-vlogger Andi Eigenmann is donating her earnings from her videos on her YouTube channel, Happy Islanders, to rebuild Siargao Island.
In a new video, Eigenmann shared her daughter Ellie's tenth birthday celebration on the island a month before the typhoon hit.
"On December 16, 2021 typhoon Odette hit Siargao Island (and other neighboring islands and provinces) and devastated our island home," Andi Eigenmann wrote in a vlog posted on December 19.
"We are grateful that our family and friends are safe, but most of them have lost their homes and are in need of food, water, among others," Eigenmann added.
Richard Yap
Actor Richard Yap has initiated a relief drive for the people of Cebu following the onslaught of the super typhoon.
"The past few days have been a nightmare for the people of Cebu. After typhoon Odette ravaged Cebu, the city was in total blackout, no electricity, no water, people lining up for fuel, no internet or phone connectivity," Richard Yap said on social media.
On his Instagram account, the actor said he and his family are donating groceries and construction materials after the storm destroyed and flooded residents' homes.
"We're also doing our best with donating groceries and whatever construction materials we can. In the next few days, we will be distributing roofing sheets & other necessities with help of our team and our friends who have so graciously donated. If you wish to donate, you may do so at this bank account," Yap added.
Slater Young and Kryz Uy
Slater Young and his wife Kryz Uy called on more support for their hometown Cebu.
The vlogger couple posted a video on social media to raise awareness for the current situation in the area which was badly hit by the storm.
"We're making this because I don't think Cebu's getting heard or the rest of the victims of typhoon Odette. You don't see a lot of pictures on how bad it really is here," Slater Young said.
On his Instagram account, Young said their factory is now being used as a temporary shelter for their employees who are now mostly homeless following the typhoon.
"A lot of our employees are now homeless – using our factory as a temporary shelter for them. We're trying to help out where we can. Praying for everyone," Young wrote.
https://www.instagram.com/thatguyslater/tv/CXqKWlJpsbP/?utm_medium=copy_link
Cherry Ann Rondina
Volleyball star Cherry Ann Rondina appealed for donations for her fellow Cebuanos as the typhoon left many homeless and hungry.
"Wash out po lahat ng bahay dito sa amin," Cherry Ann Rondina shared on her Facebook page on December 17.
"Kumakatok po ako sa inyo po. any amount will do po…Pagkain, tubig at kahit trapal lang po onting tulong po para sa mga tao po dito sa amin," Rondina adds.
Here are some groups and organizations where you can donate to help Filipino families recover from the devastation wrought by Super Typhoon Rai, known in the Philippines as Odette.
CHECK OUT this list of Super Typhoon Odette-stricken areas in the Philippines with free services offered by Globe while ongoing restoration of telecommunication services is being conducted.
SHARE this article to help raise awareness and donations for relief efforts following the widespread destruction caused by Super Typhoon Odette in the Philippines.
Good News Pilipinas is celebrating its 15th Anniversary in 2021 by giving away prizes! Subscribe to this website and  Good News Pilipinas! TV YouTube channel and enter the raffle by telling us what you like about our stories in an email to editor@goodnewspilipinas.com
Facebook Comments