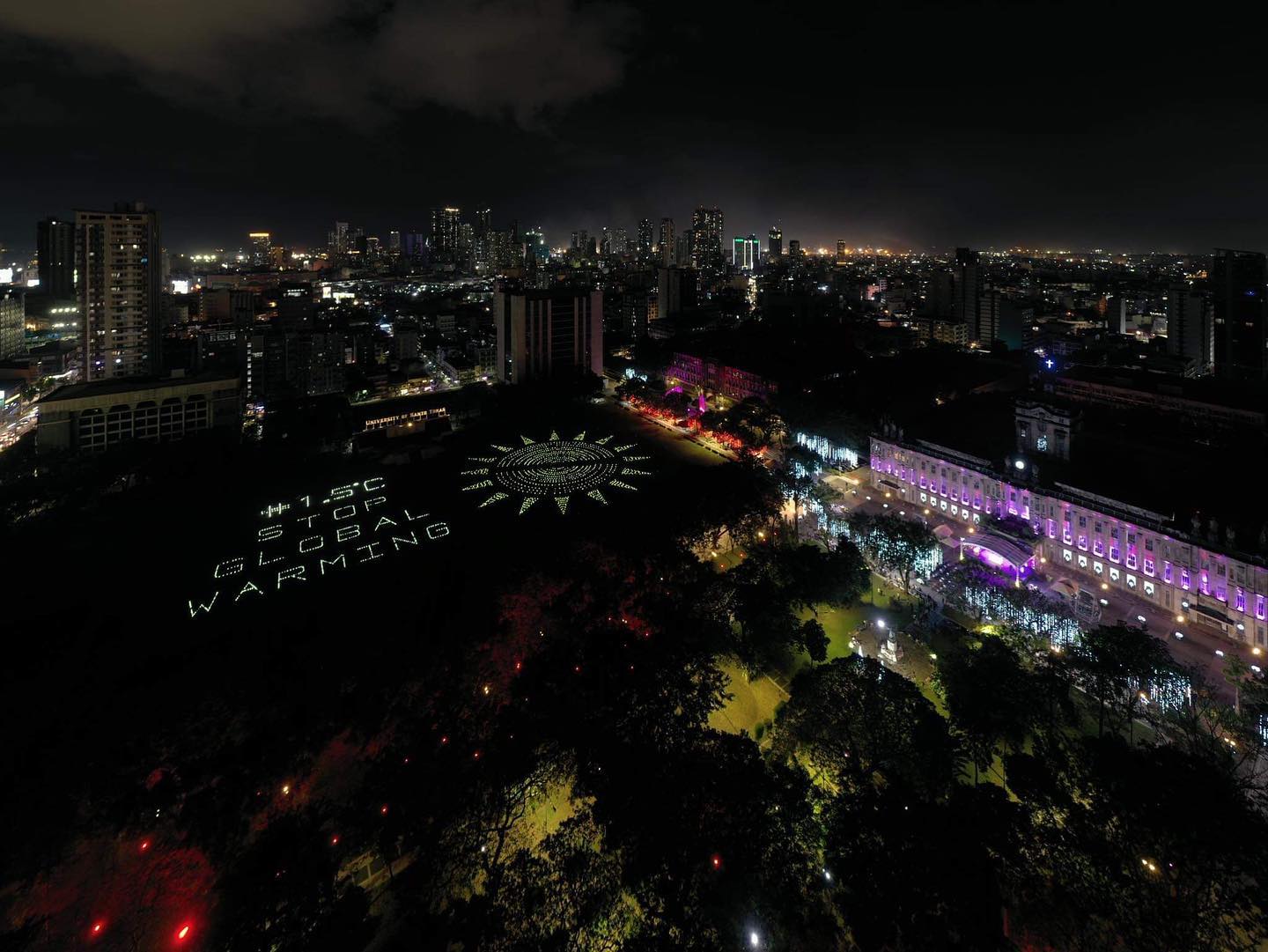 The Pontifical and Royal University of Santo Tomas (UST) in Manila has joined the Liter of Light global solar lighting movement to call for urgent action on the ongoing climate crisis to ward off storms like Odette which recently caused severe damage to life and property in the Philippines.
The campus of the oldest university in Asia's historic Parade Grounds is host to the newest large-scale installations of the solar energy champions.
The new solar billboards feature a large sun and the symbol for 1.5 degrees centigrade to represent the critical threshold that the world must adhere to in order to avoid major climate change catastrophes, including super typhoons, which are the direct result of rising ocean temperatures.
"This week, we are confronted once again with the fact that the Philippines is on the front lines of the climate crisis. We can – we must – act now," said Illac Diaz, Founder and Executive Director of Liter of Light.
"Typhoon Odette destroyed hundreds of thousands of homes and lives across the country in a matter of hours. Through this symbolic installation with UST, we are calling for dramatic action to halt global warming that is devastating our environment and endangering our way of life," added Diaz.
"The art work, which shows the sun, incidentally the symbol of Saint Thomas Aquinas, is one of many expressions of support for the advocacy to manage the increase in global temperature," posted UST on its social media.
Building on the success of its award-winning "Light It Forward" campaign, Liter of Light's latest initiative – called "Messages for the Planet" – engages young people in leading the call for change in climate policies, even in the midst of a global pandemic. The campaign follows the giant billboards of the Messages of Hope set up during the COP26.
By inviting youth climate leaders and environmental luminaries from the university to design and build a large-scale installation using its hand-built solar lights, the organization is using its platform to amplify the voices calling for climate action.
The installations are part of a series of pop-up artworks that Liter of Light is building across Metro Manila to raise awareness and urgency for climate action. It recently completed large-scale solar art installations in St. Andrews, Scotland with youth environmental leaders and student representatives to the global climate change conference, COP26.
After the unveiling of this week's installation, which includes a mass in tribute to the victims of this latest natural disaster, the lights used to create the artwork will be deployed to the communities ravaged by Typhoon Odette.
SHARE THIS STORY of hope from the partnership of the University of Santo Tomas and Liter of Light to call for climate action to ward off Odette-like storms.
Good News Pilipinas is celebrating its 15th Anniversary in 2021 by giving away prizes! Subscribe to this website and  Good News Pilipinas! TV YouTube channel and enter the raffle by telling us what you like about our stories in an email to editor@goodnewspilipinas.com
Facebook Comments