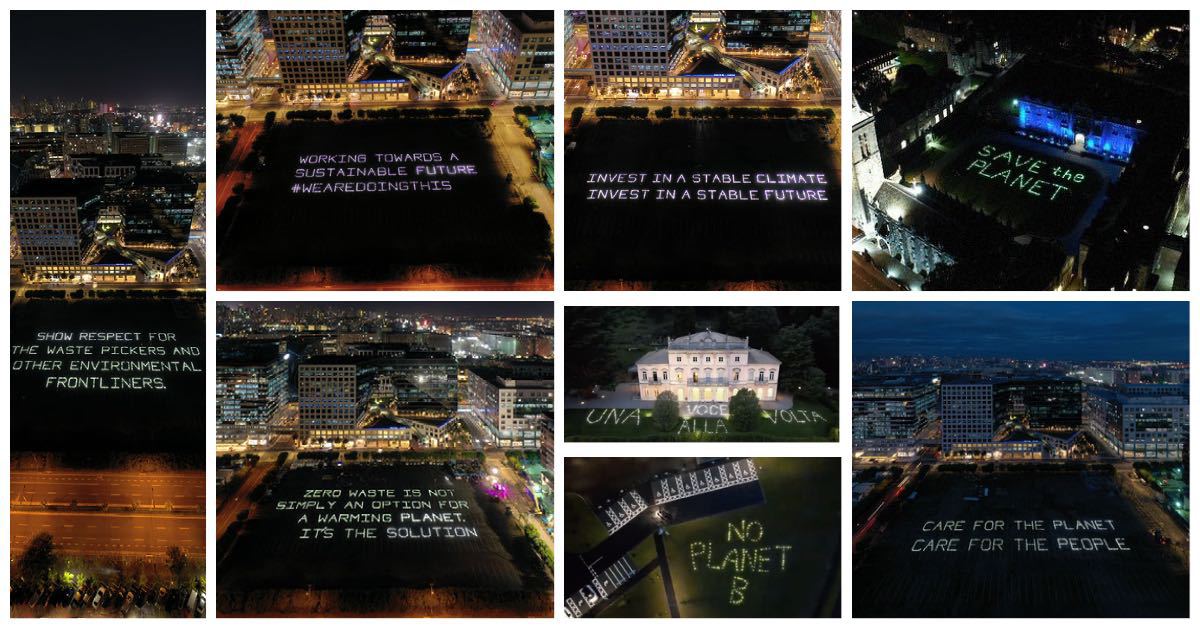 Giant billboards of Solar Messages of Hope amplified Filipino voices calling for climate action as the United Nations Climate Change Conference (COP26) was hosted by Italy and the United Kingdom this year.
Philippines-based social enterprise Liter of Light led the campaign calling for urgent climate action to be taken by the world's nations through tweets of Solar-powered Messages of Hope created as large-scale solar billboards.
The Filipino-born global grassroots solar lighting movement launched the series of solar artworks to coincide with the climate summit which was held in Glasgow, Scotland from October 31 to November 12, 2021.
Liter of Light earlier launched its first Messages of Hope to COP26 billboard in Milan's biggest venue, the Castello Sforzesco di Milano.
Messages of Hope in Como, Italy
The solar energy social enterprise unveiled its second Messages of Hope billboard in Como, Italy, the birthplace of Italian scientist Alessandro Volta, the inventor of the electric battery.
The solar installations that seek to amplify the voices calling for a better world were done in collaboration with Associazione Villa del Grumello and the Alessandro Volta Foundation.
"Una voce alla volta. Un'azione alla volta. Una città alla volta. Un paese alla volta," Liter of Light captioned the solar installations posted on social media on September 30, 2021.
"One voice at a time. One action at a time. One city at a time. One country at a time."
Scotland
Liter of Light teamed up with the young environmental activists and students in St. Andrews, Scotland to send a message to the world leaders at the climate conference.
Madras College
Today's message brought to you from the students of @Madrascollege – There is NO Planet B, but with these students, there is hope for the future. @MessagesToCOP26 #messagesfortheplanet #COP26 #Connect4Climate #Youth4Climate @UNFCCC @Momentum_UNFCCC https://t.co/ECFiPgyGPY

— Liter of Light (@literoflight) October 29, 2021
University of St. Andrews
Honored & grateful to be a part of this initiative to build the largest human-powered Twitter message with the students of @univofstandrews ahead of #COP26 #actionnotwords #climateactionnow https://t.co/okIAuPtkPS

— Human Powered Messages for The Planet (@MessagesToCOP26) October 28, 2021
SM Mall of Asia Large-Scale Solar Installations for Climate Action
Today's message:
SHOW RESPECT TO THE WASTE PICKERS AND OTHER ENVIRONMENTAL FRONTLINERS!

Keep sending us your messages and see them lit up w/ our hand-built solar billboard
@cop26_climate_action @cop26uk @unclimatechange #smcares #letschangeenergy #messagefortheplanet pic.twitter.com/yE6IxqTsr6

— Human Powered Messages for The Planet (@MessagesToCOP26) November 4, 2021
Liter of Light partnered with SM Mall of Asia to build large-scale solar art in November as part of its latest initiative called "Messages for the Planet".
The initiative mobilizes youth and climate leaders from around the world to share a Twitter-sized message that will be transformed into giant billboards using hand-built solar lights from the award-winning Light it Forward campaign.
"Now is a critical time to amplify our voices for change, especially since many youth and people from the Global South are not represented at COP26," said Liter of Light founder Illac Diaz, who was an official observer during the UN Climate Change Conference of the Parties (COP26).
"Through our partnership with SM Mall of Asia, we have the opportunity to bring these messages to the venues where policymakers are making decisions on the future of our planet, and to show the power of multiple sectors coming together to take action," Diaz adds.
Ahead of the summit, Liter of Light launched its Human-Powered Messages of Hope to COP26 on Twitter to urge the public to act now to arrest climate change.
The project is a continuation of the 2020 Good Light Messages of Hope collaboration between Liter of Light and GoodNewsPilipinas.com which had Diaz and his family create solar billboards of messages sent in by Filipinos under lockdown to inspire the world to survive the Covid-19 pandemic.
The large-scale solar installations were made from hand-built solar lamps that were intended for donation to energy-poor communities in the country and around the globe.
The solar messages series later transitioned to solar art designed by Diaz and installed in various locations in the Philippines, including the UN SDG logos, and called for Filipinos to be climate heroes.
Liter of Light recently won the Green Award for Energy during the Greentech Festival in London.
SEND CHEERS in the comments below to the Philippines' Liter of Light for leading the call for climate action and turning tweeted Messages of Hope into large-scale solar installations during the United Nations Climate Change Conference (COP26) co-hosted by Italy and the United Kingdom.
Good News Pilipinas is celebrating its 15th Anniversary in 2021 by giving away prizes! Subscribe to this website and  Good News Pilipinas! TV YouTube channel and enter the raffle by telling us what you like about our stories in an email to editor@goodnewspilipinas.com
Facebook Comments