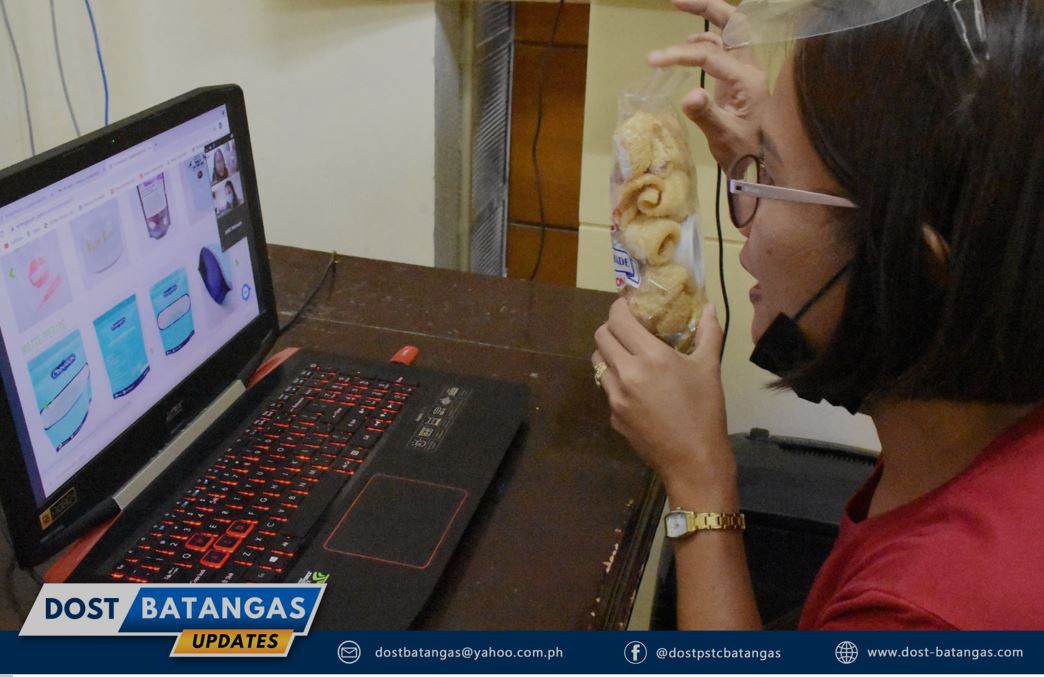 Seventeen MSMEs in the Municipality of Ibaan, Batangas are now ready to improve their products' packaging and label designs that are compliant with mandatory requirements and standards they learned from the Department and Science and Technology (DOST).
The DOST-CALABARZON experts led the training and one-on-one consultation with the proponents in partnership with the Local Government Unit of Ibaan, Batangas held recently at this municipality's town hall.
The training was designed as a two-part discussion format; one for packaging technology and the other one for mandatory labeling requirements. The packaging technology session covered the following topics: definition and functions of food packaging, factors in selecting product packaging, food packaging materials, packaging material tests, and food packaging techniques. Several innovations in product packaging were also discussed. The resource speaker for this session was Lorelie Dorado, Science Research Specialist II of DOST-CALABARZON Regional Standards and Testing Laboratory.
On the other hand, John Michael A. Florendo, Science Research Specialist I of the Provincial Science and Technology Center-Batangas, discussed the topic on product label design as follows: definitions and objectives of the label, mandatory label information common in all countries and according to Codex Alimentarius, parts of the label, and the "Rules and Regulations Governing the Labeling of Prepackaged Food Products Distributed in the Philippines".
Furthermore, Florendo focused on the mandatory label information which consists of the following: 1) product name; 2) brand name/trade name (as per consumer act); 3) list of ingredients; 4) net content declaration; 5) name and address of manufacturer, repacker, importer, trader, and distributor and country of origin; 6) lot identification number; 7) storage condition; 8) expiration date; 9) food allergen information; 10) direction/instruction for use; and 11) nutrition facts/nutrition information/nutritive value. Other required information including alcoholic beverages, irradiated foods, additional information, and language were also explained during the discussion.
To further strengthen the capacity of participating MSMEs to improve their products' packaging and label design, one-on-one consultation with the resource speakers was conducted. Participating MSMEs brought with them their individual products that were subjected to packaging and labeling evaluation and areas of improvement were identified during the consultation.
The webinar also provided an opportunity for the participating MSMEs to ask for innovations they can make on their products including the execution of nutrition facts analysis and shelf-life testing. Products evaluated include the famous tamales of Ibaan, puto, suman malagkit, baked goodies, bread, sinaing na tulingan, sandwich spreads, chicharon, leche flan, textile, soap, and agricultural products.
Ibaan Municipal Mayor, Hon. Joy Salvame graced the activity and extended her utmost appreciation to the DOST for its consistent support in their efforts to develop their homegrown MSMEs. She encouraged the participating MSMEs to continue advancing their individual businesses and assured them that the LGU is with them in pursuing their business goals and development.
For several years now, the DOST has been empowering MSMEs to create a competitive brand by strengthening their products' packaging and labeling design. Packaging and Labeling Services of the agency aims to assist MSMEs in the development of package design, technical consultancy for the improvement of packaging systems thru proper labeling and packaging, nutrition facts analysis, shelf-life testing, and training. MSMEs in need of this kind of assistance are encouraged to send their requests to DOST Batangas Office or to any DOST Office near them.
SHARE THIS STORY about Batangas MSMEs to help others seeking help from DOST to improve their product packaging and label design.
Good News Pilipinas is celebrating its 15th Anniversary in 2021 by giving away prizes! Subscribe to our Good News Pilipinas! TV YouTube channel and enter the raffle by sending us an email to editor@goodnewspilipinas.com
Facebook Comments